Offshore Company Formation – Mauritius GBC 1
Economy of Mauritius
Mauritius is an island nation. The Economy of Mauritius refers to all details of economic activities in this island nation.
Economy of Mauritius has developed from a low-income, agriculturally based economy to a middle-income diversified economy with growing industrial, financial, ICT and tourist sectors.
For most of the time the annual growth of Mauritius has remained to 4%. Mauritius has attracted US $10.98 billion in FDI or the Foreign Direct Investments inflows. Top sectors attracting FDI inflows from Mauritius are sectors of electrical equipment, telecommunications, fuels, cement and gypsum products and the services sector for both financial and non-financial services, from January 2000 to December, 2005.
Mauritius is one of the developing world's most successful democracies with a well-developed legal and commercial infrastructure and a tradition of entrepreneurship and representative government,
The economy of Mauritius has shown a considerable degree of resilience, and an environment already conducive to dynamic entrepreneurial activity, which has moved further toward economic freedom of the country. The economy of Mauritius is increasingly diversified, with significant private-sector activity in sugar, tourism, economic processing zones, and financial services, particularly in offshore enterprises.
The government of Mauritius is increasing making its efforts to modernise the sugar industry of the island nation, to make the economy of the country grow with time. The government is also focussing on modernisation of its textile industry. Both of these industries were greatly dependent before on the trade preferences.
The government of Mauritius is now promoting diversification in trade to boost up the economy of Mauritius, in areas, such as information and communications technology, financial and business services, seafood processing and exports, and free trade zones. Agriculture and industry have become less important to the economy, and services, especially tourism, accounted for over 72 percent of GDP. The government still owns utilities and controls imports of rice, flour, petroleum products, and cement.
Why form an offshore company in Mauritius GBC 1 ?
Mauritius is an island with a surface area of 1,865 square kilometres. It is situated in the centre of the Indian Ocean located at 2,000 kilometres off the South East coast of Africa. Mauritius has a population of around 1.2 million inhabitants from Chinese, Indian, African and European descent.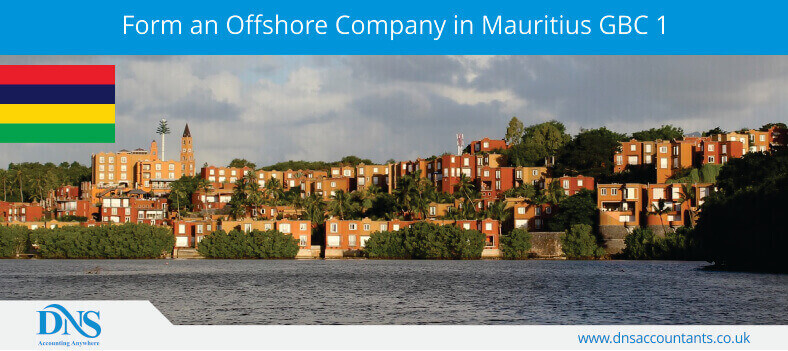 ---
Basic Incorporation Package
Form your offshore company anywhere in the world within a week. No hidden price, no extra charges
With this package, we will provide you with a compulsory registered office address and dedicated account manager to handle all your queries. Also all the compulsory government fees would be paid up when the incorporation process takes place.
In addition to this, we will provide you with the documents necessary to incorporate a company – certificate of incorporation, appointment of directors, share certificates, company seal memorandum and articles of association.
Advanced Incorporation Package
This package will also include banking solutions and assure full confidentiality of your identity in addition to the full services of our Basic Incorporation Package.
We will provide you with a bank account and also with professional resident director and resident shareholder. This will help you in case you do not want your names to be displayed publicly. The Nominee director will act on your behalf by signing contracts, MoU's and other documents related to your business.
All these will be provided in addition to company incorporation, registered address and other services included in the Basic Incorporation Package.
Professional Backed Package
This package will take care of the ever changing intergovernmental agreements which are being exercised by most of the countries.
More and more countries are signing up to international trade agreements which means more robust process. The benefit of our package is that it will facilitate your business through the help of qualified accountants, directors, international lawyers, tax advisors and investment advisors. It will ensure that your business runs smoothly and with full privacy and confidentiality.
Customized Package
Customize as per your requirements – whenever and wherever required.
Select what all services you require in what all jurisdiction. You can upgrade the services anytime you want. Choose from a wide range of professional services in addition to the type of company and bank account you want to set up. With the ever changing laws, you can ask our domain experts to guide you through the right direction.
Benefits of Forming an Offshore Company in Mauritius GBC 1
15% corporate tax
0% tax on land transfer
0% tax on capital gains
0% tax on stamp duty
Good for investors coming from India as GBC1 has double taxation treaty
Banking facility available 24x7