Download N1 form to make claim against person or organization
N1 form is used to make a claim against any person or an organization with which you have a dispute. This form is also known as Claim form CPR Part 7. Form N1 should be used when you don't know the claim amount or the claim amount is more than £100,000. It can be also used for non-monetary claims, like someone involved in a road accident. Click on the button below to download the form-
You can also claim money against any person or organization through online channel. Once you make a claim you details will be shared with the person or organization from which you are claiming money.
How to fill N1 Form?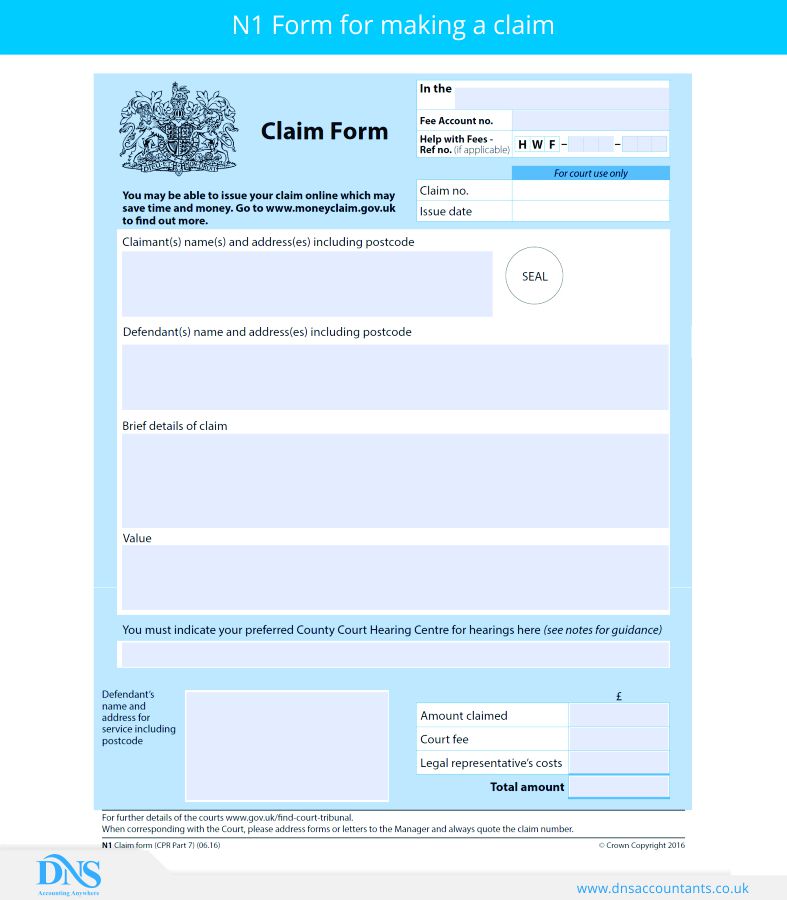 Offline
Filling the offline application form is very simple.
Give your name, address and postcode details.
Then give the name and address details of the person or the organization from which you sought claim.
Brief Details about claim – Give details like how much money you owe, when this money was expected to be paid, any supporting material for the claim you are making and any other relevant information.
Value – Give value of the claim you are making
Address of the court – Name and address of the County Court Hearing center where you want it to take place.
Statement of Truth - Sign the declaration after giving the final details
Online
Online mode is the faster mode for making a claim. Use this mode when the claim you are making is £10,000 and below. First you have to take the eligibility test and if confirmed, you can proceed on to making a claim.
Select the option £10,000 or below.
Select NO when asked for whether you need help from court with fees. If you select YES, then it will not proceed further and you will have to use N1 form offline.
The next two options describes your and the person from whom you are seeking claim's address and whether they are situated in England or Wales.
This is followed by with whom you are making the claim against – person or an organization.
You should be above 18 years of age and the claim should not be against any governmental organization. Once you have submitted the form, you will be eligible to make a claim online.
Create a new account by giving your first name, last name and email address. Once you have created an account, log into it and make the claim.
Where to send offline form N1?
County Court Money Claims Centre
PO Box 527
Salford
M5 0BY
Tag
n1 claim form example n1 claim form word format county court claim form small claims court forms uk completed n1 form example n1 claim form fees small claims court online high court claim form download n1 form n1 form online how to fill n1 form n1 claim form fees where to send n1 form send n1 form to
Speak with an expert
Any questions? Schedule a call with one of our experts.