A person can use form EX160 to apply for receiving financial help with a court or tribunal fee. If the form is accepted, then the person is eligible not to pay any fee for the court or get some discount on it. Click on the button below to download the form
You can also apply online
How to fill Form EX160?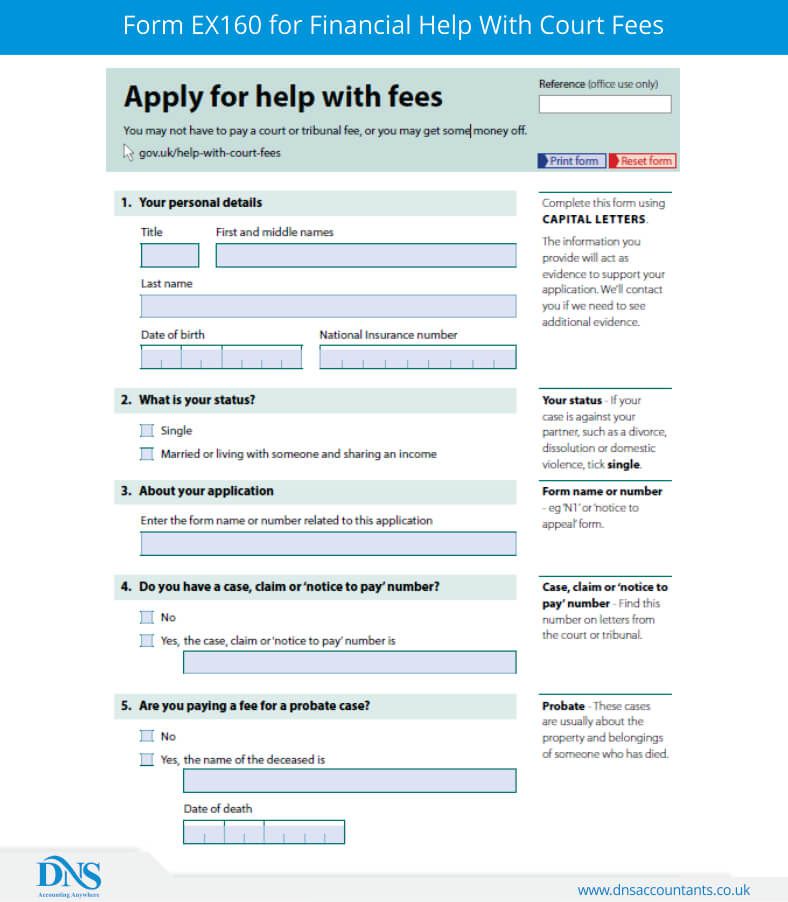 You have to basically fill in your personal details and show that you have very less money available to support the court fee. You will also need your NI number, court form name or number, recent tax return, pay slip and bank statement.
Personal Details -
Fill your name, NI number and date of birth. Fill in your marital status.
Case Related –
Fill the form number for the application for which you are demanding a fee exemption, notice to pay number and whether you have submitted the fee or not.
Financial Information –
Fill how much of savings you have, benefits you receive (if any), total monthly income after deducting Income Tax and National Insurance.
Contact Details –
Share your contact details, address and sign the declaration For reference, you can use form EX160A to figure out in detail on how to fill the form, where to send it and eligibility criteria.
Where to send form EX160?
You need to send the completely filled form to the court or tribunal from where you want fee exemption. You can find the address of the court by clicking on the link below –
Eligibility criteria for applying EX160
People who have a very low income and very less savings can apply for this form.
Your income is less than £1,085 a month before deducting national insurance and tax
You or your spouse is over 61
Court fee is more than £1,000
Tag
exemption of court fees fees exemption remission of fees court fees