If you run a limited company, there is legislation around filing company accounts to Companies House.
All companies must file some form of annual accounts with Companies House - even if they are dormant or not trading.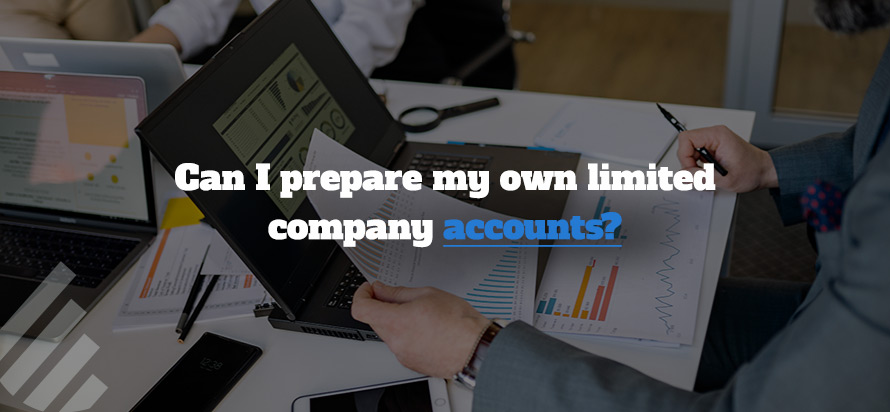 In this blog, we look at what is required and give you advice on whether you should prepare your own annual accounts.
What are annual accounts?
Annual accounts are also referred to as 'company accounts', 'statutory accounts', or 'financial statements'.
Your accounts will show your company's financial activity over a set period - normally 12 months. They should contain comprehensive information about a company's transactions, operating performance, and financial position at the end of its financial year.
Do you need an accountant to submit limited company accounts?
No, you don't legally need an accountant, you can choose to complete your own accounts, which can include preparing and filing your accounts, your company tax return and other documents needed to be sent to Companies House after your company's financial year end.
However, be aware that preparing your accounts in the right way can be complex if you are not up to date with latest legislation and have not done this before. Getting it wrong could mean you incur penalties.
Who do I submit my annual accounts to?
You should provide your company accounts to the following:
Companies House.
HMRC (as part of your company tax return).
Shareholders & guarantors.
Anyone entitled to attend annual general meetings.
Full statutory accounts vs abridged or abbreviated accounts
Small limited companies and micro entities are not usually required to prepare full accounts for Companies House. They can file abridged accounts (also known as abbreviated accounts) which are a much simpler summarised version of the full accounts.
Micro-entity accounts
You must meet at least 2 of the following:
turnover is no more than £632,000.
balance sheet total is no more than £316,000.
average number of employees is no more than 10.
Abridged accounts
You must meet at least 2 of the following:
turnover is no more than £10.2 million.
balance sheet total is no more than £5.1 million.
average number of employees is no more than 50.
The abridged accounts include the company balance sheet, a reduced number of notes to the accounts. They don't need to include a profit and loss account.
Dormant company accounts
A company is called 'dormant' by Companies House if it's had no 'significant accounting transactions' during the accounting period. Even if your company is dormant, you must still file annual accounts and send Companies House confirmation statements every year.
What financial information is required to prepare full accounts?
You will need data about your company's income, expenses, assets, liabilities and equity. Annual accounts should usually include:
A profit and loss account.
A balance sheet.
A director's report.
Supporting notes about the accounts.
If you're company requires an audit (see criteria below), then you'll also need an auditor's report.
Most small companies qualify for an audit exemption and will not necessarily have to file full accounts if they have at least 2 of the following:
an annual turnover of no more than £10.2 million.
assets worth no more than £5.1 million.
50 or fewer employees on average.
Accounting records your company must keep
You will need to keep up to date financial records to complete your annual accounts and company tax returns.
Below is a simple list of the financial records you need to keep:
bank statements.
income received by the business.
money spent by the business.
goods and services bought and sold by the business.
information on assets that the company owns and liabilities (what it owes).
money owed to the company.
lease agreements.
mortgages and loan agreements.
Companies are legally required to keep all accounting records for a minimum of 6 years from the end of the financial year to which they relate.
Benefits of an accountant preparing your limited company statutory accounts
Accountants are experts in preparing and filing limited company accounts. It's what they do every day, they will know all the rules, deadlines, tax reliefs, can liaise with HMRC and companies house on your behalf and meet very strict accounting standards.
Using an accountant will take away the stress of your statutory obligations as a business owner.
An accountant could help you avoid any penalties, ensure your company accounts meet rigorous rules and standards and may even save you money by advising on tax reliefs and things like expenses you can claim.
Are accountants responsible for my accounts?
It's important to understand that when hiring an accountant, as a company director you are still the person legally responsible for making sure your accounts are accurate. However, good certified accountants will ensure that based on the information you give them, that the accounts are prepared correctly and submitted to Companies House.
How to file your annual accounts
Annual accounts can be filed online at Companies House. They must be filed after the end of your company's financial year, which is a 12-month period that ends on the 'Accounting Reference Date' (ARD).
Your first annual accounts normally have different deadlines to subsequent ones.
Your first annual accounts should be delivered to Companies House no later than 21 months after the date of company formation.
The period covered by your first accounts can be longer than 12 months because your first financial year will:
start on the day that your company was registered at Companies House.
end on your company's ARD, which will be the last day of the month in which your company was registered.
After your company's first year accounts, the deadline for submitting annual accounts to Companies House is 9 months after the accounting reference date, which is the end of your company's financial year.
Annual accounts should also be submitted to HMRC for your company tax return and no later than 12 months after the end of your 'accounting period' for Corporation Tax. This accounting period must not be longer than 12 months.
Summary
Whether you decide to undertake the responsibility of filing your own company accounts or you take our advice and hire an accountant, you need to be aware of your companys accounting legal obligations and ensure that your business remains compliant.
Accountants are experts in accounts and tax legislation and are experts in business finance. They can generally, not only fulfil your statutory obligations but also offer support and advice that may end up saving you money.
Accountants can alleviate the burden and can save you time in preparing your own accounts.
Here at dns accountants we have a team of expert account managers and tax managers that are here to support and advise you and ensure your statutory accounts are filed on time and correctly.
If you need advice on limited company accounts or want to find out if we can save you tax then call us today on 03300 886 686, or you can also e-mail us at info@dnsaccountants.co.uk.
Speak with an expert
Any questions? Schedule a call with one of our experts.