Contracting offers you great work flexibility and can often mean increased earnings. However, it does offer some more complications if you're looking to get a mortgage as a contractor as mortgage lenders are more cautious about mortgage applications from contractors. But don't worry, you could still be able to get a mortgage, even if you don't have consistent income or haven't been contracting for long.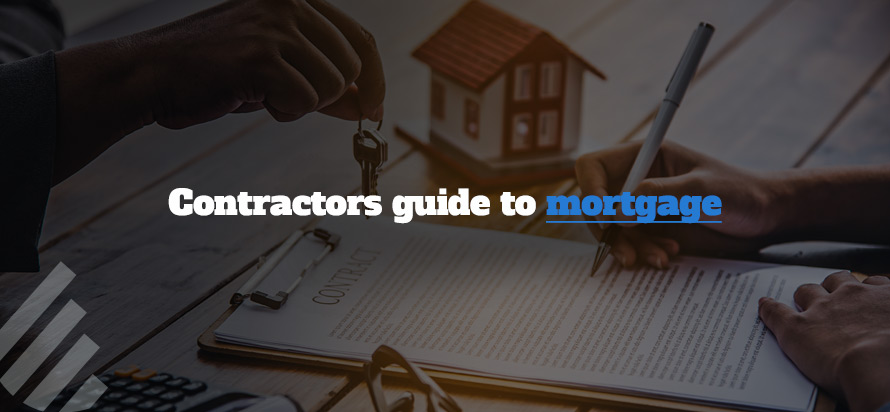 How much can contractors borrow on a mortgage?
Mortgage lenders will do an affordability assessment when you apply for a mortgage as a contractor. They will consider your income, expenses and the security of your income. They will generally ask you to provide your earnings history for at least 6 months, but some will ask for up to 2-3 years of accounts or income proof. So if you are a relatively new contractor, you need to consider this and your choice of mortgage as a contractor may be more limited.
Contractor income assessment
Most mortgage providers will take the average income you've earnt over several years for the basis of their income assessment. If you've had large changes in income over those years, they may take the lowest or most recent year income. Be aware that this may limit the amount you will be able to borrow.
Some mortgage providers will calculate your income on your day rate, but they may only do this if you have a 12-month contract. They'll look at the number of average days you work per month and multiply that for a full year, taking into account holidays etc. You'll need to provide bank statements and potentially accounts as well if you run a limited company.
Top tips for strengthening a contractor mortgage application
Here are our tips for being in a stronger position to securing a contractor mortgage.
Pay a higher deposit
Most lenders for all mortgages require a deposit of 10% or more now. Offering a larger deposit and borrowing a smaller amount means a mortgage lender will look more favourably at your application. If you can offer 20% plus as a deposit, you're likely to be able to access a larger range of mortgage products, mortgage deals and mortgage providers.
Manage your credit score
Your application process will include a credit rating check. If you have CCJs or you miss payments on other things, then this will affect your mortgage application. You can do a credit check on yourself and see your credit score and you may be able to correct errors or issues that exist prior to applying for a contractor mortgage.
Mortgage affordability assessment
It's natural to want to buy the best property you can but you need to consider how affordable your repayments will be and that you can afford mortgage payments, especially if your income changes or fluctuates. You should also take into consideration rising interest rates and the effect this will have on your repayments over time.
If you're set up with a limited company, then you may have different lending criteria applied to your application. Many mortgage lenders will only look at your salary and dividends as your income but won't consider the profitability of your company.
Make sure your contract paperwork is up to date
Make sure you have all the required paperwork; this may be several years of business accounts, tax calculations and back statements.
If you haven't been working as a contractor for long, a specialist broker may still be able to find you a mortgage deal with paperwork showing your current contract and all the necessary ID documents.
You will need proof of your name and address (passport, driving licence, utility bills), and recent bank statements.
When using accounts as proof of income, you will need signed copies of the past year's company accounts. You will also need your tax calculations, so get these from your accountant or you can print them via your online tax account.
Get a joint mortgage or guarantor mortgage
Applying for a mortgage jointly with a partner who is in full time permanent employment can greatly help as changes in your income may be seen as less of an issue. However, it's still better to be able to show consistent earnings as a contractor if you want your income to be considered as well.
Alternatively, consider using a guarantor, such as a parent and this will help your application.
Use a contractor specialist mortgage broker and lender
There are many mortgage lenders on the market, but not all of them will necessarily offer you the same deal or a mortgage deal. If you're income has been consistent over many years, then many high street lenders could offer you a mortgage, but they may offer a smaller sum or different interest rate.
However, using a specialist lender that specialises in contractor mortgages, can have huge advantages. They have access to specially negotiated rates, and they may be able to secure you a mortgage as a contractor, even if you've only been working as a contractor for a short period.
As contracting has grown, there are more specialist lenders offering mortgages tailored to contractors and some that cater to specific contracting sectors such as IT and construction. It's worth looking at the market and comparing them or using a mortgage broker to do this for you.
Consider the gaps between contracts
If you have gaps longer than 6 weeks between contracts, this may limit your options or chances of securing a mortgage. If you do take longer periods of time between contracts, then understand this may affect your mortgage as a contractor later down the line.
Consider additional charges and penalties
Many mortgage lenders now charge additional fees for mortgages. These can include things like arrangement fees, valuation fees, early repayment charges and booking fees. Ask about these and although they may be added to the mortgage and not increase your monthly amount significantly, over the lifetime of the mortgage, they can add to the true cost.
Summary
As a contractor you have the potential to access both high street or contractor mortgages but how much and the terms of this will depend on your own circumstances.
However, being a contractor can complicate the mortgage process and the access you have to lenders and deals.
By getting your paperwork in order, considering your credit score, building a history of regular income, using a specialist contractor broker or lender and potentially applying for a joint mortgage will undoubtedly improve your chances of getting a mortgage or a better deal.
If you need help or advice on contractor mortgages or advice on your accounts or tax paperwork and records to secure a mortgage, then contact dns accountants today. We are specialist contractor accountants, so call us today on 03300 886 686, or e-mail us at enquiry@dnsaccountants.co.uk.
Speak with an expert
Any questions? Schedule a call with one of our experts.