If you're using spreadsheets or desktop software for your accounting in your business, then now may be the time to consider switching to a cloud accounting system and reap the benefits and time saving that cloud based accounting software can give you.
If you want to save time, have a better grip on your business finances, understand your company's current financial position and work smarter, then cloud-based accounting software could help you and your business today.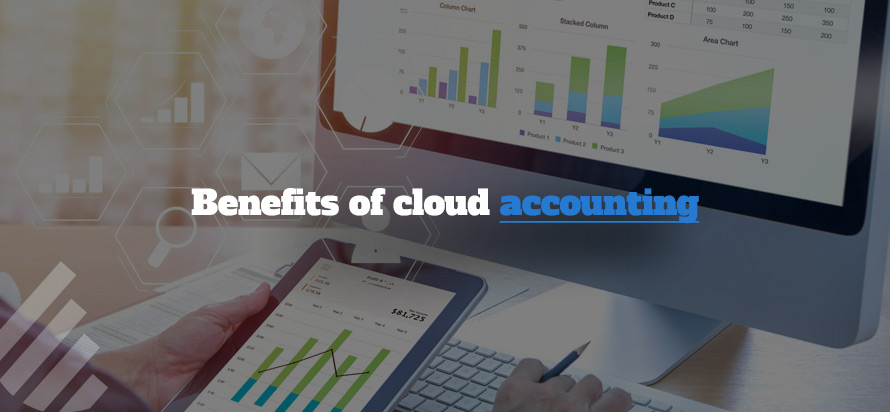 What is 'the cloud'?
If you think about online banking this uses 'the cloud' every time you access your banking data. The cloud makes your data accessible online anywhere, anytime and from any type of device. Cloud technology means that things are no longer stored on your hard drive of a laptop and only accessible from there.
What is cloud accounting?
To put it simply, cloud accounting is accounting and bookkeeping software that is run and stores your data online.
It's software that allows you to keep track of your business finances including your income, expenses, and liabilities.
The data is encrypted, so it's safe to use and store your financial data.
Cloud accounting software (often referred to as online accounting software) has been around for more than 20 years with many cloud providers developing increasingly sophisticated cloud-based systems for financial management.
How does cloud accounting work?
Users pay a licence fee to subscribe to an online accounting software solution. You no longer need to buy expensive desktop accounting software or have this updated on your own server or PC. With cloud accounting systems you can access your financial information from any web browser, from anywhere with internet access or from an app on your phone.
You will have the ability to connect the software to your business bank accounts, allowing your banking transactions to be transferred automatically from the bank to the software. Saving time and creating more accurate data entry as it eliminates user error.
Benefits of cloud accounting software
A cloud-based accounting system has many advantages:
Less administration
You will no longer have to manually enter data in a spreadsheet or onto desktop software. Bank data such as your income and expenditure will automatically be transferred from your business bank to the cloud-based system. It's online software so there's nothing to install or update, and all your data is backed up automatically. You'll save time not having to do time-consuming backups of desktop accounting software as your accounting provider will automatically back up your data.
Software is always the most up to date version
The cloud system provider will ensure you always have the most up to date version of the software. You'll always have access to the latest version saving you time and ensuring your get the most up to date functionality without the need for expensive upgrades.
Real time analytics and reporting
You will be able to see your current financial position at any time. You'll get an accurate view of your business financial data in real time and view reports and analytics. This will help you to manage cash flow and your finances much better.
Automation
Cloud accounting software will automate many accounting and banking tasks, which will reduce manual work and errors. For example, you can produce recurring invoices, schedule reports and import and bank and credit card transactions.
Paper free and eco-friendly
With online accounting and ease of access via any device, anywhere. You should eliminate much of the need for paper records. You'll be able to send invoices electronically, view reports online and scan receipts to keep digital copies of them online.
Multi-user access
Multi-user access means it will be easier to collaborate online with your management team and accountants, saving valuable time.
Better control of your financial information
Online accounting allows you to set up a dashboard showing important financial information such as cash flow, overdue invoices what bills are due to be paid.
Data security
Cloud accounting software and cloud platforms can enhance security as most cloud providers apply multiple levels of security including encryption and access control. They will automatically back up data, eliminating the risk of losing vital financial data through things like fire or flood on your business premises as the data is held in the cloud.
Using cloud software, if your laptop is stolen, no one can access your data unless they have a login to the online account. With cloud software, your data lives online on secure servers as opposed to on your hard drive.
Scalability
Managing large amounts of data on spreadsheets can quickly become unmanageable. One huge benefit is the ability to scale with cloud accounting software as your business expands. You won't be stuck with a system that you'll quickly outgrow.
Modern software can scale and flex to match your business needs. Most cloud software can integrate with a whole ecosystem of third-party business apps that will enhance the software. It's scalable, cost effective and easy to use.
Improved accuracy
Gone is the need to manually enter every piece of data. The automation offered by online accounting. Put simply, cloud makes data entry more accurate as much of it will be linked and automated and therefore eliminates much of the need for manual entry and eliminates human error.
Improved efficiency
The automation offered by cloud accounting, real time reporting and access to accurate information reduces administration and will contribute to a more efficient accounting function and will boost not only your efficiency but your team's efficiency as well.
Connectivity
You can use cloud-based software from any device with an internet connection. Online accounting software helps you to be connected to your data and your accountants in real-time.
Make the move to cloud accounting software today
Whether you're a start-up or growing business, moving to cloud-based software will increase efficiency and provide real time reporting and information to you and your team. Cloud accounting will offer significant benefits to you and your business.
So, if you're still struggling with spreadsheets, manual entry of data and are getting behind in your bookkeeping, then cloud accounting could be the answer for you.
Here at dns accountants we offer our free cloud accounting software, Nomisma with all our accountancy packages. Our accounting software can offer all the benefits above.
To find out more about our software and accounting packages or for some more advice on cloud accounting for your business, speak to one of our experts. Simply, call us today on 03300 886 686, or you can also e-mail us at enquiry@dnsaccountants.co.uk.
Speak with an expert
Any questions? Schedule a call with one of our experts.