Import duty and taxes are applicable when goods are imported into the UK from anywhere either by an individual or a commercial entity. If an individual or entity imports, or purchases goods from abroad they may have to pay value added tax (VAT) or account for it as per the reverse charge procedure. Anything posted or couriered to the UK undergoes customs clearance to check whether the goods aren't banned or classified. If through the customs, an individual or business entity pays the applicable tax and 'duty' (customs charges) on it. This includes a product new or used that is bought – online, or received as a gift.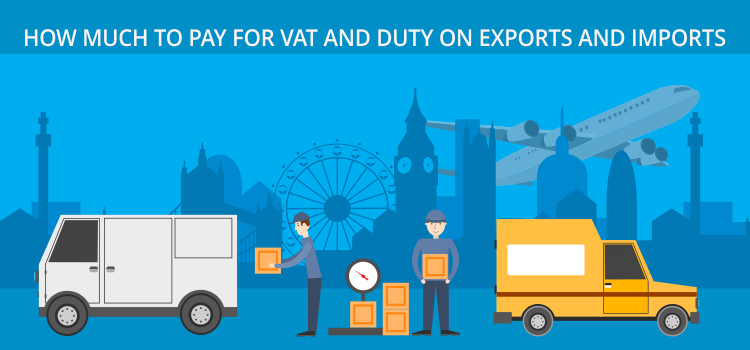 An individual or business entity may have to pay VAT, excise duty or customs duty on goods sent from outside the European Union (EU) before they can be collected. However, they don't pay VAT or Customs Duty when things are sent back such as 'personal belongings' (it is important to declare this at the customs).
Import duty and Tax
Importers will be contacted by Parcelforce / Royal Mail (courier and logistics service in the UK), or other the courier companies describing how to pay the applicable duty and fees, and VAT for dealing with customs. These agencies usually hold the parcel for about 3 weeks and in case the applicable fee has not been paid then, the consignment will be sent back.
To claim a refund on VAT or Customs Duty:
Form BOR 286

is applicable if goods are delivered by Royal Mail or Parcelforce

Form C285

if a dispatch rider or cargo company delivered the goods
VAT
VAT is payable on goods received from non-EU countries and EU special territories (e.g. the Canary Islands) if:
It is a gift worth more than £39.00
It is any other good worth more than £15.00
Perfume or cologne, alcohol, and tobacco products of any value
VAT is payable on all goods sent by mail order from the Channel Islands (consisting of Bailiwick of Jersey and Bailiwick of Guernsey)irrespective of the value of the goods. VAT is charged on the total value, including:
Insurance, postage, and packaging
price paid for the goods
any duty which is yet to be paid
Customs Duty
Customs duty will be charged on value of gifts and other goods (above a certain value) sent from outside the EU. This value will include:
price paid for the goods
insurance, postage, and packaging
| | |
| --- | --- |
| Type and cost of goods | Customs Duty |
| Anything under £135.00 | No duty is charged |
| Gifts costing £135.00 - £630.00 | 2.5% duty charges (however, rates are lower for some goods) |
| Gifts above £630.00 and other products above £135.00 | Rate depends on the category of goods and where they came from |
Excise Duty
Excise duty will be charged on alcohol or tobacco sent from outside the EU. If duty is not paid, goods may be seized. Goods can also be seized if they are:
spirits in excess of 35 centilitres with no UK duty stamp
cigarettes or hand-rolling tobacco with no UK health warnings
VAT on imports and exports
There are imperative VAT regulations to think about if business imports or exports goods or sales are made to other countries. Understanding these rules will help the business run efficiently and make sure the business does not have to pay any fines or financial penalties. In general terms, VAT is due on all imports and would apply to the products in the UK. It is not important to register for VAT to bring in goods but noticeably, if not registered, business will not be able to claim back any VAT paid. If goods are bought in the EU, output tax must be declared on them on the VAT return. However, it is permitted to reclaim input tax on the supplies subject to the normal rules.
Goods from EU countries
If a business is registered for VAT in the UK and receives goods from other countries in the EU, the business will by and large account for VAT through the VAT return. VAT will be accounted for at the same rate that was paid if goods were bought from a UK supplier. This VAT is referred to as acquisition tax and this can be normally reclaimed if the acquisitions relate to VAT taxable supplies.
VAT details must be entered on the VAT Return. The time of acquisition – is usually, the earlier of:
the 15th day of the month subsequent to the one when goods come into the UK
the date at which the supplier raised the invoice
Usually, businesses account for the acquisition tax for the period in which the acquisition has taken places, and may perhaps consider this as input tax on the same return.
Goods from non-EU countries
If a business or individual import goods that have been purchased from non-EU countries, they are usually charged at the same rate as they would have been if supplied in the UK. However, if antiques or works of art is imported they are permitted to a reduced rate of VAT. It is possible to reclaim the VAT paid on the goods as input tax. Import VAT certificate (form C79) will be required to show that import VAT has been paid. A shipping or forwarding agent usually cannot get back this input tax as the goods weren't brought in to be used in their business.
If goods have been misclassified, it is possible to claim a refund of overpayment made as a result of the misclassification. If certain goods are imported from outside the EU for the time being – i.e. with intent to re-export them within 2 years – temporary importation must be used to obtain total or partial benefit from import duties.
If goods are imported from outside the EU and are destined for another EU country, it is important to either
pay the applicable UK import VAT and put the merchandise into free circulation
place the merchandise under the external transit arrangement
If UK import VAT is paid, there is a possibility to be able to obtain Onward Supply Relief