If you are a UK company that's currently exporting and selling goods to consumers in the European Union (EU), then you need to be aware of major changes to VAT rules from 1 July 2021. These rules can be complex for business owners to understand, so we've summarised them here, but our advice is to seek independent advice from your accountant and use their VAT expertise.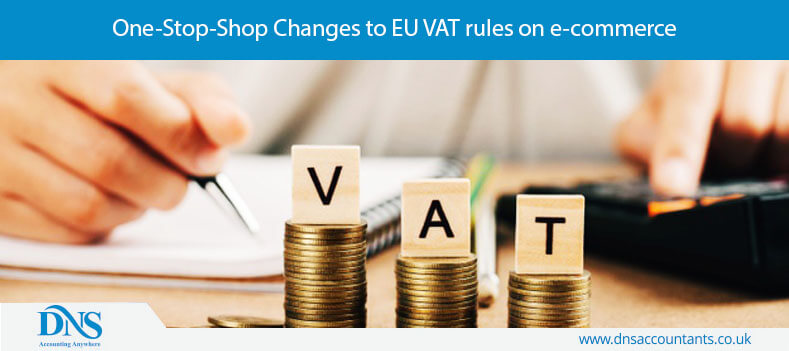 Why are EU VAT rules on e-commerce changing?
The rationale for the VAT changes is to overcome barriers to cross-border online sales andto address challenges that arise from the VAT regimes for:
distance sales of goods
the importation of low value consignments
Who do the new VAT rules affect?
The new EU VAT rules will impact UK companies that sell and import goods into the EU. These new rules mainly affect businesses selling business-to-consumer (B2C) goods into the EU member states. They will apply whether you're selling goods via your own online web-shop or via platforms such as Amazon, Shopify, etc.
When do the new VAT rules come into force?
From 1 July 2021, these extensive new VAT rules will be implemented by the EU for e-commerce. Because of the need to prepare in advance for these changes, we recommend that you don't leave your planning or conversation with your accountant until the last minute.
Also See: VAT: Buying a car through the business
What are the new EU VAT rules?
The main changes to be aware of are:
Removal of the VAT exemption for low value consignments (EUR 22 or below) and a new special scheme for distance sales of goods imported, where the goods are valued at EUR 150 or less (known as the Import One Stop Shop "IOSS") So, if you're a GB business supplying goods to consumers in the EU and the intrinsic value of the goods is less than EUR 150 you'll be covered by the new Import One Stop Shop (or IOSS).
There will be separate regulations for goods being shipped, where the value does not exceedEUR 150.
In some cases, online selling platforms or electronic interfaces, such as Amazon or Shopify, will become liable for VAT due and not your web-shop itself (but you should seek clear advice on when this is applicable).
Your web-shop will incur a direct levy of VAT on goods you supply to a consumer in any EU member state. However, this VAT can be declared via an OSS declaration (the One-Stop-Shop declaration) in one EU member state from 1 July 2021 and will avoid the need of registering in each member state.
There will no longer be a €22 low-value import relief. With the end of the Brexit transition period, the 'distance sales' threshold ceased to apply from 1 January 2021, if your UK business is supplying from stock in Great Britain.
But you'll still need to be aware of the VAT rates in the various EU27 countries.
If the OSS declaration isn't used, or a VAT registration isn't in place in each EU member state, then your customer will be asked by the post operator or carrier to pay the VAT to receive their goods. For most online sellers, this is a situation you want to avoid as it's likely to upset the customer and lead to refunds being requested or loss of future orders.
What do I need to do?
A GB business owner selling goods to EU consumers needs to at least familiarise themselves with the new IOSS and, where necessary, arrange to be registered under the scheme in a single member state or appoint an EU intermediary to act on its behalf.The business will need to determine whether they should register under the Union OSS or non-union OSS.
You need to fully understand which member states you trade with, which EU member state(s) you want to declare VAT and Customs duty, and how to register for the relevant VAT and duty.
You should also consider your supply chain to ensure that your supply chain providers can and will comply with these new EU requirements, and that the new process won't impact on your costs and efficiency of supply.
These EU VAT changes mean that there is a complicated set of regulations for your business to comply with. It's impossible for a business owner to understand them all and avoid mistakes or bad customer experience. So, it's imperative that you contact your accountant to help you to review, prepare and be ready for these new VAT rules.
Summary
If the EU is one of your primary markets, the additional red tape and administration could have a significant impact on your ability to trade efficiently with EU consumers.
Being able to continue to offer consumers a great shopping experience and avoid difficult situations where your customer can't receive their goods is key. Without careful planning your B2C customers may face higher prices, requests to pay VAT on their purchases and the inconvenience of extra duty costs on delivery.
The red tape will become far more complex from July, so it's essential to look at the compliance and record-keeping requirements now. The sooner you seek help from a specialist, the sooner they can review your situation, highlight the potential problems, and help you to find the right solutions.
DNS Accountants can give you tailored VAT advice and solutions. We can help you register with the new One-Stop-Shop (OSS) system and help you set up an EU administrative HQ to ensure you decide on the best EU member state to declare your EU VAT & Customs duty (if this is applicable).
Speak with an expert
Any questions? Schedule a call with one of our experts.