As a busy business owner, you need time-saving shortcuts to run your business more efficiently. One area where huge time savings can be made is with accounting software. However, just having accounting software often doesn't go far enough if you really want to manage your business finances effectively.
Integrating your budgeting software solution and your accounting system can save time, provide valuable business financial data, minimise accounting tasks, avoid entering data manually, leads to better financial management and cash flow management and can aid business growth.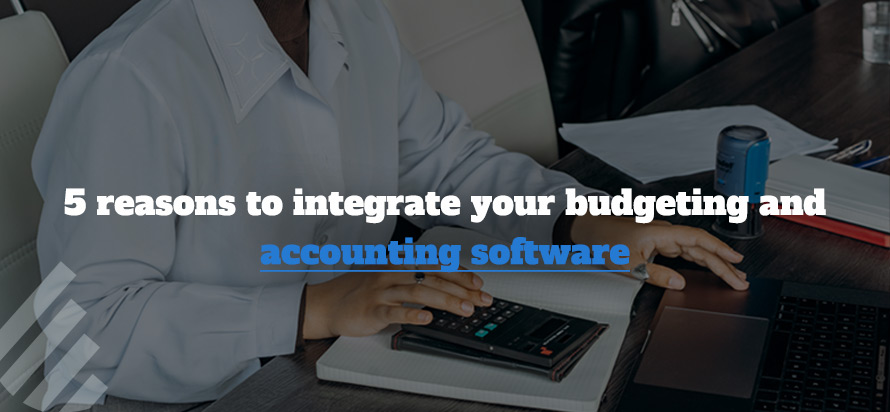 In this blog we'll look at the purpose and benefits of accounting software and budgeting software and why having an integrated accounting system and budgeting software solutions will help your business.
What is the purpose of accounting software?
Accounting software helps you record the flow of your company's money and examine your financial position. It allows you to record transactions, create purchase orders, track stock levels, invoicing customers, generate reports, manage customer and vendor contacts, and monitor your business finances in real time.
Not only are bookkeeping and accounting essential parts of running a business effectively, but modern software makes it easier to manage and control your business accounts and finances.
There are many benefits of an online accounting system, find out more here.
Here at dns accountants, we offer award winning accounting software called Nomisma to business owners. This is provided as free software with our accounting packages. Nomisma is a market leading online accounting software to all of our clients. Find out more about why Nomisma software is great for you and your business.
What is the purpose of budgeting software?
Budgeting is an essential part of business management. Effective budgeting can be the difference between success and failure of a business. Planning and budgeting software is designed to help improve efficiency in finances and operations of your business.
Budgeting for a small business can be harder than tracking your personal finances. This can because of the number of transactions, varying contracts and payment terms, outstanding debtors, fluctuating figures and the costs of goods and services changing.
Traditionally spreadsheets used to be the tool used by businesses to create and track budgets. However, planning and budgeting software has evolved extensively over the last few years.
Budgeting software solutions today still range from simple spreadsheets and dashboards to highly sophisticated planning software tools that auto-generate reports and statements and work across multiple platforms. Whatever your business size, from small business to larger SME, there will be budgeting software solutions out there for you.
Why is integration so important in accounting and budgeting?
By integrating your financial information from your accounting software and your budgeting software, you will get a more holistic view of your business finances and it will allow you to keep track of your business accounts financial plan.
Accounting software integrations with your budgeting will allow you to keep track of your actual spend and sales data against budget, set KPI's and report in real-time on the performance of your business.
Integrating systems enables you to manage your money easier and consolidate your reporting all in one place.
Reasons to integrate your budgeting and accounting software
Integrated accounting software that connects with your budgeting software is an essential tool to optimise your budgeting and planning process.
Having this integration will give you a more complete overview of your financial position and will help you to make better business decisions based on more accurate business data and enable you to draw meaningful conclusions.
Benefits of integration
By integrating your budgeting and accounting software, your business can:
1. Reduces errors
Manual data entry and manual processes to export and import data from one system to another is extremely time consuming and inconvenient, especially if you have many transactions in your business.
The ability to do things like automated sync of data from one system to another will save time and reduce errors. When using multiple unintegrated systems or spreadsheets for budgeting and accounting there is a much greater chance of errors occurring through manual data entry and human error. By integrating systems you can eliminate manual data entry and provide increased accuracy, save time and provide increased productivity.
2. Have real-time visibility
One of the key features of having your budgeting and accounting information online and integrated is that it will allow you to make quicker and more informed decisions about your business wherever you are or whenever you have the time.
Accounting software allows you to look at your business financial data anytime and anywhere. This will allow you to spot issues quickly and manage your financial data more effectively.
3. Manage cash flow more effectively
One of the biggest challenges for SME's can be managing cash flow. By integrating your software systems you can more easily track cash flow and report your key against your budget. You'll be able to create cash flow reports at the touch of a button and see your cash in and cash out with ease. It will allow you to better budget for your future cash flow and manage payments and bad debts more effectively.
4. Generate and customise reporting
Most accounting software and budgeting solutions will help you when generating reports for your business.
Effective integration not only allows you to compare income and outgoings against budget but will help you with smart budgeting in the future based on actual financial information of your business.
Modern sophisticated software packages will help you with project management by giving you the ability to budget by project, product or customer and track real-time information against those targets and budget. You'll be able to see which projects or customers have been the most profitable, which products achieve better sales and profitability, and much more.
5. Centralise your processes
Multiple accounting or budgeting platforms for different functions can lead to confusion, errors and frustrations. When different teams are involved in the budgeting and reporting process, having unintegrated systems can damage team relationships and take excessive time to sort out issues.
Often people outside a finance team struggle to understand the process, which will lead to back and forth discussions and explanations. Having centralised management solutions for your accounting and budgeting ensures everyone does their roles effectively, accurately and avoids misunderstandings and errors occurring.
Summary
Using multiple systems to manage projects, capture expenditure, budgets, payments and your overall business finances makes it more strenuous and time consuming to manage your business. Accounting integration software and budgeting software is the solution for this.
Whatever your company size, many businesses see the benefit of integrating software, allowing you having to revisit figures, ask needless questions, while keeping better track of what's going on in your business day to day.
Integrated systems or having a single system will help you to manage all your financial and budgeting needs including generating invoices, recovering expenses from different projects, capturing payments, sending receipts, setting KPI's, tracking real-time financials against budgets and will fulfil all your business needs.
Having smart accounting software that integrates with your budgeting software will be a real benefit to you and your business.
How dns accountants can help
Here at dns we have specialist teams that can help and advise you on accounting integration and budgeting software solutions for you and your business.
If you need further help or advice on accounting software and software integration, dns accountants can put you in touch with experts that can help. Contact us today for help and advice by calling our team on 03300 886 686, or email on enquiry@dnsaccountants.co.uk.
Nomisma online accounting software from dns accountants
Nomisma is the ultimate cloud accounting software for individuals and small business owners. It automates and improves the processes of everyday bookkeeping and payroll tasks that business owners face.
Nomisma will help you to manage your finances online and in real time from anywhere. It will increase your efficiency, productivity and profitability. Join dns today and get access to Nomisma to handle your invoicing, payments, expenses, bank feeds, and self-assessment.
Benefits of Nomisma include:
Improve cashflow - Use our integrations with Stripe, GoCardless or PayPal to make it ever so easy for your clients to pay you.
Get paid faster - Use Nomisma to chase unpaid invoices with automated email reminders. Nomisma can send out reminders to customers when invoices become due for payment.
Beautiful reporting - Generated instantly at the click of a button, ready for business loan and mortgage applications or to provide stakeholders with insight.
Cloud based - Allowing you to work anywhere, anytime, on any device. True flexibility for you and your team.
Easy invoicing - Save hours every month and raise sales invoices in just a few clicks. Email customers directly and chase unpaid debts with ease.
Unlimited invoicing - We don't believe in limiting such fundamental features and stunting your business growth. We'll never place any limits on the amount of data you can enter.
MTD ready - Our HMRC recognised API integration makes VAT submissions simple, finish bookkeeping, hit submit and make the payment.
Payroll that runs itself - From sending payslips to your employees, to making the filing submission with HMRC. Nomisma can run your payroll automatically for any frequency. If you prefer to do this manually you can at the click of a button.
Find out more about the benefits of cloud accounting software here.
Speak with an expert
Any questions? Schedule a call with one of our experts.