Technology plays a significant role in today's world, and cloud accounting software is often regarded as a significant technological innovation and one of the most valuable tools for small businesses. Many small firms are already utilising cloud-based accounting applications, and some are also moving their accounting systems to this new technology. However, some businesses continue to use Excel sheets as an alternative.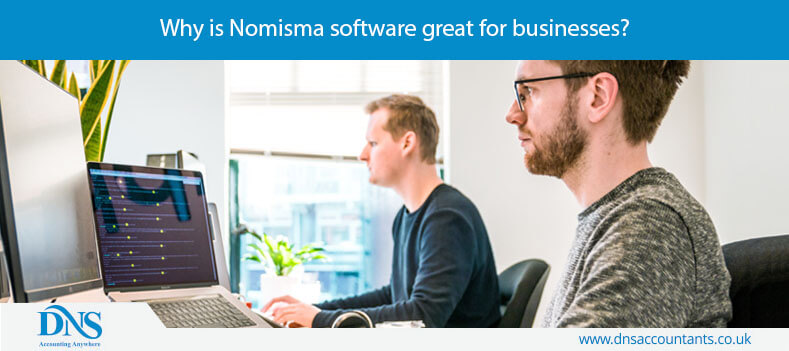 Nomisma is an MTD compliant cloud-based accounting and payroll software for all kinds of businesses. Using Nomisma, you can keep track of invoices, run a completely automated payroll system and generate reports at the touch of a button. This blog will tell you the benefits you can avail of as a small business owner by using the Nomisma software.
In this article we cover:
Benefits of using Nomisma Software
We've compiled a list of all benefits that a small business owner can enjoy as a result of shifting to this Cloud accounting "Nomisma software" –
Simple to use and helps in streamlining your operations

– Apart from the obvious benefit of having a single software that can handle and track a few of the more tedious tasks associated with running a business. it is reasonably priced in comparison to its capabilities and includes a number of systems that streamline and simplify the overall operations of your business. No need to go anywhere else; you can do bookkeeping, payroll and self-assessment in one place.

Make you compliant with the latest regulations

– As a business owner, you must ensure that any calculations you make are correct and compliant with current tax rates and regulations. If you perform manual calculations, you must pay close attention to detail and even keep yourself updated with the latest developments. Nomisma Payroll software takes care of all of these tasks for you in one go. With payroll software, you won't have to worry about such things because the software is automatically updated with current tax rates, and if the government makes any changes, it will get reflected in the software and ultimately in calculations automatically.

Value for money

- Nomisma cloud accounting software is a good value for money due to the plethora of features. If you don't want to pay a large price for this cloud accounting software, you can also purchase it on a monthly subscription basis. This spreads the expense of the software and makes it affordable to pay on a monthly basis. If you choose to pay in advance, you may receive a discount.

Improve cashflow

– You can easily access your accounting data anytime, anywhere with the use of Nomisma cloud accounting software that helps in improving the cash flow of your business. You just need a computer or a mobile along with an internet connection, and you can easily access your data from any location. It means you don't need to be in the office every time, and you can check your finances well from home, on the way or from any remote location as well. It helps employees working in other departments, branches or remote offices to access the same data as well as the same software version. Nomisma cloud accounting software provides you flexibility and peace of mind to access any data, anytime, anywhere. You can use their integrations with Stripe, GoCardless or Paypal so that clients can pay you easily and without any hassle.

MTD Compliant

– While the transition from spreadsheets or paper records to a new system may sound daunting, it is rather simple with Nomisma MTD software. The MTD compliant and HMRC-accredited Nomisma cloud accounting software streamlines VAT submissions, complete your bookkeeping and help make payments easy. It's time that you should switch to MTD compliant cloud accounting software, start maintaining digital records and submit your VAT returns to HMRC directly. By switching to Nomisma cloud accounting software, we ensure that you meet the following –

Keep accurate records
Meet the VAT deadline
Comply with HMRC

Reports generation

– Instantly generate reports with the click of a button with the Nomisma cloud accounting software. These reports help small businesses make critical business decisions and are considered ideal for business loan and mortgage applications. It also provides insight to stakeholders.

Fast and simple Invoicing

– Nomisma cloud accounting software was designed to keep small business owners like you in mind and ensure that you are paid for all of your hard work. Send professional invoices quickly, time tracking, keep track of pricing, calculate and claim expenses,and manage your business finances all in one place.

Automated payroll system

– From providing payslips to your employees to filing with HMRC, we've got you fully covered. Nomisma can automate the processing of your payroll at any frequency. If you'd rather do it manually, you can do it with the click of a button.

Automated Bank reconciliation process

– Reconcile your daily bank transactions automatically and keep your accounts updated with Nomisma cloud accounting software. It enables you to reduce the time, expense, and risk of errors associated with manual bank reconciliation and helps reduce the overall financial risk of your Business.

Automatic data updation

– Nomisma cloud accounting software benefits small businesses by updating their data automatically so that you can easily take a look at your business balance sheet in real-time. You can also generate and view different types of reports that give you a clear picture of your business and help you make important future business-related decisions.

Multiple users access

– Multiple user's access facilities under Nomisma cloud accounting software help small business owners manage their data so that people with specific roles only see the data to an extent they are permitted to. Multiple users access benefits make it easy for small business owners to add multiple users to their account and can easily decide who is permitted to see what and who are restricted to access the data.

Secure sharing

– Nomisma Cloud accounting offers a high level of data security in comparison to traditional accounting methods used by the small business owners. If you are using cloud accounting software, you will neither lose your data nor will your system get infected by a virus. Colleagues & clients can easily transfer the data between each other. Everything is in the cloud, so you don't have to send files or reports via e-mail. As a small business owner, you can easily access the same files with your bookkeepers and accountants via a cloud accounting system.
How can Nomsima cloud accounting software help small businesses?
Nomisma cloud accounting software is an MTD and HMRC compliant software that performs multiple tasks at one time and ensures complete control & data security for small businesses. It not only provides you with data privacy and security but also gives a clear picture of the current financial situation of your company. This cloud accounting software provides you access to everything in a much easier way in comparison to other software's. You can easily record important business expenses, maintain your daily records, get reminders about tax deadlines and manage your cash flows with the help of Nomisma cloud accounting software. You will find everything online, along with automatic updates and data backup. With the help of Nomisma cloud accounting software, you can run your business from any part of the world.
If your firm has voluntarily registered for VAT, as of April 2022, you will need to change the way you submit VAT submissions - how you file VAT Returns. Additionally, you'll need to switch to digital record keeping for VAT accounting unless you might be facing fines and penalties.
In case you need specialist advice on "Nomisma Cloud accounting software", kindly call us on 03330886686, or you can also e-mail us at enquiry@dnsaccountants.co.uk.
Speak with an expert
Any questions? Schedule a call with one of our experts.