If you are a SME or small business owner and you employ people, you need to ensure that you comply with employment law. Getting your head around what you need to provide to employees in an employment contract can be daunting.
Anyone your business employs should be provided with a written employment contract, this needs to include some key areas and terms in order to comply with employment contract law. A written contract is between employer and an employee or worker and is a legally binding agreement.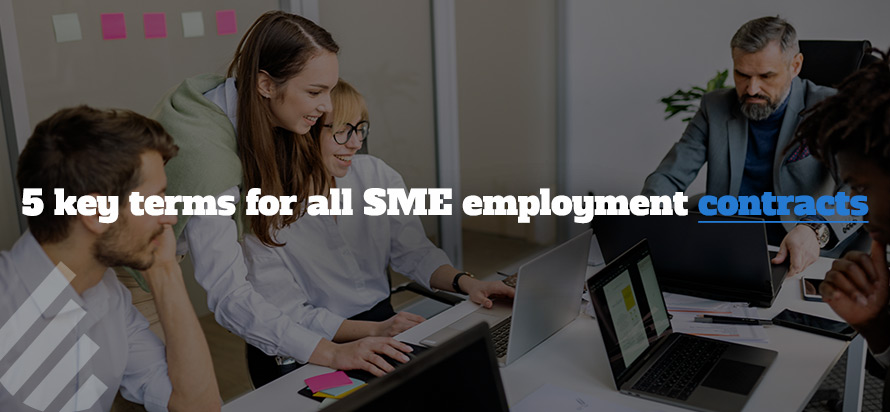 In this blog we look at the key areas you should include in employment contracts to help you avoid being in front of an employment tribunal or breaking employment law.
What is an employment contract?
A contract is a legal obligation as well as a commercial good practice. From an employment law perspective, it is unlawful not to have a contract of some form when employing individuals.
Contracts of employment explain what you expect from your staff and also your obligations as an employer. They'll help you remain within employment law, give clarity to your employees and run your business more effectively.
Should issues occur down the line, you'll have your contract to refer to and to back you up.
A contract is an agreement that sets out an employee's:
employment conditions
rights
responsibilities
duties
These are called the 'terms' of the contract.
Timescales and when an employment contract begins
An employment contract begins when the employee starts work. An employment contract does not have to be written down.
The contract will begin if all the following apply:
someone accepted the job offer verbally or in writing.
the offer was unconditional, or the person met all the conditions - for example, the employer was satisfied with their references.
the employer set out the terms of the job in a clear and definite way, verbally or in writing.
Employees and employers must stick to a contract until it ends (for example, by an employer or employee giving notice or an employee being dismissed) or until the terms are changed (usually by agreement between the employee and employer).
What an employer must provide in an employment contract
As soon as an employee starts work for you or begins an employment relationship, they enter into a contract of employment.
Receiving a written employment contract is statutory right of your employees. You must, as an employer, provide an contract of employment. If you don't provide this, an employee may be able to make a claim against you at an employment tribunal, where they may be awarded compensation.
Employment contracts should contain the following elements:
The job title and description.
The length of time required for notice to terminate the contract.
The number of regular hours of work the employee will be expected to work.
The end date of the work, if applicable.
The hourly rate or salary.
Collective agreements to which the employee must agree before joining the firm.
Sick pay, pension entitlement and paid annual leave allowances.
Terms related to family leave.
Details of additional employment benefits.
Terms of probation or introductory periods.
The specific hours in which an employee must be available for work.
Training details and provisions.
5 key terms of a contract
An employment contract is split into different types of terms. We explain the main types of employment terms below:
1) Express terms
Specific terms agreed in writing, they include areas such as:
Wage / salary
Working hours
Duties of the role
Staff benefits
Holiday entitlement & pay
2) Statutory terms
Terms that are part of employment law. These include areas such as:
The right to receive the statutory national minimum wage.
Protection against unfair dismissal.
The right to statutory sick pay.
The right to a statutory redundancy payment.
The right not to be discriminated against.
Maternity and paternity rights.
Statutory notice period requirements.
As an employer you can extend these rights by offering better terms than the statutory minimum and these will form and overlap between statutory terms and contractual terms.
3) Implied terms
There are some terms that are so obvious that they do not have to be written - for example, not stealing from your employer.
These terms can be crucial for an effective working relationship between an employer and employee and shouldn't be forgotten or overlooked in your contract.
To make your contract watertight and to prevent misunderstandings, it's a good idea for the employer to make these implied terms clear. This could be done in the contract or via a separate employee handbook.
Examples of implied terms include:
Employees not stealing from their employer.
Duty of mutual trust and confidence between employer and employee.
The standards of behaviour expected from employees – for example, being polite and respectful to customers or other employees.
It is worth detailing what will happen if these terms are not met – for example, the employer will report theft to the police or disciplinary and grievance procedures that will be enacted if the terms are broken.
4) Incorporated terms
Incorporated terms refer to terms written into other sources i.e., things written in an employee handbook.
5) Restrictive covenants
Restrictive covenants will be terms that restrict an employee's actions. These may state that an employee cannot take certain actions during their employment or for a period after employment ends.
For example, when an employee has left, you may prevent them from contacting your customers for a set period of time.
Restrictive covenants will not usually be legal unless they are clear, specific and time-restricted. Even then, this area of the law can be complex.
Exclusivity clauses
You may decide to include 'exclusivity clauses' in your employees' contracts. These clauses stop employees from either:
working for another employer.
working for another employer without consent.
Note: that the Employment Rights Act 1996, specifies in law that if someone is on a zero-hours contract, their employer must not:
try to stop them working for another employer by putting an exclusivity clause in their contract.
treat them unfavourably if they also work for another employer.
dismiss them for working for more than one employer.
The law banning the use of exclusivity clauses also applies to employees and workers with weekly income is below or equivalent to the lower earnings limit (LEL).
The Lower Earnings Limit is set by the government each tax year. The lower earnings limit for 6 April 2022 to 5 April 2023 is £123 per week, £533 per month, £6,396 per year.
Seek advice before writing exlusivity clauses.
Custom and practice
This covers an event or benefit may be deemed to be an implied term of the employment contract as a result of custom and practice. Although not specifically agreed between the employer and employee, if the custom and practice is well-established, consistently applied and is known to the entire workforce, it could potentially become part of the employees' employment contracts.
Examples of this may be that employees all finish at 4:30 p.m. every Friday instead of 5:30 p.m. as stated in their contract. If this practice is happened for several years, it would be covered by custom and practice.
Another example may be that an annual Christmas bonus of £150 is paid to all employees over a number of years.
It is still good practice for the employer to put specific custom and practice terms in writing.
Summary
If your small business has staff, it's important to recognise the different responsibilities that come with being an employer. Small businesses, like large businesses, need to provide their staff with employment contracts.
Employment contracts can be a minefield for small businesses to navigate their way around. A contract of employment should be thorough and specific in its terms to set out employment relationships, responsibilities and terms. Contracts should be a written document and given to all employees at the start of their employment.
If you need further help or advice on this or other employer responsibilities, dns accountants can put you in touch with experts that can help. Contact us today for help and advice by calling our team on 03300 886 686, or email on enquiry@dnsaccountants.co.uk.
Speak with an expert
Any questions? Schedule a call with one of our experts.