How to Open a Student Bank Account in the UK?
When you make a foreign country your residence, whether temporary or permanent, whether due to job requirements or studies, it becomes very important to open a bank account for easy transaction of finances. Same is followed for students in the UK. Here we will see, as a student how easy or smooth it is to open a bank account in the UK.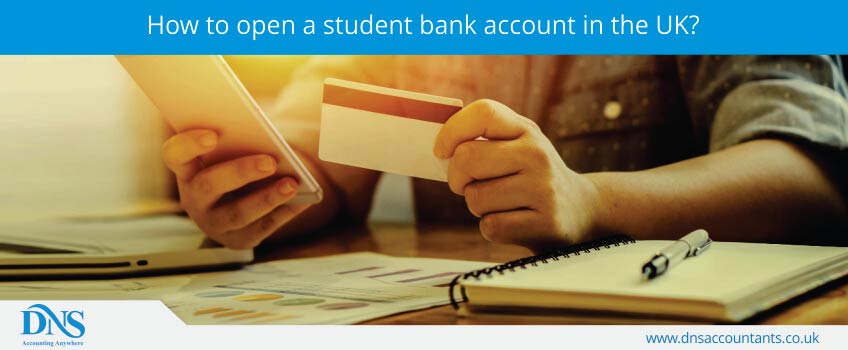 It is essential for you to open a bank account in UK before you start university there, even if you are a foreign national student. So we will discuss what exactly you need to know:
Types of Bank Accounts
With the growing business in banking sector too, almost all banks are in the competition to gain more and more customers. The reason we see more and more banks targeting students hoping once they complete graduation and start earning money, students will stick to them. These days with endless options on offers, find out which bank account would best suit your requirement s can be difficult. So let's first take a tour of types of different bank account available:
Student Bank Accounts
Designed for students in higher education, student bank account though are similar to normal bank accounts, they come with additional benefits like interest-free overdrafts, etc. When a bank allows you to spend more money that you have it is called overdraft. This amount is fixed for each customer. And when the overdraft is interest-free then the borrower is not charge any interest on its usage. But it is don't get to excited and be cautious about your usage as many a times banks remove this benefit once students complete their university. Therefore, ensure you payback the outstanding amount and do not keep any amount outstanding.
International Student Bank Accounts
If you are a foreign national and planning to study in the UK for few months or years then opening a bank account is not only a good idea but also essential keeping in view ease of financial transactions. Owning a bank account can help you in paying your house rent, tuition fee or manage your other expenses without burdening yourself with additional charges.
As an international student, you're generally not eligible for student accounts like the ones described above. That said, finding an account is still not a problem.
One option is opening a 'basic bank account', which will allow you to pay money in and take money out, and will also give you an ATM card to withdraw money from cash machines. These won't usually give you credit, so you won't get an overdraft, cheque book or credit card. You may get a debit card, but this varies depending on the account you go for. The international student bank account is aimed at students who come to study in the UK. The local student bank account gives you more flexibility than a basic bank account. However, you might have to pay a monthly account fee or may be the bank might want you to maintain minimum balance in your account.
The international student bank account may offer benefits like free international money transfers or foreign cheque deposits, etc. Thought, it is unlikely you will get any type of credit with this option.
Points to Take Note Of
Here we will discuss few points that need to be considered while going to open a student bank account in the UK:
Overdraft
When you get the benefit of overdraft on your account it will mean you will have an agreement with the bank to withdraw or spend more than you have saved in your account. Banks may not offer this benefit to all account holders but if you have it and you know you expenses may exceed every frequently, then having a benefit of overdraft is very helpful. But make sure you keep repaying the extra money taken on a regular basis.
There is standard followed in the UK banks in which banks normally give interest free overdrafts to student account holders. Means you will not be asked to pay interest on the extra money you overdraw. So when you go for account opening, check with every bank if they are offering the overdraft facility. Also, read the benefits properly. Many times very tricky languages are written to attract you but when your account starts functioning you may feel fooled. You may be promised an overdraft of up to a certain amount, means you might not get the full amount as promised. Ask your bank to give your exact figure that is using the facility how much you can overdraw.
Freebies
Though it is believed freebies generally can not match the benefits of a large interest-free overdraft, there are banks that offer attractive perks that makes the deal considerably more advantageous.
Location
Despite the fact that it is free to withdraw cash from any ATM branch or any another bank's ATM in the UK, it is always a better idea if your bank is close to your place of stay. It is actually time taking and tiring to travel all the away to your bank branch every time you need to visit it for some of your personal banking work.
Opening a Bank Account
Bank account opening takes a few weeks time so it is advisable that you start the procedure as early as possible. You can start the process as soon as you receive the UCAS confirmation letter, and do not require waiting until your term starts. In case you are a foreign national coming for studies to the UK, you should start the process even before you land in here. You can also try for online options before you leave for your studies. All international students are advised to carry travellers' cheques or little amount of cash that can be of help if there is a delay in the opening of the new account once they arrive.
Top Banks to Apply for Student Bank Account in the UK
The main banks in the UK are HSBC, RBS, Natwest, Barclays, Nationwide, Lloyds Bank, and Santander. After you decide on which bank you would open your account with, you should start the process by setting up an appointment with the bank professional to open one account close to your place of stay. Banks will ask you to bring your UCAS letter along with many other essential documents. Check bank websites to find out the required documents to open a bank account as different banks have different criteria. You can also call them directly and find out about the essential document require for opening a bank account.
Some of the Documents are:
Identity proofs, like a passport or ID card (if you are a foreign student then you visa too)
Proof of address in the UK (your rent agreement or an original utility bill)
Proof of you being a student (your university offer letter)
Always try to arrange your place of stay before opening your bank account. If you are having difficulty on finding an accommodation then use student.com to find one for yourself.
Speak with an expert
Any questions? Schedule a call with one of our experts.