If you are a limited company business owner understanding some of the basics about company accounts is important for you to be able to run and manage your company finances effectively.
Company accounts are also referred to as annual accounts, statutory accounts, or financial statements. There are a variety of accounts that can be submitted depending on the size and legal status of your company. Full accounts contain a profit & loss statement, balance sheet and a director's report.
Understanding different elements of accounts can be complex for newer business owners and there are strict rules governing the way in which company accounts are prepared and filed. There are also common misconceptions around what needs to be included in a set of accounts.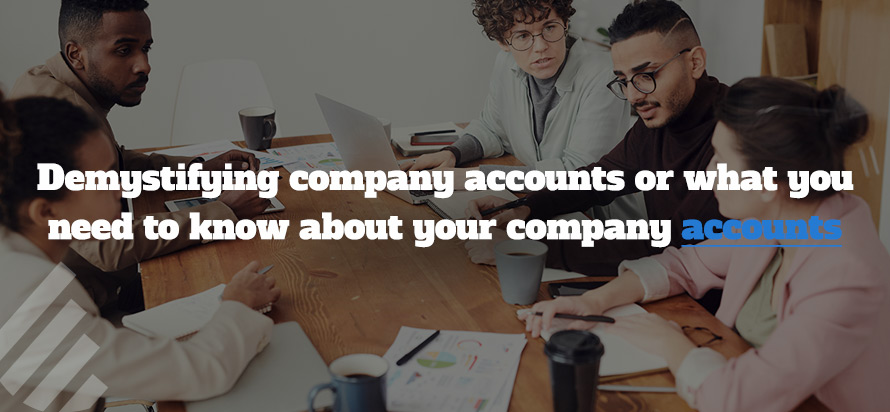 In this blog we will explore all the areas you should be aware of as a limited company business owner.
What are company accounts?
A company must file accounts every year. Company accounts are documents prepared at the end of a financial year which show how a company has performed over the accounting period.
All limited companies must deliver accounts to Companies House. It does not matter whether you've been successful, breaking even, not trading, or dormant.
What accounts are required for a limited company?
The type of accounts you need to file at Companies House will depend on your company size and status.
Full statutory accounts; abridged or abbreviated accounts
Small limited companies and micro entities are not usually required to prepare full accounts for Companies House. They can file abridged accounts (also known as abbreviated accounts) which are a much simpler summarised version of the full accounts.
Small companies accounts/abridged accounts
Small company or abridged accounts are a simplified version of a full set of accounts. They don't require a directors' report or a profit and loss account.
To qualify as a 'small company', you must meet at least 2 of the following:
turnover is no more than £10.2 million.
balance sheet total is no more than £5.1 million.
average number of employees is no more than 50.
The abridged accounts include the company balance sheet, a reduced number of notes to the accounts.
Micro-entities accounts
Companies with small turnovers will be classed as micro-entities. To file micro-entity accounts, you must meet at least 2 of the following:
turnover is no more than £632,000.
balance sheet total is no more than £316,000.
average number of employees is no more than 10.
Dormant company accounts
A company is called 'dormant' by Companies House if it's had no 'significant accounting transactions' during the accounting period.
Even if your company is dormant, you must still file annual accounts and send Companies House confirmation statements every year.
What financial information is required to prepare full accounts?
If your company doesn't qualify as a micro-entity or small company, you will need data about your company's income, expenses, assets, liabilities and equity. Full annual accounts should include:
A profit and loss account.
A balance sheet.
A director's report.
Supporting notes about the accounts.
If you're company requires an audit (see criteria below), then you'll also need an auditor's report.
Most small companies qualify for an audit exemption and will not necessarily have to file full accounts if they have at least 2 of the following:
an annual turnover of no more than £10.2 million.
assets worth no more than £5.1 million.
50 or fewer employees on average.
Who do I submit my annual accounts to?
You should provide your company accounts to the following:
Companies House.
HMRC (as part of your company tax return).
Shareholders & guarantors.
Anyone entitled to attend annual general meetings.
What needs to be included in full statutory accounts.
This is a financial statement that gives an overview on three key aspects which are often used to judge your company's financial health – the total business assets, the total liabilities, and the total of shareholders' equity at a specific point in time. It gives and overall indication of the financial health of your company at the time the accounts are generated. Look at it as a snapshot comparison of what is owned versus what is owed.
Balance sheet
The balance sheet deals with two categories: a company's assets and liabilities.
An asset is something which is owned by your organisation or that you get a benefit from.
An asset will be either a:
Fixed assets

These are things that hold value and will be kept long-term such as land, buildings, machinery and vehicles.

Current assets

These are things that have a shorter lifespan such as cash in the bank or stock items.
A liability is an obligation, (for example, a debt arising) which will need to be repaid.
A liability will be either a:
Long-term liabilities

These are things that are expected to be paid back over longer periods of more than a year, such as large bank loans.

Current liabilities

This is any money that is due to be paid within the year such as staff salaries.
Profit and loss statement
The profit and loss statement shows a company's financial activity across a period of time, rather than an overview at a fixed point in time that the balance sheet.
The profit and loss statement will show the total revenue earned and total expenses of the business through the year.
How to work out profit or loss?
To work out your company's gross profit, you simply deduct the cost of sales from the company's annual turnover figure.
Cash flow statement
A cash flow statement shows the cash movements in and out of the business over the financial year. Cash flow is defined as the amount of money that actually comes in and goes out of a business during a period of time.
This difference between a cash flow statement and a profit and loss statement is the in a P&L statement profit is normally recorded when the sale is made, and cash flow is recorded when the money is received.
Cash flow can be vital to the overall health of your business. If you generate a lot of cash then this can be a sign of a healthy business, however, some companies do have negative cash flow from short periods (for example if you invest in equipment, IT etc) but this period of negative cash flow because of investment can help a company return to positive cash flow.
However, long term periods of negative cash flow are not good and you should seek advice as soon as possible to resolve this, otherwise your business won't survive.
Notes about the accounts
These contain supplementary supporting information to explain both the balance sheet and profit and loss account and provides evidence to the figures.
The notes to the accounts give further details on the numbers given in the accounts. The importance of these numbers and notes should not be underestimated. The accounts are not complete without the notes.
A director's report
This report should be prepared by a company's board of directors and is particularly important to shareholders. For larger companies who are required to complete full statutory accounts, it is a legal requirement to complete this report as part of holding the company accountable for making decisions in the interest of the business and its shareholders.
How to file your annual accounts
Annual accounts must be filed online at Companies House. They should be filed after the end of your company's financial year, which is a 12-month period that ends on the 'Accounting Reference Date' (ARD).
Your first annual accounts normally have different deadlines to subsequent ones.
Your first annual accounts should be delivered to Companies House no later than 21 months after the date of company formation.
The period covered by your first accounts can be longer than 12 months because your first financial year will:
start on the day that your company was registered at Companies House.
end on your company's ARD, which will be the last day of the month in which your company was registered.
After your company's first year accounts, the deadline for submitting annual accounts to Companies House is 9 months after the accounting reference date, which is the end of your company's financial year.
Annual accounts should also be submitted to HMRC for your company tax return and no later than 12 months after the end of your 'accounting period' for Corporation Tax. This accounting period must not be longer than 12 months.
Can I prepare my own company accounts?
If you feel confident, you can file your accounts yourself. However, be aware that preparing your accounts in the right way can be complex if you are not up to date with latest legislation and have not done this before. Getting it wrong could mean you incur penalties.
Many companies will choose to use a professional such as an accountant to act on their behalf. An accountant can add value by not only preparing your accounts but explaining all the elements to you, giving you assistance in filing them and help you understand your profits or your losses and the overall performance of your business.
Benefits of an accountant preparing your limited company accounts
Accountants are experts in preparing and filing limited company accounts. It's what they do every day, they will know all the rules, deadlines, tax reliefs, can liaise with HMRC and companies house on your behalf and meet very strict accounting standards.
Using an accountant will take away the stress of your statutory obligations as a business owner.
An accountant could help you avoid any penalties, ensure your company accounts meet rigorous rules and standards and may even save you money by advising on tax reliefs and things like expenses you can claim.
Summary
Because of the complexity of preparing and filing financial statements and company accounts, it is wise to seek assistance from a qualified accountant like dns accountants.
If you need advice on limited company accounts or want to find out other ways the we can help you, then call us today on 03300 886 686, or you can also e-mail us at enquiry@dnsaccountants.co.uk.
Speak with an expert
Any questions? Schedule a call with one of our experts.