Whatever type of property you are renting out, if you're a landlord then you need to understand both your own obligations and those of your tenant(s).
For rented property you need to be clear of your landlord and tenant obligations. For landlords, these obligations cover everything from safety, repairs, deposits, gas, electric, heating and hot water. For tenants it's around paying rent and bills and looking after the property.
So, to familiarise yourself with both the landlord responsibilities and tenant's responsibilities, read on...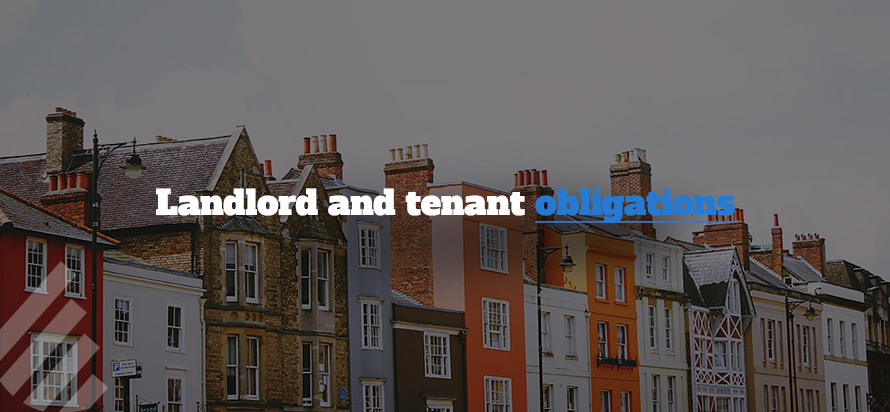 What are a landlord's obligations?
It's a landlord's responsibility to ensure the following areas are covered:
Safety
Ensure the property is habitable and safe.
Follow fire safety regulations.
Ensure furniture and furnishings provided are fire safe.
Ensure gas and electrical appliances are regularly checked and obtain the necessary safety certificates.
Protect a tenant's deposit through a deposit protection scheme and return it at the end of the tenancy.
Repairs
Undertake repairs to the structure and exterior of the property when they need to be done.
Repair problems with heating and hot water installations, sinks, baths and electrical wiring.
Upkeep and repair of common areas in multi-occupancy dwellings.
Security
Provide door locks and keys in good working order.
Energy performance certificate
Provide new tenants with an Energy Performance Certificate (EPC).
What are landlords not responsible for?
Despite there being a clear list above of landlord responsibilities, landlords aren't responsible for expenses that result from repairs incurred in connection with a tenant causing problems.
Often as a landlord there can be unexpected expenses of repairs, so it's always worth considering a specialist landlord home insurance to cover unexpected bills.
What are tenant responsibilities
It is a tenant's responsibility to cover the following things:
Bills
Pay utility bills, such as gas and electricity, telephone, broadband etc, unless agreed otherwise with the landlord or included in the rent.
In most cases, tenants are responsible to pay council tax, water and sewerage charges, but check with your landlord if these are included in your rent.
Rent
Pay rent on time, even if you're having issues with your landlord.
Maintain the property
Turn off water at the mains if you're away during a period of cold weather.
Ensure the property is kept in a sanitary condition.
Get damages caused by you or visitors repaired (you should get it professionally repaired unless agreed with the landlord that you can do it yourself).
Subletting
You will generally not be allowed to sublet, unless previously agreed with the landlord.
Moving out
Ensure you give the appropriate amount of notice before moving out. This should be outlined in the rental agreement.
Clean the property before moving out and restore it to the condition it was when you moved in. Any damage caused by you might be deducted from your deposit.
If for any reason you don't fulfil your tenant responsibilities your landlord could potentially evict you.
Access rights
There are clear rules around access rights between landlord and tenant. The landlord has a right to 'reasonable access' to the property to undertake repairs and maintenance. But it is the landlord's responsibility to get the tenant's permission up front and give 24 hour's notice of a visit.
If a landlord requests access to the property for another reason than repairs, the tenant has the right to refuse this if the timing is not convenient. There must be reasonable grounds to refuse access as the property is owned by the landlord.
Dealing with issues
If landlord or tenant responsibilities are not adhered to and issues arise, then you need a clear view on how to resolve these issues.
If you're a landlord, then attempt to talk to your tenant or write to them initially via email or post, outline the problem and course of action.
If you still can't resolve problems, you can use a mediation service to help you to resolve issues. If this doesn't produce a suitable conclusion, then you can take your tenant to court. However, this can be costly, and the law is there to protect both landlords and tenants, so using all other channels to resolve the problem first would be preferable.
As a tenant you can complain to the letting agents, managing the property or complain directly to the landlord if you consider them to not be meeting their responsibilities. This can be done by talking to them or writing a letter or email. If this doesn't resolve the problem, you should contact your local authority / council. If all else fails you could take your landlord to court, but this is a costly option, and all other avenues should be explored first.
Summary
If you are a landlord renting out one or multiple properties, you need to understand your responsibilities and your tenants' obligations. You can find out more on the Governments website here.
At dns accountants, we are expert accountants for landlords and can provide you with a wealth of help and information. For landlord help and advice call us on 03300 886 686, or send us an e-mail at enquiry@dnsaccountants.co.uk.
Speak with an expert
Any questions? Schedule a call with one of our experts.