Accounting plays an imperative role in the performance of any business. With changes in the working model of modern businesses and technology plays an essential role in the transformation of a business, the existence of a well-built accounting system is the need for any business.Over the years, there have beennumerous changes in the way accounting is done. Many book-keeping and accounting firms are implementing technology in accounting in order to restructure their business and make simpler their work to a large extent. DNS Accountants are a leading modern-day accounting firm in the UK and aim to help businesses understand the changing need of modern business. DNS Accountants, through the development of their cloud-based accounting software, have come a long way from handbook accounting to modern-cloud accounting. Businesses in today's competitive environment are also outsourcing their accounting requirements in order to entirely focus on next generation new business. Below mentioned are a few changes we have been able to identity in the changing accounting and taxation environment: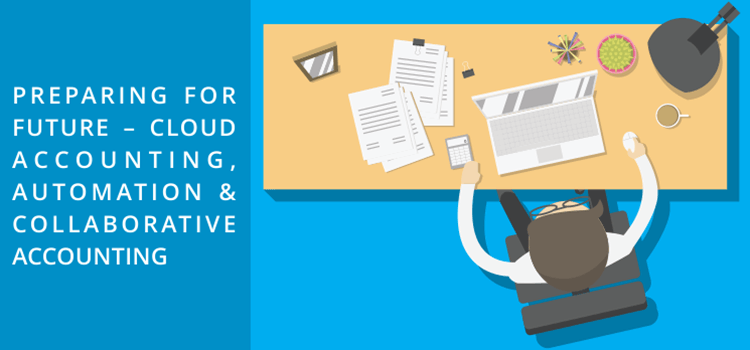 Cloud Accounting
Nowadays, generally businesses rely on cloud-based services for a variety ofbusiness operations encompassing from mobile-workforce connectivity to data storage, thereby, aims to reduce business costs. Cloud enables the business to minimise their internal IT infrastructure, helps businesses to increase their bottom-line. As abudding accounting trend, the Cloud technology is increasingly being used to work and facilitate trouble-free access to top-notch infrastructure exclusive ofspending huge amounts of money on it. Cloud accounting also lays the foundationby the means of which improved collaboration within team members enable businesses in the UK to maximise revenue and have an enhanced synopsis of the business' finances. Cloud Accounting just depends on a connectivity device along with internet connectivity. Users can use the software to access information from anywhere at any time of the day. The advantages of cloud accounting include:
Cloud accounting enables small-business owners to be associated with their business data and online-assisting accountants
Cloud software can be incorporated with a broad range of add-ons
It facilitatesmodern businesses to use a cloud-based software from any device (mobile/tablet/laptop) using any internet connection
It eliminates the requirement of running an applications over a desktop
Most importantly, cloud-based applications are very secure; it is a protected way to guard a business' intellectual property in case of loss of assets such as laptops
Collaborative Accounting
Apart from cloud accounting, accounting industry is witnessing a new trend – collaborating with the clients. Though, collaborative accounting may not be a new terminology for a few, a new kindof collaborative accounting is evolving where businesses use the internet and modern digital technology to work collectively in real-time despite their location. For instance, chartered accountants (CAs) can inspect information of their clients' and make amendments where-ever essential using cloud software and correspondwith clients using an instant messenger like Microsoft Lync or Skype. Unified communication platforms are gaining importance and enable businesses to interact with their counter-part within seconds (a more quicker and efficient way to communication as compared to an e-mail)
Collaborative accounting is presumed to be the future of accounting, thereby, enabling quick decision making and access to real-time data in a competitive environment. It doesn't essentiallytake place only between clients and accountants; it applies to aninternal company staff as well. A seller can sell a product or service through a sales person sitting at a diverse location using a mobile or tablet; additionally, an invoice can also be shared by a manager at a different location. These functionalities need to be collaborated within a tool to enable smooth functioning of the business
Automation
Automation of accounting is an upcoming trend that can assist businesses save a huge amount of time with regards to their accounting needs. Automation is graduallyeradicating the requirement for manual data entry, thereby, saving businesses animmense amount of production hours. As the case with other industries, automation in accounting is anticipated to decrease the trouble of manual accounting and bookkeeping; the available time can be used to deal with authentic real time accounting issues. Even though automation and cloud-accounting software may seem like a threat for accountants, they won't be able to completely replace accountants because of the complexity of accounting and taxation rules and guidelines. There will always be a need for an accounting councillor to enable businesses to operate with efficacy. Having said that, automation in accounting is a boon for entrepreneurs and small business owners in the UK
Apart from automation in accounting, Auto Enrolment can also help in payroll and customer relationship management (CRM). The modern-day available tools make it smoother for business owners to take advantage of available client information in a lucrative way; this is beneficial to both the accounting firms as well as their customers. An automated customer relationship management system can enable businesses with customer interaction; real-time feedback; resolving customer queries along with many others facilities. Along with simplifying the work process, automation accounting also provides for accountants with sufficient time to guide businesses on different avenues of tax planning and saving their hard-earned money
Outsourcing
Outsourced accounting is another upcoming trend in accounting industry. Outsourced accounting significantly enables businesses to concentrate on their principal business activities rather than investing in their accounting department. Outsourced accounting services can facilitate businesses minimise their expenses, and also lessen risk of fraud. Below mentioned are a few advantages of outsourcing accounting services like an accounting firm like DNS Accountants:
Access to a team of experts in accounting
Access to modern cloud-based accounting application systems
Collaborative accounting has a number of benefits
Complete control over business accounts
Keeping an eye on the cash flow (real-time data is available)
Expansion of business
Sufficient time to focus on growth and expansion of business
Social Media Stratagem
To be able to attract more business, small-businesses in the UK are using social media to enhance the presence for their business online, thereby, reaching a wider audience. Through social media strategy for accounting, businesses are able to work cross-border and because of this, business owners are becoming more active on social media. This development in accounting is not just advantageous for accounting firms but also for the clients who have access to more up-to-date information, which provides them more clarity when it comes to deciding an accounting services provided. There are many advantages of work through a social media accounting portal; a few of these may include:
Communicating with numerous clients across geographies
Increased website traffic
No cost on usage
Increased business coverage and visibility
Providing insight in areas of accounting expertise
The current market shift can mean real growth for an organisation in the UK, and can smoothen the accounting process; filing tax returns can also be very simple. Businesses should keep in mind that before they can train staff to onboard clients, there must be a detailed system with the technology ecosystem to support the transition, and also match the level of client service businesses may wish to deliver
DNS Accountants - Cloud-accountants in the UK
DNS Accountants are futuristic accountants in and around the UK. To assist accountants, work more economically with their clients online, we provide them with training on cloud-accounting platforms and help them understand all the tools and benefits that can be realised using accounting software.For more information, kindly get in touch with us.
Also See: Polish Speaking Accountants or Polish Accountants
Also See: Romanian Speaking Accountants or Romanian Accountants
Speak with an expert
Any questions? Schedule a call with one of our experts.