Accounting outsourced services is a thought on which most business owners and Chief Financial Officers are focusing. Nowadays, it is practical for any business to outsource its accounting activities. Core business activities that can be outsourced include payroll management, bookkeeping / accounts management, and tax return preparation / filing. Outsourced accounting services turn fixed cost into variable cost, thereby reducing the business expense. With businesses becoming highly competitive, SME owners are prioritizing accounting services in order to have standardized and modernized operations. Notable benefits of outsourced accounting service, such as reduced cost – increased revenue, are dominating the priority list of business owners and they desire to have quality services with lower financial investment. This article aims to provide small-business owners and freelancers / contractors with complete understanding of outsourced accounting, why businesses should outsource its accounting services, and what are the related benefits and costs attached.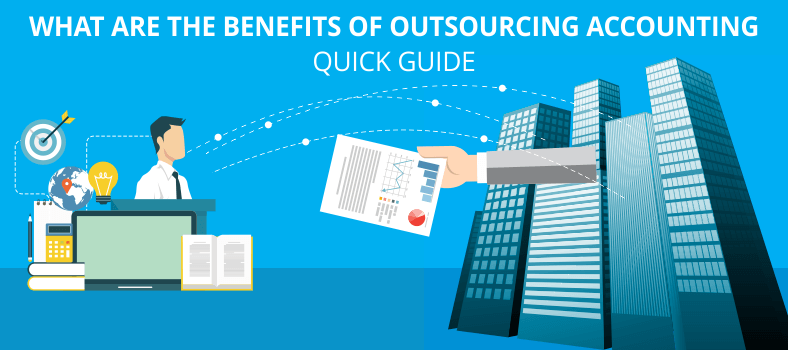 BENEFITS OF OUTSOURCING ACCOUNTING
As businesses are expanding nationwide and worldwide, the competition is also on the rise and small-businesses facing threat from their competitors might actually end up losing some of their clients. To retain clients / add new customers and enhance the profit, businesses must focus on outsourcing its accounting services which will allow businesses to pay attention on the core business activities. Additional tasks such as tax return preparation and accounting can be handled by account management companies such as DNS Accountants. Many business owners are of the opinion that outsourcing is cost-effective, even though there are additional reasons for outsourcing accounting services.
Usage of technology and low cost
Know-how of rules and regulations
Reduced likelihood of errors
Learned accounts management team
Quicker turnaround
Business growth
Reduced cost – more working capital – increased revenue
COST OF OUTSOURCING ACCOUNTING SERVICES
Cost-effectiveness is one of the most evident outsourced accounting benefits. Businesses can increase their profit by no less than 40% through an outsourcing arrangement with a knowledgeable outsourcing firm. Usually the outsourcing fee is around 20% of total bookkeeping cost and the business can get complete back office support. Businesses don't need to worry about fixed salary for employees, no holiday and pay computation, or cost for idle time. Payments can be made only for the amount of work done, which directly matches up with the income generated from clients.
ADDITIONAL BENEFITS OF OUTSOURCING ACCOUNTING FUNCTIONS
Many a time, businesses ask why they should outsource bookkeeping services. Apart for low cost, another key reason for business to outsource accounting is the growth of business. Removing the accounts management task from the internal staff helps focus on generating new business and sustain the current business. Getting hold of new clients becomes easy when businesses outsource their accounting services; thus getting additional time to focus on the important needs of the clients and business core competencies. Businesses don't lose big projects or new clients just because the owner or employees are already too busy.
Accounting errors can be frustrating! Another benefit of outsourcing accounting is that businesses get quality work within the designated time frame. The delays and review requirements of in-house staff results in wastage of time and money. On the other hand, businesses can manage an outsourced provider far more stringently to ensure that they receive quality work and also pay only for reasonable productivity. Doing so will increase the profit.
Managing internal accounting team can lead to an increase in the overhead cost of the business, whereas, managing an outsourced accounting firm is easier than tackling an in-house team of accountants
Outsourced accounting firms operate based on timelines and targets. They are aware of the tax deadlines and other legal requirements, therefore aim to file records on time
All the data is secure and disaster averted. Businesses don't need to worry about the financial information. Also, with regular updates it is easy for outsourced accountants to identify fraudulent charges and notify the business regarding them
It is possible to increase productivity of business by using quality staff from an outsourcing company. Instead of getting into the hassle of recruiting people, outsourcing accounting tasks is more suitable and advantageous for the business
PROS AND CONS OF OUTSOURCING ACCOUNTING SERVICES
The benefits mentioned above can only be achieved if an outsourced accounting firm is competent of providing satisfactory service which is in-line with the HMRC guidelines. Outsourced accounting firm should be able to recognize the pressure in the business environment and must be up-to-date with accounting principles and taxation rules. Similarly, the accounting firm may need to flow data electronically hence, investment in technology and cloud accounting services can pay back well.
SMART TIP FOR USERS
Outsourced accounting service is cost-effective, saves time and helps business owners focus on maximizing wealth when they know that experts are managing the routine accounting tasks. Rather than hiring people for permanent or part-time positions, the business earnings are likely to increase when hiring an outsourced accounting firm like DNS Accountants. Permanent employees are costly; apart from giving them salary, businesses need to pay taxes on their earnings and in some cases offer benefit programs. Along with payroll, businesses also need to keep track of holidays, sick leave and vacations. Outsource the accounting services and discover paying a portion of the price for the same service to a much more well-informed accountant! The challenges of account management and tax preparation can be abridged to a great degree with the help of outsourcing. The benefits of outsourcing accounting can be felt all through the organization. The management team will have less e-mail to open, creditors will be paid on time, customers will be informed about late payments, and in due course reduce the collect time on receivables.
HOW DNS ACCOUNTANTS CAN HELP
DNS Accountants is one of the leading accounting service providers in the United Kingdom. By outsourcing accounting services to DNS Accountants, businesses can earn more and get consistent services, along with many other benefits of outsourcing as discussed. For any business, getting reliable services is imperative and because of this prominent reason businesses rely on the services provided by DNS Accountants. DNS Accountants provide accounting and taxation services to owner-managed-businesses and self employed individuals – freelancers / contractors. It is difficult for businesses to keep pace with the ever changing government regulations and rules.
Grow the business bigger by outsourcing the routine accounting tasks and experience the business flourish like never before. DNS Accountants expert team of chartered accountants (CAs) and ACAs help clients in services ranging from accounting to payroll management to tax preparation and filing.
Speak with an expert
Any questions? Schedule a call with one of our experts.