ALL THAT YOU NEED TO KNOW ABOUT CLOUD ACCOUNTING
In the accounting business, we are experiencing hard to believe rise of technology; cloud accounting softwares are creating business operation handling much easier than ever, for small business owners to manage their bookkeeping and accounting tasks with the competency that only larger organizations formerly enjoyed. Many businesses are turning to cloud-based technology for their accounting needs and this shift is anticipated to speed up as more businesses move to the cloud. In this tech era, small businesses in the United Kingdom are taking advantage of the cloud platform to manage their finances, interact with clients, and access data from anywhere across the globe. Day by day, more businesses are turning to cloud accounting and fewer are now dependent on a physical hard drive to store and view the accounting data. Practically speaking, the cloud accounting is not a threat to accountants rather, it is creating a valuable prospect for accountants to help their clients in ways that never existed before this cloud accounting revolution. It is threat to accountants who are acting purely as bookkeepers and not thinking beyond data entry.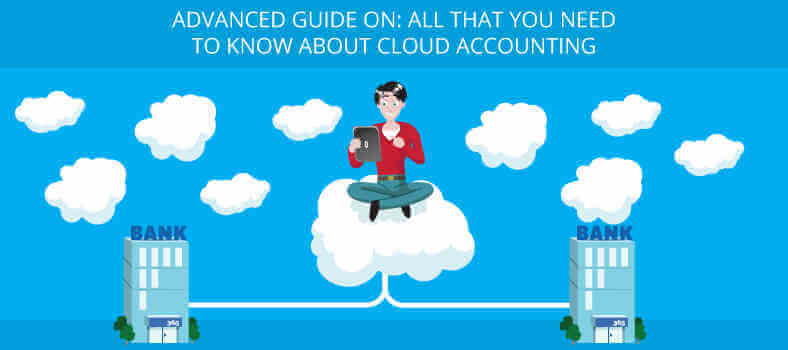 CLOUD ACCOUNTING VS TRADITIONAL ACCOUNTING
Cloud accounting is similar to traditional accounting. The only difference is that in cloud accounting, the accounting software is hosted on remote servers and not on the system itself. It is similar to the SaaS (Software as a Service) model where data is sent into the cloud, where it is processed. In cloud accounting, business can access data through the Internet via a cloud application service provider. It also allows employees to access the same data from any location and with cloud accounting it's easier to get real-time reporting. However, there are quite a few dissimilarities between cloud accounting and on-site traditional accounting:
Cloud accounting is more flexible as data can be accessed from anyplace on any device through an internet connection
Unlike traditional accounting software, cloud accounting software updates information automatically, providing real-time reporting. Through cloud accounting, account balances are always correct and there are fewer chances of errors taking place
With cloud accounting solutions, small businesses do not pay for expensive equipment and licenses when the business contracts are up and, likewise, there are no big expenses when the business expands
Than traditional accounting software, cloud accounting requires far less maintenance. The cloud provider completes the backups, updates happen automatically and nothing needs to be downloaded or installed onto the computer
Cloud accounting software are more secured as compare to local servers. Cloud is managed by professionals where as local servers are not managed by professionals most likely.
CLOUD ACCOUNTING SOFTWARE FOR ACCOUNTANTS
To understand and explore how good Nomisma is compared to one of the big player's – Xero, click here.
Nomisma Solution offers accountants many features to improve services offered to small business and contractor / freelancer customers. Compared to Xero, Nomisma has certain unique features that include:
White label software that users can cross-sell
Value added tax (VAT) comparison report
Takings sheet component for retail, cash, and restaurant businesses
Reference letters
Dividends processing
Integrated module for CIS subcontractors
Receipt storage at no additional cost
Nomisma is fully integrated Software which offers payroll, personal tax, final accounts and bookkeeping so the only fully integrated software.
BEST ACCOUNTING SOFTWARE UK
Nomisma Solution is without comparison the best accounting system for small businesses and has features of a modern day accounting software. Cloud accounting programs are an easy way of tracking monetary transactions, whereas, compared to conventional bookkeeping softwares that lack the visualization and analysis of financial data. Nomisma Solution is useful personal online accounting software and it also comes with a free demo / trail version. All the accounts related information is available to small businesses whenever they need and data is automatically updated, giving businesses the latest information they require, just at a click. Putting together the data for forecasting requires a framework that is easy to operate, and has excellent functional capability. Small businesses don't have to wait for the month-end to analyze the monthly sales, and profit and can get information regarding debtors, creditors, tax payable, and stocks anytime and anywhere. Nomisma Solution is UK's online accounting software that can perform all the accounts and taxation related tasks at the click of a button and prepare the business for meeting their long-term goals.
CLOUD ACCOUNTING BENEFITS
The unique features offered by Nomisma Solution include:
Financial Statements reconciliation: trial balance, P&L, and balance sheet
It is safe and keeps the data secured
Working capital management
Strong reporting capabilities including – comprehensive ledger and journal entries, and comprehensive audit reports
Transaction summary, and department-wise analysis and reports
Mobile app for viewing accounts from anywhere
Invoices can be e-mailed directly from the software
Contractor and sub-contractor statements
Auto-reconciliation and reports available in different format (.pdf or .doc / .docx)
Sales / purchase invoices, only VAT Invoices, and credit / debit notes
Payroll and self-assessment modules
Direct feeds from banks
Dividend processing and voucher generation
Accounting by department and query sheets to resolve issues
Exclusive modules: reimbursement and allowance modules and management receipts
HOW DNS ACCOUNTANTS CAN HELP
DNS Accountants is one of the leading accounting service providers in the United Kingdom. Through Nomisma Solution, our personal cloud-based online accounting software for small business, businesses can earn more and get consistent services, along with additional benefits such as CRM, self assessment, payroll, company secretary along with others. It is difficult for businesses to keep pace with the ever changing government regulations and rules. Grow the business bigger by using Nomisma Solution and experience the business flourish like never before. For any business, getting reliable services is imperative and because of this prominent reason businesses rely on the services provided by DNS Accountants. DNS Accountants provide accounting and taxation services to owner-managed-businesses and self employed individuals – freelancers / contractors. DNS Accountants expert team of chartered accountants (CAs) and ACAs help clients in services ranging from accounting to payroll management to tax preparation and filing.
Speak with an expert
Any questions? Schedule a call with one of our experts.