If we talk about previous time, Company secretary were performing one of the important duties in a limited company and it was mandatory for every limited company to appoint a company secretary and at least one director.
As per law before April 2008, a company secretary can also be a serving directory of a limited company but in such cases, company had to appoint minimum of 2 directors. Usually, family member or partner would have been appointed as company secretary. Company secretary was appointed to perform specific administrative duties in some of the cases whereas in most of the smaller companies, company secretary was appointed purely to fulfil the mandatory requirement.
The role of company secretary had not only given importance in large companies but in companies of all sizes. Many duties were performed by a company secretary including –
Maintaining of company books & records
Liaising with the company accountant
Dealing with companies house & HMRC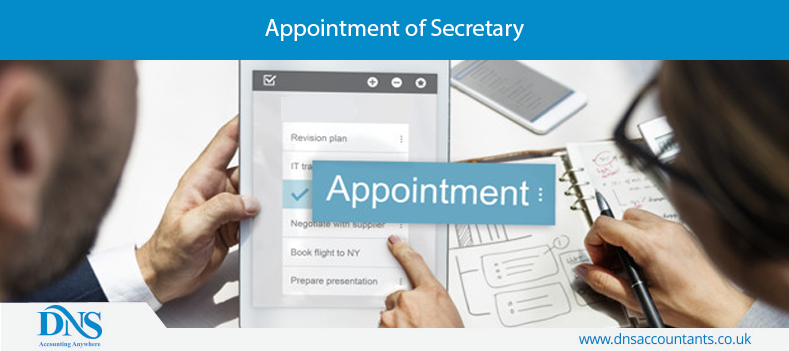 In this article we cover:
Change in law after April 2008
As per changes in law after April 2008, a sole director can run a limited company with no need of appointing any other officer at all (In case company director is a natural person not a company).
The main aim of doing such changes via Companies act 2006 was to reduce the administrative burden on smaller businesses. As per the change, there is no need for your limited company to amend articles of association unless need for appointing a secretary arises.
Also See: Setting Up a Limited Company in The UK
Appointing a Company Secretary
Usually, a company secretary is appointed by the directors of the company. As per change in the rules, it is now not mandatory to appoint a company secretary while incorporating a UK limited company. In case you didn't choose to appoint company secretary while incorporation, you can still appoint company secretary at a later stage (If required).
A company secretary can be a physical person or a corporate entity. You need to be cautious while appointing a company secretary as there are varieties of forms available in different processes. Therefore, selecting an appropriate form & submitting it to Companies house for the appointment of new company secretary is not an easy task. There are 2 different forms available for appointment of a person or a corporate entity as company secretary. You need to understand this difference at the time of appointing a new company secretary – In case you are appointing a person as your company secretary, you need to file AP03 form whereas AP04 form is filed at the time of appointing corporate entity as your new company secretary. It is the responsibility of the director to update company's statutory books after appointment of a new company secretary.
Things need to be considered while appointing a Company Secretary
Appointment of company secretary is mostly done is public companies and they are mainly not required in private companies.
Appointment of company secretary is basically done as a chief administrative officer who takes care of many responsibilities with the directors of the company.
A new company secretary is automatically appointed at the time of submitting application for new company registration.
No need of any formal qualifications to act as company secretary in a private company. Requirements are more rigid in case of public companies.
There are various requirements and around 150 offences under the companies act. Hence, you must have good understanding about your obligations as an officer of public or a private company.
Company secretary is also a director in some of the small private companies.
Company secretaries can also be prosecuted after failing in their duties like the directors of the company.
Also See: What is Company Administration? What Happens When Company Goes into Administration
Dealing with Companies house – Change in Company Secretary details
In case you are appointing, removing or doing any modification in company secretary details, it is mandatory for you to report these changes to Companies house, the registrar of companies in UK. Few of the important forms which are commonly used are as follows –
Form AP03 – Appointment of person as company secretary
Form AP04 – Appointment of corporate entity as company secretary
Form TM02 – Removal of company secretary
Form CH03 – Any modification in name/address/other changes of company secretary
You can easily submit all these forms online via web filling service at Companies house.
Persons cannot be appointed as Company Secretary
Few people who cannot be appointed as company secretary are as follows –
Auditor of the company
Un-discharged bankrupts (unless court leave is given)
Delegating work to a third party
Checking and signing of paperwork remains the responsibility of company secretary. A company secretary may delegate work to the following third parties –
Company's accountant (But not auditor)
Professional chartered secretary
A solicitor
Any provider of company administrative services
In case you want more information or advice on Appointment of Company secretary, kindly call us on 03330886686 or you can also e-mail us at enquiry@dnsaccountants.co.uk
Also See: Nominee Secretary Services for a UK Limited Company
Also See: Termination of appointment of Company Secretary
Speak with an expert
Any questions? Schedule a call with one of our experts.