It is an obligation for public companies to appoint a company secretary. After law changes in April 2018 under Companies act 2006, it is become optional for private companies to appoint company secretaries unless you need them. Amendment in Articles of association is only required when you take a decision of appointing a company secretary.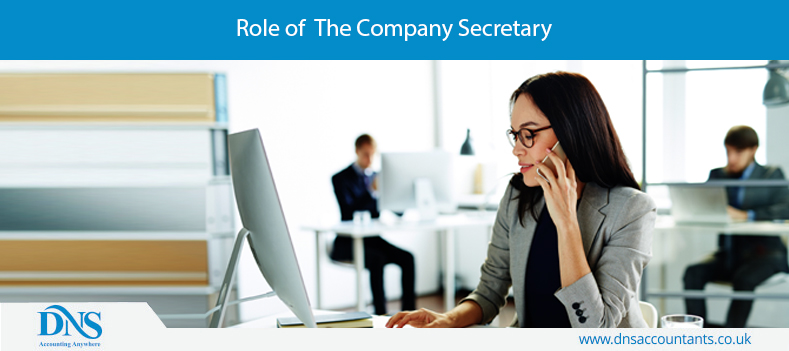 In this article we cover:
What is a Company Secretary?
A Company Secretary is a person appointed by the directors of the company and is responsible for handling the company administration tasks. Company secretaries are accountable for carrying out many legal and administrative responsibilities. No formal training is necessary for the company secretary and ideally the person who is naturally organised, efficient and having proper understanding about the business structure and the finances is preferred over others.
Role of the Company Secretary
A Company Secretary undertakes one of the important tasks and acts as a supporting system of the company. Company secretary performs lot of different responsibilities – Be it legal, administrative or other potential duties of the company. It would not be wrong, if we will say that company secretary acts as a bridge between company, shareholders and the Companies house. Some of the important tasks carried out by a company secretary include general administration, corporate governance, shareholder communication, statutory compliance/filing of accounts. Ensuring the sharing of relevant information timely, efficiently and in compliance is also one of the responsibilities of a company secretary.
Legal responsibilities of the Company Secretary
As a company secretary, it's your responsibility to maintain the existence of the company. You are responsible for both establishment and maintenance of company's registered office. As a company secretary, you need to take care of the following –
Registered office of the company must be a physical location.
There should be company's address for formal communication with other parties.
It must not be located at the place where normal activities of company's business are conducted.
Ensure that any of the documents sent to you by any party must be received by you.
The company's name must be displayed outside your registered office and other branches wherever located.
It is the right of the shareholders to inspect company's registers at the company's registered office or other branches as per their convenience.
Any change in the registered office address must be notified to the Companies house by filing the appropriate form.
Also See: Reporting changes to Companies House
Details of Company's business stationery
Company's business stationery must include the following details –

Company's name
Country of registration
Registered number
Company's registered office address

All above mentioned details of the company must also be provided on E-mails, order forms and Company's website.
It is not necessary to display the name of the directors of the company on letterheads. In case you wish to include them, you can list them all.
Maintenance of Company's statutory books and records
Company secretary is also responsible for maintaining Company's statutory books and records which is usually delegated by the director of the company. Statutory books and records must include the following –
Register containing details of present and past directors and secretaries.
Register containing details of all present and past shareholders with their shareholdings.
Register containing details of charges on Company's assets.
Register containing details of debenture holders (Typically banks).
Minutes of board meetings and general meetings.
Also See: How to appoint a director in a company?
Security of Company's legal documents
The other responsibility of a company secretary is to ensure the security of the legal documents of the company. Company's legal documents include the following –
Incorporation certificate of the company
Memorandum of association
Articles of association
Stock transfers and share certificates
Company's seal (If having one)
Service contracts of directors (if any)
Certificate of Company's name change (If any)
Administrative responsibilities of the Company Secretary
Normally, Company secretary undertakes the responsibility of summoning directors and shareholder meetings and ensure proper recording of the proceedings.
If director asks you to arrange a board meeting
If the director asks you to organise a board meeting, it is your responsibility to give notice to other directors 14 days in advance unless the proceedings may become invalid.
Note down the minutes of board meeting in the minute book of your company. After getting the approval, it should be signed by the chairman of the meeting or chairman of the next board meeting.
AGM's are not obligatory
It is no longer obligatory for private companies to organise annual general meetings.
A company must organise an annual general meeting (AGM) in the following cases –

When trading of shares happen
When director request for the meeting
When 5% of members request for the meeting

It is the responsibility of the company secretary to send a written notice to the shareholders and directors of the company about AGM usually 14 days in advance (21 days in case of public company with traded shares)
If any special resolution is passed, it must be filed with Companies house.
Also See: What is Company Administration? What Happens When Company Goes into Administration
Other potential duties of the Company Secretary
Company Secretary also performs other potential duties particularly in small companies. Other administrative responsibilities include –
Managing of Company's premises.
Advising directors to remain complaint with articles of association and business regulations related to health and safety and data security.
To arrange adequate insurance for protection of the directors and the company.
Frequent involvement in negotiations with outside advisers such as lawyers, accountants.
Signing of leases, statutory documents and bank account and acts as a signatory on behalf of the board.
It is usually assumed by the parties dealing with the company, that the company secretary has the authority of agreeing to the contracts on behalf of the company.
Company secretaries must ensure that they should not exceed the limits of their actual authority given by the directors.
Also See: Duties As A Director Of A Limited Company?
Potential liabilities for the Company Secretary
As a Company Secretary, you need to face the following potential liabilities –
Primary responsibility is of the director not Company Secretary.
Usually, Public companies employ qualified company secretaries, specifying all responsibilities in the employment contracts and they are most likely to be prosecuted, if involved in any serious wrongful act.
Unqualified company secretaries employed by small private companies unlikely to be prosecuted, if involved or not in any serious wrongful act.
Directors and company secretaries are jointly responsible for failures (except company accounts filing for which only directors are responsible)
Company secretaries may incur fines or need to face even criminal charges for non-submission of confirmation statement or accounts.
You may be liable for criminal proceedings in case of misappropriation of funds or if company trades fraudulently.
In case you are also a director and wrongful trading has been done, you may be personally liable for debts of the company.
If you are failed in ensuring that directors are following the business conduct and acting properly, you may be liable for personal liability for its debts.
In case you are having any query or want specialist advice on "Role of a Company Secretary", kindly call us on 03330886686 or you can also e-mail us at enquiry@dnsaccountants.co.uk
Also See: FAQs -Termination of Director of Limited Company in UK
Also See: Limited Company Formation
Speak with an expert
Any questions? Schedule a call with one of our experts.