If you are a freelancer, contractor or are self-employed with multiple clients and projects then managing these can require extremely good organisation and discipline.
Often clients can be quite demanding and managing multiple clients with tight deadlines or juggling expectations can be tough.
So, how do you manage multiple clients effectively? In this blog we give you tips on managing multiple projects and clients.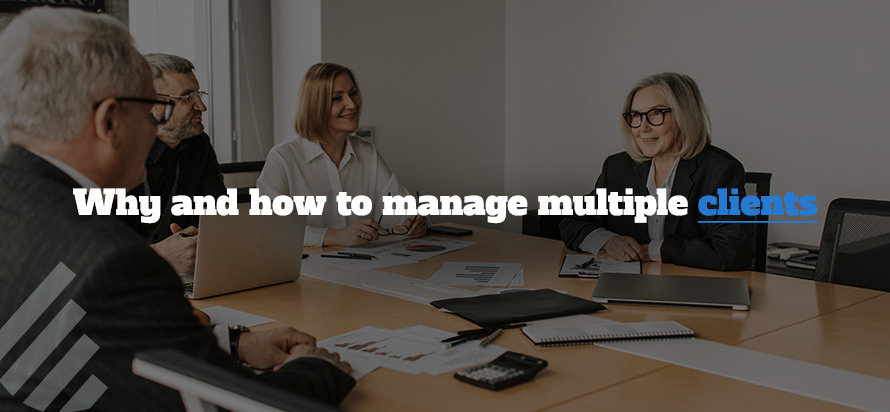 Stay organized
Managing multiple clients and projects really starts with you and your own organisational skills.
Everyone has their own way of organising themselves, whether it's using a notebook, MS OneNote or a to do list in your calendar. Make sure you create the right system for you and then stick to it.
Create a routine
Although it may be hard to have a rigid routine, because of client demands, it's important to try and have some structure to your day.
Maybe you put aside particular days to have client meetings, or use the first hour of the day to do your own marketing and admin.
Having some form of routine, effectively managing your week can make you far more efficient.
Use project management software
A great project management system can make a huge difference. Software packages such as Trello, Asana and Basecamp, can add huge value.
Project management software will help you to get organised but will also help with collaboration with your clients or with anyone you bring in to work with you on a project.
Project management tools have come a long way in the last few years and prices are now more reasonable than ever. You can use the project management software to prioritise tasks, delegate and assign tasks to others, keep track of deliverables, deadlines and progress so far.
Use IT for time management
Whether it's something simple like Outlook or Google calendar, use IT to set reminders, book out blocks of time for each project, schedule meetings or track time.
Having a system for time management and one tool that works for you, can help you to create a to do list / task list and a process that works for you.
Sync your calendar across all devices, share with other team members if you have them and set yourself reminders and time aside for specific tasks.
Use your calendar and IT to also schedule time for a break for yourself. It's too easy to get engrossed in a project or task and not have a break.
Timesheet software and apps can help with managing multiple clients and track the actual time you've spent on a client project. This will not only help with current clients, but will help you when quoting for future projects, when you understand exactly how long a project takes to complete.
Plan ahead
Planning your day, week or month in advance can really help you to mentally deal with juggling multiple clients. Split your time between client accounts, depending on how much time each day, week or month you need to set aside.
Start with the deliverables or end goal of a project and work back to break that down to the stages of a project. Use a project management tool to then track and report on the project / plan.
Having an overall plan for your own business around how many clients you want to service at any time, as well as plans for individual client projects will help you to better manage multiple clients and multiple accounts.
Set realistic expectations
The worst thing you can do is over promise and under deliver for your clients. Doing this just leads to disappointment and unhappy clients. Agreeing project deliverables, timelines and costs up front, will ensure you manage clients' expectations and everyone involved in the client account has clarity over what is expected and when.
Be prepared to say no
It may go against everything you think you should do for clients, but so many freelancers and contractors struggle to say no to clients that their plans are thrown into chaos because of demanding clients that they don't say no too.
It's worth considering how much a contract or job is worth and if that client is very demanding or has unrealistic deadlines, then walk away from the contract or client if they are unprofitable. That's a much smarter commercial decision than continuing to service a client that doesn't earn you the profit you need and you are constantly having to amend your schedule and plans to work for them.
Communicate
Often managing multiple clients and their expectations can be as simple as good communication. If a project may run over time, tell the client as early as possible, set new deadlines and expectations and manage them through great communication.
However, it's all too easy with technology today to feel compelled to respond to clients emails or messages instantly. Don't fall into this trap. Set aside times of the day to pick up email and if necessary let your client's know when these times are.
Get additional help
If you find you've taken on too much work, then consider bringing in additional help. Use subcontractors or other suppliers to top up your time and lighten your own workload.
If you are a contractor or freelancer, make sure the contracts you hold with clients include the right of substitution or consider working under a Statement of Work (SoW), which will allow you to bring in other contractors.
Summary
Working on numerous projects, means you'll get great variety of work and hopefully job satisfaction. But learning how to effectively manage multiple clients can sometimes be stressful and difficult to manage.
To juggle multiple clients, you need to put in place processes and systems to help you manage your time and client's expectations. However, being well organised and having the right systems for you, will ultimately make you more efficient and will enable you to better deliver on time and in budget for your clients.
Speak with an expert
Any questions? Schedule a call with one of our experts.