This is the fourth article in our series helping you find an accountant.
"Does you accountant provide you regularly with the financial information you need to steer your business to the success you planned for?"
This question sums up what a proactive account should do for your business. Anything less should at least raise a question mark about the level of service your receive. If you are in any way unhappy about your relationship with your accountant, it's time to start looking elsewhere for the service your business needs.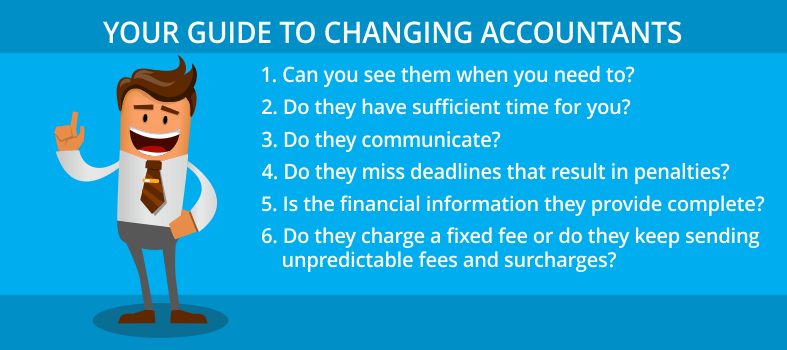 Take Stock of What Is Not Right
The preceding articles in the Changing Accountants series introduced you to the reasons for change, how to assess whether the prospective candidates can be trusted to provide the service you need, and why so many business owners (wrongly) shy away from taking this important step.
To provide your business with everything it requires for its success you need take stock of what is not right with the service you receive from your accountants.
Here is a list of questions that define the absolute minimum requirements they need to fulfil:
Can you see them when you need to?
Do they have sufficient time for you?
Do they communicate?
Do they miss deadlines that result in penalties?
Is the financial information they provide complete?
Do they charge a fixed fee or do they keep sending unpredictable fees and surcharges?
You get the picture. When you know what is wrong, you can address the issues.
Are your accountants able to remedy the situation? Or are you obliged to look for a new service provider?
Evaluating a New Accountant
Your own list of what is wrong will provide you with your own criteria that will help you find the right candidate for your business.
Here are a few more points to add to your list. These questions drill down into the finer details:
Are they approachable and sensitive to your and your business' needs?
Do they use accountancy jargon or speak in a language you can understand?
Do they have genuine experience of how business works?
Do they have real insight into your industry sector?
Will they make specific and practical recommendations?
Will they be able to help you bring deals together?
This list and the information in the preceding articles in this series should give you the confidence that you will not end up with more of the same but find accountants that will be a real asset to your business.
The next step is finding accountants to interview.
Ask colleagues, friends and family. Word of mouth and personal recommendations are great starting points but don't stop there.
Search for local accountants on the internet. Look at their websites and contact them for an appointment if the first impression satisfies you.
Look for websites that offer to put you in touch with selected accountants. Type in phrases such as "I need an accountant" or "how to find an accountant." Search results for the latter will list institutes and organisations that regulate the profession and can help you find other local accountants who are members of these professional bodies.
Once you have your list of potential candidates, call, email or contact them through their website to make an appointment for an exploratory chat. The next article in this series will give you a number of questions to ask and points to raise that complement your own list of urgent issues.
Don't forget:
Switching Accountants Is Easy
At the meeting, discuss your requirements and any business issues or concerns you may have.
Don't hold back.
Once you have decided to switch, your new accountants need your permission in writing to obtain a copy of your accounting and tax records. This is done by signing a simple authorisation letter, which they should be able to provide. They will then do what is necessary to obtain your records.
Your new accountants will write to your current accountant notifying them of your intention to change. They will also provide you with a letter of engagement setting out your requirements and their duties as your new accountant. Make sure that all fees and charges are clearly spelled out in your agreement, too, to protect you from unpleasant surprises.
For any questions, clarifications or further information don't hesitate to get in touch. Simply enter your details below, and we'll contact you to schedule an appointment at your convenience.
Speak with an expert
Any questions? Schedule a call with one of our experts.