What is a Nominee Shareholder?
A nominee shareholder is a shareholder only in name. The nominee shareholder does not really own anything and is only a shareholder on the face of it.
The UK allows people to appoint shareholders and allows people to do at their own discretion.
How does a Nominee Shareholder function?
There is no specific functionality of a nominee shareholder. However, there is one particular function that all nominee shareholders perform, and that is to have their name appear on the list of shareholders. Everyone will think that the nominee shareholder is the actual owner of the shares.
Furthermore, there is no way of anyone knowing that a shareholder on the list is a nominee shareholder, as the agreement of the appointment of such a person as the nominee shareholder is only between you and the nominee.
Is it safe to use a Nominee Shareholder?
There are many people who feel that making use of a nominee shareholder does not offer them as many benefits as they would like to experience. Furthermore, with the question of safety, here is what your nominee shareholder is capable of:
The shareholder appointed as a nominee will be only a shareholder in the name of it. There is no worry about the nominee shareholder owning the share it honestly.
The nominee shareholder's name may appear on the public list for viewing, but you will always remain the owner of the shares and will have the rights over your shares.
Furthermore, even though the nominee shareholder will have access to the property and the company's bank account, the nominee shareholder will not be given any power to do anything. The beneficiary will always have the upper hand here and will have all the rights.
So, all in all, as long as you have an agreement of trust, you will have nothing to worry about. You will find that it is easy for you to keep your identity a secret and still enjoy the perks of being a shareholder in the company. Furthermore, your property will be safe.
We have covered in detail about the legality of appointing a nominee shareholder.
Why Appoint a Nominee Shareholder?
There are various benefits of appointing a shareholder to work in your name. However, there is one primary benefit that you are likely to gain from appointing a nominee shareholder. The appointment of a nominee shareholder will help you keep your identity safe and anonymous. The reason to keep your identity a secret could be as per your circumstances and need.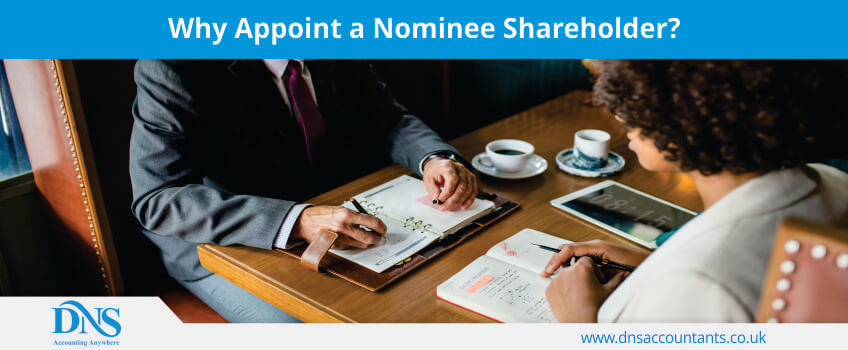 As it goes with companies in the UK, every kind of information is made public. So, if you are a shareholder in a certain company, but have your reasons for not letting anyone know that you are a shareholder at such a company, then a nominee shareholder will help you keep your secret safe.
Furthermore, you can also appoint a nominee shareholder to keep your private details safe and private.
Are there any risks of using Nominee Shareholder?
There will be no issues with you appointing a nominee shareholder as long as there is written a proof. As most of the nominee shareholders are appointed from the family itself, many people think that during the time of appointment their verbal agreement or verbal contract is enough.
However, this is the biggest mistake that you could make as a shareholder. A verbal contract cannot be proven in the court, and your word will be as good as theirs. Furthermore, it risks a lot of things, including a sour relationship with the said person.
On top of that you are bound to:
Lose the ownership of your shares.
You will lose your confidentiality.
You will have to shoulder the consequences of the nominee shareholder's blunder.
In certain cases, you may also incur various legal costs.
How can I make sure that I do not risk my shares' ownership?
While it is alright for you to worry about the risks involved, it is fair to point out that certain risks only appear if you are not working in a sound manner. If you legal front is secure, you have a legally enforceable document; then there is nothing for you to worry about.
For all those who wish to appoint a nominee shareholder, remember to create a legal document that can serve as proof for you.
Speak with an expert
Any questions? Schedule a call with one of our experts.