When you can Appoint a Nominee Shareholder?
As per the definition, Nominee shareholders are appointed as beneficiaries for certain shares in a company. If you are registering a private company or you are registering any other kind of limited company, you can appoint a nominee shareholder.
To understand things further, nominee shareholder does not actually own any kind of shares in the company. These, nominee shareholders, sign a contract of trust with the beneficiaries or a legal custodial agreement that shows or rather states that the Nominee Shareholder does not have any right over the shares on their names.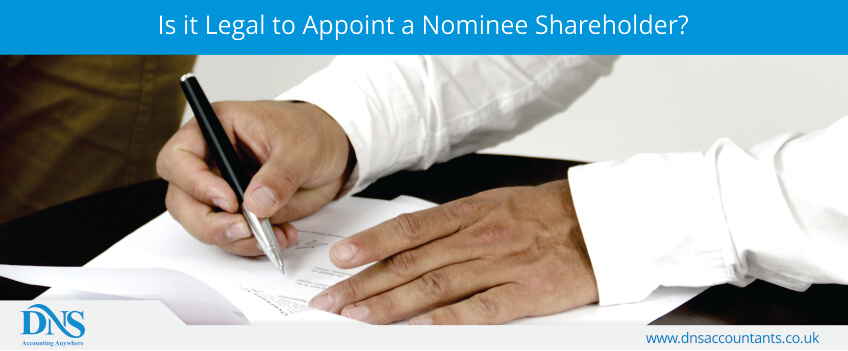 The Nominee Shareholders will have access to bank accounts and the other assets. However, they are not allowed to do as they please with them. The beneficiary of the bank accounts and the other assets has total control.
Is it legal to Appoint a Nominee shareholder upon a new Company Registration?
Yes, it is legal to appoint a nominee shareholder when you form a new limited company.
Who can be a Nominee Shareholder?
Nominee shareholders are appointed by beneficiaries and are entered into the company's register of names. A nominee shareholder can be:
An individual or
An incorporated body.
Why do people Appoint Nominee Shareholder?
As you know, nominee shareholders do not directly hold anything in the company. They are appointed to take care of the beneficiary's shares. The nominee shareholder does not have any rights in the company. Although they share the details of the bank account of the company, it is safe to remember that these nominee shareholders cannot sign on any signs, do not have rights over assets and do not have the right over any kind of shares.
With that in mind, here is why people may choose to appoint nominee shareholders:
There are many people who enjoy being anonymous, which is why they appoint nominee shareholders. Such people want to keep their name from appearing in public and want to remain anonymous for certain personal or commercial reasons.
The other reason could be that the shareholder simply does not want to display their name and personal address for the public's viewing.
The reason for appointing a nominee shareholder may differ from one beneficiary to another, but the above—mentioned ones are the top reasons.
What are the benefits of appointing a Nominee Shareholder in the UK?
The law in the UK is quite clear, simple and transparent. The information on every company is stored with the government and the company house. If a person wants to view the details of the shareholders present in a particular company, then that person can easily do so, provided they give an admission fee.
Now, considering the above-mentioned scenario, if you are one of those who wishes to keep your privacy and details from going public, you can simply opt for a nominee shareholder. The name of the nominee shareholder will go up on the register instead of yours. In this manner, you will be able to still invest in the company, act as the shareholder of the company and keep your personal details private.
Why do people use a Nominee Shareholder to Register a Company?
There are many kinds of things that a company needs to keep in mind when they register a new limited company. However, it is not necessary to appoint a nominee shareholder for a company. But if you feel like it, you can do it easily.
There are many service providers in the UK who help you appoint nominee shareholders if you wish to appoint some in your place. Furthermore, if you wish to protect your private information, and intend to keep your address safe from the public then appointing a nominee shareholder would do for you.
Will I lose my right of the shares if I Appoint a Nominee Shareholder?
No, if you appoint a nominee shareholder, you will not lose your rights over the shares. There will be a legal contract that you and the appointed nominee shareholder would sign to make things legit. The document is proof that you are the owner of the shares and that you have the right over your property. The document is also proof that the nominee shareholder is simply in it to have their names appear on the public list of shareholders.
Speak with an expert
Any questions? Schedule a call with one of our experts.