Don't be lonely or isolated just because your self-employed
For many people who decide to go self-employed or run their own business, it's an exciting time but also a daunting time. But for many people if they've previously been employed, one of the main challenges of self-employment is the isolation and loneliness that this can bring. This is the case for many small businesses or sole traders, especially those that run home based businesses. Although it can also be lonely even as a larger business owner if you're the sole director and the one who must make all the decisions.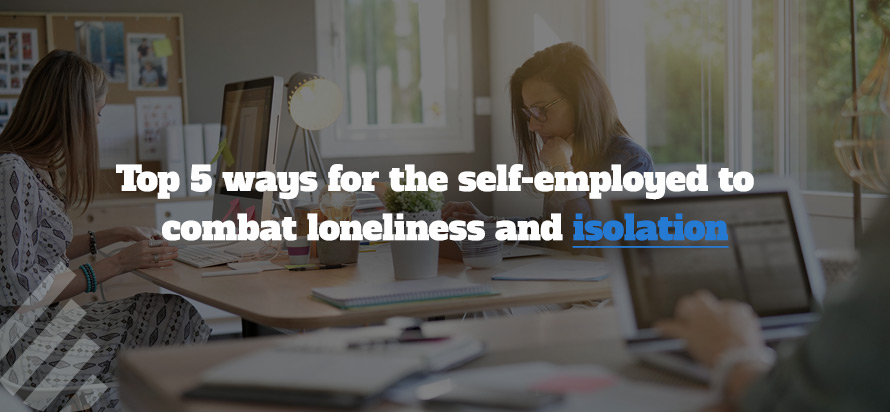 Some people work better alone, but for others it affects their motivation, self-esteem and can impact not only your work life but your personal life as well. In this blog we've compiled our top tips from our clients about how to combat this isolation and loneliness of being a business owner.
1) Find a business mentor or coach
A mentor is someone who has lived this experience (of running a business or doing what you're aiming to do) and has learnt along the way and will understand exactly what you're going through.
Mentors or coaches will provide help and advice, guidance, motivation and will at times challenge and question you to help you to find the right answers to your challenges yourself.
Coaching can be quite different as they ask lots of questions and help to guide you and allow you to come up with your own answers and solutions. A business coach will also help to teach you how to work 'on' your business and not just 'in' your business. They'll encourage you to 'let go' andhelp you to ensure you get your work/life balance right.
2) Networking and building connections
For many businesses and business owners, networking can be a crucial route to market to get new business. But networking can give you so much more than this. Networking can take you out of your own four walls and out of your own business silo and give you access to a wide range or other people running businesses or being self-employed.
Networking is often dismissed by many people if they don't directly sign new business from it as they treat it as merely a new business development activity. However, you should it as so much more than that. Most human beings thrive on shared experiences and meeting people. Networking gives you the opportunity to share, learn, communicate, get out and make valuable contacts, whether it provides you with new business, business mentors, potential suppliers, potential employees or friends.
Networking can alleviate that sense of being alone and isolated and re-motivate you.
3) Manage your work / home life and routine
For many home-based freelancers / self-employed or business owners, a lack of focus, too many distractions and a lack of motivation can be a problem. To alleviate this, you need to manage your home-based routine, your day-to-dayschedule and your workload. Having clear separation between you home and business life can help and alleviating the distractions that working from home can give to you is important.
If you really do continue to struggle to not have dividing lines between your home and work life, then consider getting a real office somewhere when you can afford it. There are loads of shared offices, co-working offices available to rent, that will give you a clear delineation between going to work and being at home. On top of that sharing office space can give you access to other business owners when you want it, but also give you a quiet place to work away from children, family or even the dog!
4) Build the right team
As your business grows, you may feel that just employing people will combat your isolation and loneliness, but this is not always the case. One of the best ways to create not only a successful business but also a supportive team is to build a team that clearly understand your goals and are committed to helping you achieve them.
Empower your team to help you to drive the business forward, come up with ideas, be able to question you and share in the success with you. Many business owners feel compelled to hide their true feelings, their hopes, fears and motivations with others in the business. They feel they should have all the answers and not show any vulnerability. But by having an open and honest culture with people you hire, can lead to unexpected results both in business but personally as well.
Just don't forget to also share the successes with your team as well!
5) Join membership communities or co-working clubs
Online communities are a great way to find other like-minded people and help fight loneliness. They allow you to have a regular place to 'hang out' online, and some meet up with local members as well.
Co-working clubs tend to meet regularly (maybe once a month) where you work together in a venue for a day. Again they tend to encourage a day of 'working on your business' rather than 'in' it. They will often help you to set objectives for the day and until the next meeting date and then hold you accountable.
Whilst being self-employed can give you many benefits such as more freedom, control and potentially more income, it can also be a lonely and stressful place to be. That's why it's really important that you tap into the right things to help combat the stress and loneliness that you may face. Make time for you, make time to interact with other like-minded people and make time to step away from the day-to-day grind of your business and work 'on' your business and your own personal development as well. Only then will you really enjoy what you're doing and achieving.
Speak with an expert
Any questions? Schedule a call with one of our experts.