What is stamp duty land tax?
The stamp duty land tax (SDLT) refers to a tax levied by the government on the acquisition of land and properties with a value greater than a certain threshold. This tax must be paid to HMRC within 14 days of the completion of the purchase or transfer of the propertyin England or Northern Ireland. The rates payable are generally determined by using the land or property, which may be residential, non-residential, or mixed purposes.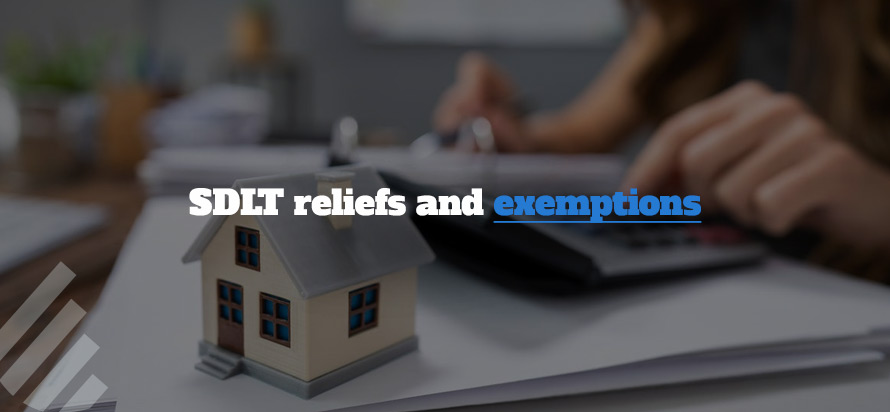 In this article we cover:
SDLT reliefs
You may be eligible for Stamp Duty Land Tax (SDLT) reliefs if youre buying your first home and in certain other situations. These reliefs can reduce the amount of tax you pay. To obtain relief, you must file an SDLT return, even if no tax is owed.
First-time buyers relief -

If you and any other purchasers are first-time buyers of a residential property, you may be eligible for the following tax relief, if:

The purchase is made between 22 November 2017 and 7 July 2020.
The purchase is made on or after 1 July 2021.
The purchase price is not more than the maximum threshold of £500,000.

In case the amount of purchase is more than £500,000, you are not entitled to claim the relief and need to pay the SDLT on standard rates.

Complete the SDLT return using relief code 32 to claim first time buyers' relief.

First-time buyers of shared ownership properties -

If you are a first-time buyer of shared ownership property, you are entitled to claim relief on acquisitions made between 22 November 2017 and 7 July 2020, or on or after 1 July 2021, if the following conditions are met:

If you want to live in the property as your primary residence.
b) The shared ownership propertys market worth is less than £500,000.

You may also be eligible to claim this relief if you decide to pay stamp duty land tax in stages when granting a lease or in case you make a market value election.You also don't need to pay SDLT on rent payments as rent payments qualify for relief. The relief was extended on 29 October 2018 to include purchases of shared ownership property if the purchaser decides to pay SDLT in stages.

Relief on multiple dwellings -

You may be eligible for relief if you acquire more than one residence through a single transaction or a series of related transactions that involve freehold or leasehold interests in more than one dwelling.

If you claim relief, the following formula is used to determine the tax rate charged by HMRC:

Calculate the tax due on this figure by dividing the total sum paid for the properties by the number of dwellings.
Multiply this tax amount by the number of dwellings.
The minimal tax rate under the relief is 1% of the cost of the dwelling.
Many other SDLT reliefs may be applied by the different property owners (Individuals or companies). Kindly refer to the SDLT manual.
SDLT exemptions
You are not required to pay SDLT or file a return if you meet the following criteria:
No money or other kind of payment is exchanged in exchange for the transfer of land or property.
If a property is passed to you through a will.
Property is transferred as a result of divorce or civil partnership breakup.
If you buy a freehold property for the amount less than £40,000.
You purchase a new or assigned lease with a term of at least seven years, provided the premium is less than £40,000, and the rent is less than £1,000 per annum.
You acquire a new or assigned lease with a term of less than seven years, as long as the amount paid is less than the SDLT residential or non-residential threshold.
In case you use alternative arrangements for property financing, such as adhering to Sharia law.
Claiming stamp duty exemptions might be challenging due to the various laws and constantly changing requirements. Consult an experienced tax consultant before making a property acquisition to determine your eligibility for SDLT exemptions and relief. If you have overpaid stamp duty on a property you already own, you may be eligible for an SDLT refund.
If you have any questions regarding"SDLT reliefs and exemptions", please speak to one of our dns experts right now on 03330 886 686, or you can also e-mail us at enquiry@dnsaccountants.co.uk.
Disclaimer :- "This article was correct at the date of publication. It is intended for general purposes only and does not constitute legal or professional advice. Independent professional advice should be sought before proceeding with any transaction".
Speak with an expert
Any questions? Schedule a call with one of our experts.