Lockdown time offers an opportunity for people to rethink their goals and ambitions. It might have influenced you to decide on setting up your business in this right time when we have just come out from the second nationwide lockdown, and things are little bit eased by the UK government from 2nd December 2020.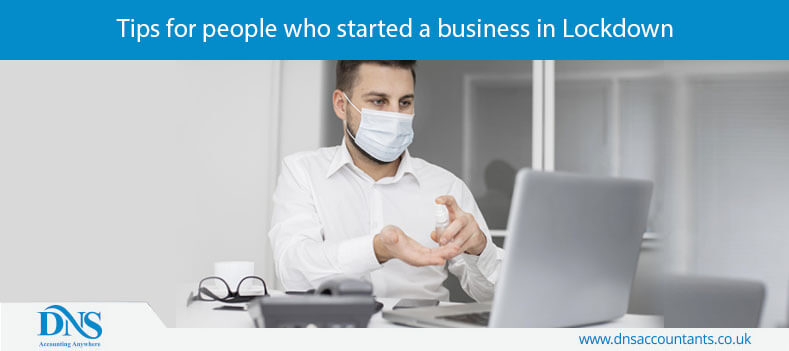 In this article we cover:
Tips for people who started a business in Lockdown
If you have started a new venture in the lockdown or right now planning for setting it soon, we are having numerous tips for you to help make your business succeed –
Choose an expert Accountant specialised in providing business start-up advice

– Anyone who has started a business during the lockdown or currently in the research phase should take the dedicated services from an expert accountant and make their business a success.

DNS Accountants is a highly reputed and multi-award-winning accountancy firm with more than 15 years of expertise in accounting and financial services. We will help you decide on the following aspects –

Whether to set up as a sole trader, limited company or a partnership firm?
Whether you need a VAT registration?
Whether you need a payroll scheme?

Setting up a company can become a daunting task if you are not provided with the right advice and tips. Our Accountants provide you with some proven and honest advice which will not only fulfil your needs and requirements but also take you forward towards achieving business growth.

Naming your business

– Choosing a name for your business is one of the best things about starting a new business, but it is not as simple as it looks. You need to ensure that all the legality boxes are ticked and chosen name reflects the right impression of your company.

If you have decided to register as a limited company, there are many steps which you have to take in order to name your business –

Searching Companies house website to know whether or not the name is available.
Choosing the appropriate form, etc.

In case you have decided to register as a sole trader or a partnership firm, it is mandatory for you to register with HMRC, and our accountant can help you with all this.

You must take care that a name you will choose for your company should convey the right tone and message as it is your first business impression. There are many aspects which you need to take care of while choosing a name for your business, and any hurry can make this all through go in vain. Please make sure that the name should be such that it can be easier for customers to pronounce and even spell it.

Paperwork filing

– If you are in the process of setting up a company or already running a business, it is your responsibility to keep each letter you are getting from HMRC and companies house at a safe place so that it can be handed over to the accountant at the time of filing accounts.

Setting up of bank account in your business name

If you have decided to open a limited company, it is your legal obligation to open a dedicated bank account for your company.
If you're a sole trader, it is highly recommended for you to open a separate account for trading purposes as per the bank regulation and you are not allowed to use your personal bank account for business transactions. Two separate accounts can help you make differentiate between your personal and business expenses.

Getting your business insurance done

– Business insurance is also one of the important aspects which you need to take care while setting up your business. Choose necessary business insurances as per your needs and provide the much-needed protection to your business.

Keep your receipts

– When you start building your business, the first problem you face is money. Money is considered as the most important factor that can make or ruin any business. Nobody wants to miss reclaiming the expenses that are incurred while setting up a business; you must have all the receipts in your kitty to reclaim your expenses as they are all tax-deductible.

Choose your Bookkeeping method

– Choosing a bookkeeping method is also one of the important decisions to be taken while building your business. It would help if you thought about whether you prefer working on spreadsheets or using bookkeeping software. Some small businesses are still using spreadsheets, whereas many others have shifted towards bookkeeping software. It is highly recommended that you must take the guidance of an accounting expert while taking such an important decision.

Create and develop your brand

– There is always a saying that "The First impression is the last impression." Developing a brand without a skilled person like a graphic designer, web developer, or a digital marketer is just like a fish without water.

You need a graphic designer to create a business logo and cards, a web developer for a beautifully designed website to generate web traffic and a digital marketer to provide leads for your product/service. Customer reviews on Google can also be a good idea to decide among the suppliers as per other recommendations.

Networking

– Attending a local networking event can also help increase your business. With the help of a local networking event, you can connect with other like-minded business people who can prove to be a lifeline of support and a big platform for a business generation for start-ups and small businesses. It is a great platform by which you can share your success stories and mistakes with others, which may results in sustainable business growth.
In case you are having any query or want specialist advice or tips on "Setting up a new venture", kindly call us on 03330886686, or you can also e-mail us at enquiry@dnsaccountants.co.uk
Speak with an expert
Any questions? Schedule a call with one of our experts.