The Power to Snoop: HMRC
You may have heard the advert on LBC radio: footsteps and then a warning that the tax authorities are on the warpath ready to catch would-be tax dodgers. Tax evasion is anti-social, of that we all agree. There's nothing wrong in the authorities clamping down on tax avoidance either, but the frequency and ways in which surveillance is employed do appear to be questionable.
DNS does not want to create panic: rest assured that we do all we can to ensure all of our clients are compliant and protected against HMRC investigations. However, recent media attention has focused on the frequency and aggressive methods employed by HMRC in their war against tax evasion. This was the headline: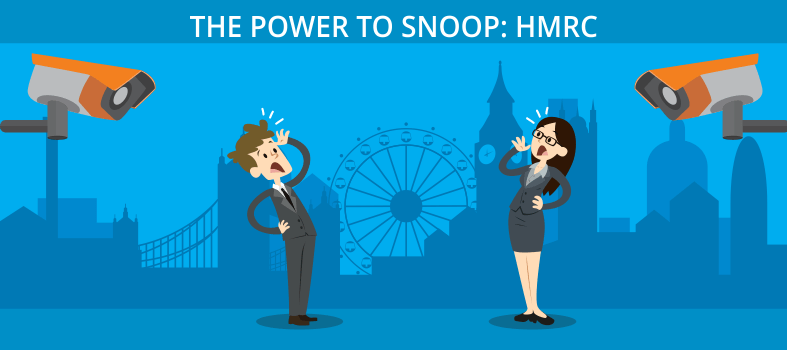 "The tax man is watching you: HMRC snoops on public 14,000 times in a year"
January 2013, the year has only just begun, but amidst all the other worrying tactics HMRC employ in the government's desperate attempt to sweep money back into the treasury, another has attracted media attention: taxpayers' personal data is being viewed by HMRC on an increasingly frequent basis.
Using the Regulation of Investigatory Powers Act 2000, HMRC can now snoop deep into suspects' activities: websites viewed, emails and mobile phone calls and texts made or received; they can also covertly film a suspect's house, bug his property or car. It seems their powers are limitless.
An HMRC spokesman is quoted as saying, "Tackling serious organised crime is a priority for us and access to communications data and directed surveillance has a vital role to play in meeting that challenge. … In 2011 communications data enabled us to prevent £850 million of tax revenue being diverted into the pockets of fraudsters. Our use of these powers is subject to regular independent inspection, ensuring it is both proportionate and lawful."
But Rachel Robinson, a policy officer at Liberty, said that while surveillance was vital when investigating serious crimes, "highly personal data is already too widely available and over-broad powers are regularly used and abused."
From October 2011 to the end of September 2012 HMRC gave 172 authorisations for "directed surveillance", that is, covert surveillance mainly in public places. Intrusive surveillance must be authorised by the Home Secretary, but she will very likely simply trust what her most senior officials recommend. HMRC refuse to disclose the number of times it has carried out "intrusive surveillance" or on how many occasions surveillance has led to a successful prosecution for tax evasion. But our Beware Bullying HMRC blog posted in December 2012 illustrates how even the innocent are ruined when power presides over integrity; when the official trusted with unprecedented powers is unworthy.
There is no legal obligation for an individual to be informed that they are under surveillance. Certainly tax investigation insurance will help in the event and DNS encourage all business owners to ensure that your affairs are open to scrutiny, but if the people with the investigative powers are not open to the same scrutiny, then it is wise to to assume that HMRC's power to snoop is going to be the subject of several more news stories over the coming year.
Speak with an expert
Any questions? Schedule a call with one of our experts.