A higher rate of stamp duty land tax of 15% applies to acquisitions of high-value residential property by non-natural persons where the chargeable consideration exceeds £500,000.
This blog covers the conditions that must be met for 15% rate of SDLT on residential property to apply, the reliefs available and the circumstances in which the relief may be clawed back.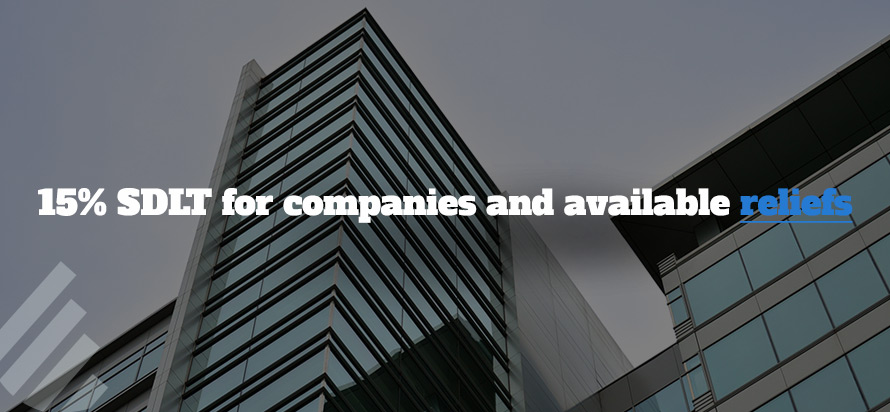 What is a 'non-natural person'?
A 'non-natural person' includes the following:
a company (and any other body corporate).
partnerships including companies.
collective investment schemes.
When does the 15% higher rate of SDLT rate apply?
The 15% flat rate of SDLT is triggered on the acquisition of residential property situated in England or Northern Ireland for more than £500,000 by a non-natural person.
The 15% flat rate for residential properties was introduced with the Annual Tax for Enveloped Dwellings (ATED) and the two regimes share several similarities. Find out more about ATED here.
What is a dwelling for SDLT purposes?
For the purposes of the relief a "dwelling" means a building or part of a building which is suitable for use as a single dwelling or is in the process of being constructed or adapted for such use.
Land that is, or is due to be, occupied or enjoyed with the dwelling such as a garden or grounds (including any building or structure on the land) is taken to be part of the dwelling.
There are some properties that don't fall within the definition of dwelling; for example, care homes, hotels and halls of residence are not defined as dwellings. The classification of a building, or its grounds, for SDLT is not always clear, so seek advice from advisors such as dns accountants.
What are the reliefs from the 15% flat rate of SDLT?
The 15% rate does not apply to property bought by a company to be used for:
a property rental business.
property developers and trader.
property made available to the public.
financial institutions acquiring property in the course of lending.
property occupied by employees of a trading business.
farmhouses.
a qualifying housing co-operative.
A number of conditions need to be met for each relief and the conditions will need to be met for the three years following the date of acquisition. If the conditions are not met for this period, then the SDLT originally saved will be payable and this will be collected via a clawback mechanism.
How do I claim SDLT relief?
Where a relief is available, it must be claimed on an SDLT return by clicking "Yes" to box 9 and inserting code 35.
SDLT returns are due within 14 days of the effective date of the transaction which, in most cases, will be the date of completion.
Withdrawal of relief
The 15%-rate exclusion will be withdrawn, if the following applies within 3 years ("control period") of purchasing the property:
A non-qualifying individual is permitted to occupy the property,
property is not used for one of the purposes listed - rental business, development etc.
If the relief is withdrawn, a further SDLT return is required to be filed and additional amount of SDLT will be due to HMRC.
For information on who is classed as a "non-qualifying individual", please contact dns accountants.
What is the impact of the non-resident SDLT surcharge on the 15% higher rate?
 The non-resident surcharge is an additional SDLT charge that is payable on top of the applicable rate of SDLT by a non-UK resident who acquires a dwelling in England or Northern Ireland.
The surcharge applies to both individuals and companies and includes UK companies that are controlled by non-UK residents. Overseas trusts and partnerships are also included in the rules.
The non-resident surcharge adds 2% to the normal SDLT charge and can result in a company having to pay a total SDLT rate of 17% when acquiring a dwelling if the 15% flat rate also applies.
The 2% surcharge must be considered alongside other rules and surcharges including the 3% additional dwelling surcharge, the 15% flat rate charge, multiple dwellings relief and the other full or partial exemptions and reliefs available.
How different rules and SDLT surcharges apply are complex, seek advice from dns accountants to clarify your own individual circumstances.
Summary
The SDLT regime and reliefs available on SDLT for residential property are complex and should be considered at an early stage so that the tax position can be explored and alternative methods of holding the property considered. 
For more information and help on SDLT please contact dns on 03300 886 686, or email us on enquiry@dnsaccountants.co.uk.
Stamp duty land tax frequently asked questions
What is stamp duty land tax?
Stamp duty land tax (SDLT) refers to a tax levied by the government on the acquisition of land and properties with a value greater than a certain threshold. The tax is calculated based on the property purchase price.
This tax must be paid to HMRC within 14 days of the completion of the purchase or transfer of the property in England or Northern Ireland.
The rates payable are generally determined by using the land or property, which may be residential, non-residential, or mixed purposes.
There are SDLT reliefs and exemptions which you should also be aware of. Find out more about Stamp duty land tax reliefs and exemptions here.
What is the SDLT refund?
Individual buyers can claim a stamp duty refund if they sell their main residence within three years of completing on a new home.
The stamp duty rate ranges from 2% to 12% of the purchase price, depending upon the value of the property bought, the purchase date and whether you are a multiple home owner. Anyone purchasing an 'additional' residential property will be charged a 3% surcharge on each of the threshold bands.
The rules are complex and many people have found that they can claim SDLT refunds from HMRC when rules have been misinterpreted or stamp duty has been miscalculated.
When can I apply for SDLT higher rate -3% refund?
The SDLT surcharge paid on a property can be claimed for refund where:
You use/intend to use the property bought as your only or main residence,
You sell a property within three years beginning with the day after the effective date of transaction of purchase of the new property and.
The property which was used as your only or main residence at any time during the period of three years ending with the effective date of the transaction of purchase of the new property.
All the above criteria for and SDLT refund must be met.
Find out how to get a stamp duty refund here.
What is multiple dwellings relief?
If you're a homebuyer purchasing multiple dwellings then you may be able to claim Multiple Dwellings Relief (MDR). MDR can be used to offset the amount of stamp duty paid when purchasing multiple properties in the same transaction. In this blog we give you all the information you need about MDR for Stamp Duty.
Find out more about multiple dwellings relief here
Speak with an expert
Any questions? Schedule a call with one of our experts.