Overview
An individual must opt for a business structure if he/she aims to start an organisation or business that will provide support and be of assistance to the community. Such a business structure is referred to a Social Enterprise. A social enterprise is a business that works towards the improvement of environment or the public. According to a survey, there were a total of 70,000 enterprises as of 2015 in the UK that were working for the upliftment of the society and contributed ~£24.0bn to the UK economy. It is imperative to note that a social enterprise is different from a charity. Whereas a charity often raises money through donations and funding by organising charity programmes, a social enterprise often sells services or products to earn profit and then utilise it for a social cause (sales of goods could also be a step towards community service). Before an individual starts a social enterprise, he/she should be able to answer the following questions
Does the business idea get to the bottom of a problem?
What is the vision of the business and who will benefit from it?
Social enterprises are organisations that reinvest major share of their earnings to achieve their community or social goals. Social enterprises work in various sectors and usually operate under diverse legal forms. While some businesses focus on longstanding institutes, such as healthcare or transforming education others might restore to technology to tackle a social issue. The community work might include providing employment to people with long-term unemployed, youth upliftment programs, support and assistance to disabled people or ex-offenders. Setting-up a business can have other motives as well apart from making as much money an individual can – it can be an extraordinary opening to do something beneficial for the society or the community in which an individual lives. An individual can opt to help the community in one of two ways – earn a lot of money and then share it with the community or the other option is setting-up a Social Enterprise that does well to the society in conjunction with making money. Such enterprises have a different goal which is other than merely earning profit
Social Enterprise and key insights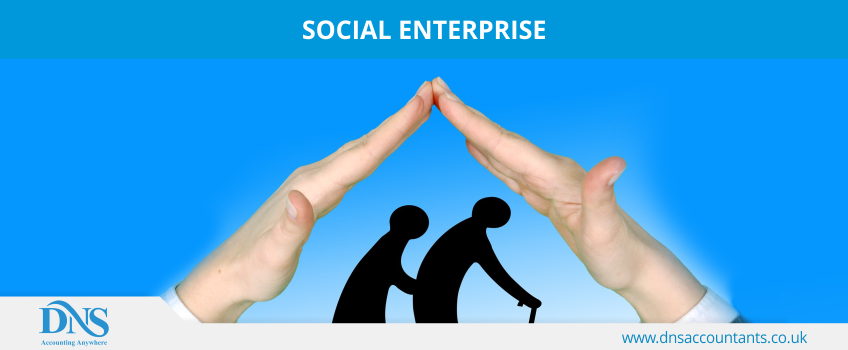 A social enterprise focuses mainly on community or social objective and further invests its earnings in its social objective rather than distributing the earnings among shareholders or title-holders. Unlike a charity, a social enterprise generates majority of its revenue by selling merchandise or services rather than by means of funding or donations
How to set up a Social Enterprise
There is no specific definition or formal structure of a Social Enterprise. However, setting up a community interest company (CIC) is the easiest way to start operations as a social enterprise. It is generally assumed that such an enterprise must invest a minimum of 50% of its earning towards a socially affirmative cause. Largely social enterprises opt to take into account particulars from their dedication to a social cause in their company's articles of association
A CIC is an exceptional type of limited company which is formed for the benefit of a community or society rather than private shareholder. In order to establish a CIC, an individual needs to apply to Companies House, and
comprise the application with a 'community interest statement', describing what the business intends to do
create an 'asset lock' – an asset lock is a officially permitted undertake stating that the business assets will aim to provide social benefits and will only be used for a social goal. It will also need to state the limit or money intended to pay-off shareholders
get the business approved from the community interest company regulator (once an individual has filed an application it will automatically be sent to the regulator)
Unlike charities, a social enterprise requires an array of legal forms and is regulated by different bodies. For example:
The Charity Commission regulates a social enterprise with charitable status
The Community Interest Company Regulator and Companies House regulates the Community Interest Companies (CICs)
Companies House regulates the Standard companies limited by share and guarantee
Principle of being a Social Enterprise
Being a social enterprise is about abiding by a set of functioning principles. These include:
Generating major stream of income through trade
To have an obvious environmental or social objective (As stated above, details about this need to be provided in a governing document)
Putting back majority of the profit to support a social mission
In theory, an individual can select any business or organisation structure to be a social enterprise. But, practically, it is advisable to set up a limited liability company (LLC) rather than trade as a sole trader. An individual must make sure that a social enterprise is sustainable as a business
Things to consider
Apart from setting up a social enterprise, an individual can choose from other alternative such as opting to provide employment to former convicts or disabled people. In such a scenario, it is advisable to describe an organisation or business as a social venture. Let's understand this better through the below mentioned illustration:
Mike Vaughan and James Dema make belts, handbags, and wallets from fire hoses thrown by British fire brigades. By doing so, they contribute 50% of their returns to the Fire Fighters charity. The idea for the business was dreamt up when Mike Vaughan spotted an old red fire hose and carried it along to show James Dema and propose an idea to putting it to use. The linings for the bags and wallets are made from recycled materials, such as waste parachute silk, textiles from old office furniture, and scrap sailcloth. Additionally, both also make shopping bags for the J Sainsbury supermarket chain and these bags are made from old coffee sacks which would have else been thrown away. According to James Dema, "the planet can be saved by making use of recycled material and creating fun and exciting things and engaging for everybody". Through these various initiatives they continue to impact the society in a positive manner.
Speak with an expert
Any questions? Schedule a call with one of our experts.