How do you manage risk when growing a business?
Every business whatever it's size will have significant risks associated with it. When your business is growing then these risks can become more pertinent, especially if you're experiencing fast growth.
Handling the risks involved in business growth, being prepared and minimising the risks during business growth will be critical to ensure your business success doesn't turn into a business nightmare. Understand the risks you could face as your business grows and working out now how you'd minimise them or overcome them is key.
Business leaders need to understand the risks in their business and put risk management high on their agenda. Here's our advice on the risks you may face when growing your business and how to manage them.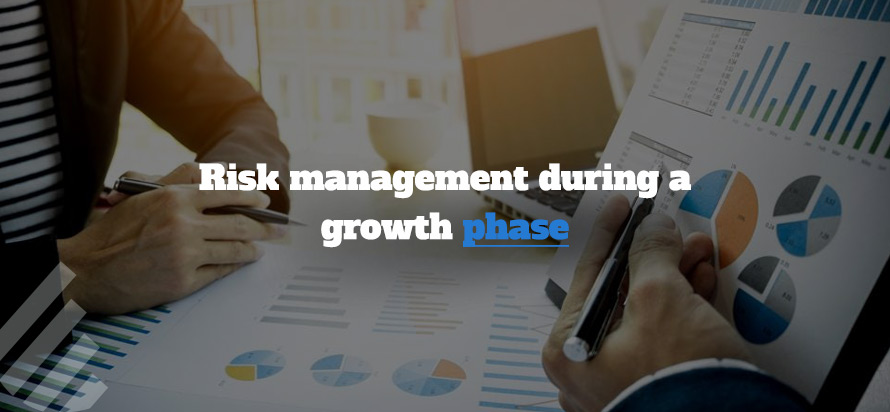 What is risk management?
Risk management is about assessing risk factors in the business life cycle, understanding your risk appetite and looking at worst case scenarios for your business and having a plan to control those risks. Effective risk control is a method of controlling future outcomes primarily in a proactive fashion. Effective Risk Management also provides the opportunity for reduction of potential hazards as well as potential impacts that risks could have on your business.
Risk management: The top 6 risks every business owner should know
Risk is practically synonymous with being a business owners and owners of many larger businesses have a clear risk management plan that will help avoid some common pitfalls. But even as an owner of a small or medium sized enterprise, you can formulate a risk management plan.
Risk #1 – Lack of processes and infrastructure
When you're growing a business, there is often less focus on procedures and systems to sustain that growth. Then when growth begins to really take off, you don't have the infrastructure in the business to cope with the additional work. These areas include things like:
Planning.
Procedures.
IT systems.
Rules & policies.
Communication channels.
Goals & KPIs.
Recruitment, reward & recognition.
Decision making.
Getting on top of these things before you hit a fast growth phase can save a huge amount of hassle further down the line. When there is just you, or you and a couple of employees these things often don't seem necessary, but all the above could bring your growth to a standstill if you haven't got them in hand early on.
Risk #2 – Lack of cash or funding
It costs money to fund growth and ramp up production or service. Often the revenue from the growth is only available later down the line, so working out how to fund that growth is key. You may need extra cash to:
purchase supplies and increase inventory.
build the infrastructure needed such as systems, equipment, or property.
employ more people.
Do you know where the money will come from if your company begins to grow? Work out now where the cash and the capital would come from whether it's:
own funds.
bank loans.
friends & family.
crowd funding.
private equity or venture capitalists.
Look into your options early for future funding, so you don't get caught out.
Risk #3 – Legal risks
Many business owners don't consider some of the legal risks they face as their business grows, these can be around
Regulatory risks (from government, suppliers, clients, or agencies).
Contract risks and ensuring your terms and conditions are water tight.
Shareholder and partnership agreements.
Employment – employment contracts, working conditions, health and safety.
Insurance – not all policies are the same and may have limits that will be affected by your growth.
Risk #4 – Service or product quality
Often small businesses build their reputation on customer service or product quality and often this quality is easier to maintain when you're only a small business. If you're understaffed or start cutting corners to meet demand, then it can often lead to inferior products and inferior service. A decline in service or product quality is one of the biggest risks to the future growth of your business.
Ensuring you have quality procedures in place and feedback mechanisms to monitor any issues is key.
Risk #5 – Reduction in profits
If demand increases rapidly then you may find your profits actually shrink. Extra cash needed for more inventory, overtime payments to staff or additional equipment can affect short term profits.
Being aware and ready for this with funding lined up, controlling costs and a clear business plan can help to minimise this risk. Also, shifting from a 'growth for growth sake' approach and focusing more on profitable growth. If necessary, reduce or remove your non profitable customers and focus on acquiring more or selling more to profitable customers.
Risk #6 – Your health & motivation
As a business owner you probably started your business with a passion and a clear goal around being your own boss, controlling your own destiny and being rewarded with more job satisfaction. But if your growth just adds pressure and stress as your unprepared for it, then the constant firefighting, worry and sleepless nights can lead to health issues and a decline in motivation.
Bringing someone else into the business to help you manage it better and step away from some of the day to day can help enormously with this risk. Allowing you time to step away from the day to day will mean you can spend time working 'on' your business, rather than 'in' your business. Yes, it may mean you have to earn less for a while but in the long term it may be the difference between your business continuing to grow and you leading it or having to give it all up.
Risk #7 – Keeping control of the numbers
Defining, measuring, and reporting on Key Performance Indicators can be critical for your business to thrive during a growth phase. Keep it simple and manageable, ensure you've got the systems and data you need and continually manage your performance.
Analyse sales, assets, overheads, inventory, and receivables. Work closely with your accountant to get a clear idea of exactly where you stand financially and take on an accountant that can not only do the numbers but give you the right advice too.
10 ways to manage risks through business growth
There are some simple tools to help with enterprise risk management through a growth phase in your business:
Undertake a risk analysis process to identify potential risks.
Build operational infrastructure.
Seek legal advice.
Keep customer service & product quality a priority.
Employ the right people and make your employees aware of the need for risk management.
Look after your people.
Focus on profitable growth, not any growth.
Keep on top of the numbers and seek financial advice.
Be ready to adapt and change.
Get a business mentor or coach.
How do you manage the risk of rapid growth?
Rapid growth of a company can often mean that a business is exposed to more risk factors if its not managed correctly as the speed of growth often doesnt allow enough time to mitigate risk. But how can you cope with the fast growth? But managing risk posed by rapid growth is no different than any other risk. You simply map the identified risks and use the tips above to manage them.
Summary
Managing a growing business can be stressful but exciting. Risk factors tend to be more prominent during the initial growth phases. You need to undertake a risk analysis process and identify the risks related to all areas of your business. But good risk management can help business owners avoid business growth hazards and improve their chances of survival and success.
If you'd like more information or advice on business growth or managing risk in your business, call us on 03330 886 686 or e-mail us enquiry@dnsaccountants.co.uk.
Speak with an expert
Any questions? Schedule a call with one of our experts.