Both the UK economy and the construction industry began to recover after the initial impact of the COVID 19 pandemic. The pandemic in 2020 saw many projects pushed into 2021 and beyond. But how has the construction industry fared in 2021 and what is the forecast for the construction industry in 2022? In this blog we give you a summary of the UK construction industry statistics, forecast and trends.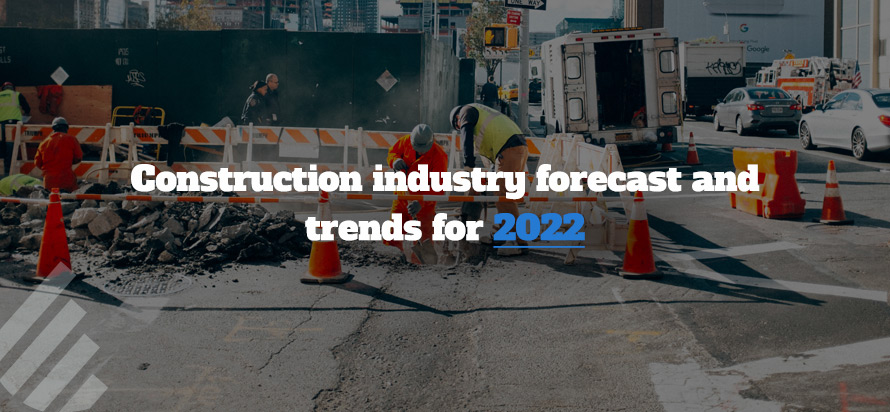 UK Construction output statistics
The ONS report the following construction industry statistics:
Construction output fell 1.8% in volume in October 2021, the largest monthly decline since April 2020. New work fell 2.8% from September to October 2021 while repair and maintenance remained unchanged at 0.0%.
The main contributors to the decline in monthly output in October 2021 were infrastructure and private new housing, which decreased 7.1% and 4.4% respectively; these decreases were partially offset by increases in private industrial and public other new work of 8.8% and 7.0% respectively.
In line with the monthly fall, construction output fell by 1.2% in the three months to October 2021; this was because of a 1.5% fall in repair and maintenance and a fall of 1.0% in new work (with new housing (both public and private), public other new work, and private commercial new work all falling).
Supply chain
It's likely that 2022 will continue to produce supply chain issues with the main areas of supply issues are being in steel, concrete, timber and glass. Many of the issues experienced have been around a delay in materials, which in turn delay projects and it is likely that this will continue in 2022.
Price rises
Price rises in raw materials will continue to affect the construction industry in 2022. These price rises have been due to product shortages affecting supply chains for materials and with supply issues continuing in 2022, more price rises may well be seen.
Workforce
Workforce constraints due to both Brexit and the pandemic are still causing issues for the construction industry and are predicted to continue to be an issue in 2022 as people continue to have to self-isolate, a shortage of skilled labour and restrictions on foreign labour continue.
Workload
Improving workload during 2021 has led to optimism in the construction sector and there remains optimism generally in the sector. However, it is likely that 2022 will continue to produce further 'bumps in the road' for the construction industry that make workload planning harder.
Commercial projects
Warehousing and logistics premises continue to be forecast as a growth area for the industry in 2022. The growth in online retailwill help fuel further expansion of warehousing and logistics projects.
Retail sector activity is forecast to continue to decline for the next two years, with more empty retail premises, weak consumer spending and the growth in online retail. However, 2021 saw the trend of commercial properties being redistributed as residential buildings continue.
With retail struggling with falling footfall and high business rates and home working meaning less need for larger offices, many developers are looking at converting commercial properties into residential.
The leisure and hospitality industries continue to be hard hit by the pandemic. However, confidence is expected to rise as the financial position of the hospitality industry improves, reviving sector activity over the next two years.
Office projects saw a sharp decline because of the pandemic. However, it's predicted this will increase gradually. Office refurbishment schemes lead the field as companies adapt their office premises to accommodate changes in working practices. New office projects are predicted to be slower to recover as companies still try and assess the impact of remote working and their potential need for less office space.
Residential
The housing market boom since the first lockdown is now slowing. Property transactions and house prices rose in 2021, as restrictions and remote working increased demand for larger properties.
However, this rise is expected to slow during 2022, with the end of the temporary stamp duty reduction impact, and buyers confidence affected bylow earnings growth, higher taxes and mortgage costs.
With more people now adopting working from home as the norm, 2022 may see a rise in apartment developments which include hybrid work / living spaces.
Public sector
The Spending Review announced only modest growth in capital funding for some government departments over the next three years.
It's anticipated that social housing projects will be fuelled by housing associations and potentially in a revival and rise in student accommodation.
Some area of public sector construction that look promising in terms of being a growth driver for the construction industry include infrastructure and NHS projects.
Digital investment
It's likely that much of the construction industry will continue to invest in digital technologies to streamline their operations, whether that's for tender responses or things like cloud-based accounting and HR systems.
Summary
It's inevitable that the pandemic has altered the face of the UK construction industry and where future growth lies. It's likely that opportunities will come from warehousing and logistics as well as office and retail refurbishment and repurposing of commercial premises.
The industry needs to consider and factor in supply chain issues and price increases now and into the future. Workforce shortages will also continue to affect the industry.
It's likely that projects and schedules will continue to be disrupted and this can cause issues for contractors and construction companies with workload planning, turnover and cashflow. It's important to try and factor this into your planning and try and mitigate risk by spreading your workload or workforce across a larger number of projects or by diversifying your customer base. Now is the time to review both your supply chain and customer base to ensure you are not over exposed in one area.
Speak with an expert
Any questions? Schedule a call with one of our experts.