If you have a spare room and would like to earn some extra money, then taking in a lodger may be an option for you.
With many people currently struggling with household income and rising bills, renting a room in your house and help you to earn extra income. There are many benefits of taking a lodger including the ability to earn up to £7,500 per year tax free. HMRC refer to this a the 'Rent a Room Scheme'.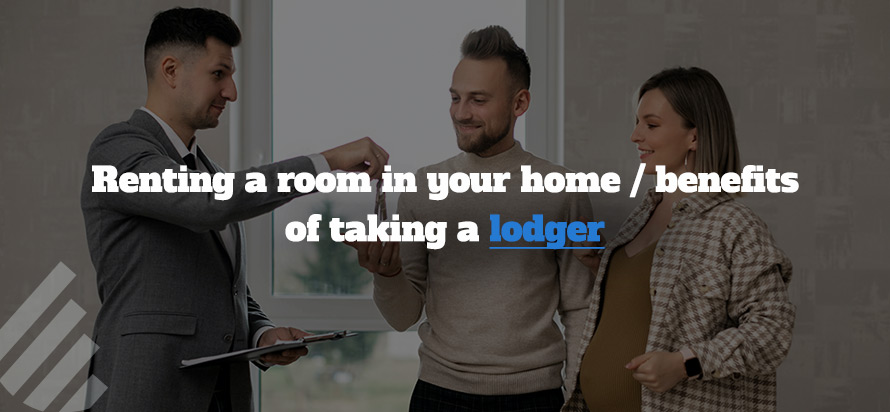 In this blog we will look at how the Rent a room scheme works, advantages of taking in a lodger, tax implications and loads of other things you need to consider.
What is Rent a Room?
The Government's Rent a Room Scheme was introduced by the UK government to encourage people and help people who want to earn extra income by renting out spare rooms in their own home. This not only helps households who need additional income but helps with the supply of low-cost rental accommodation around the UK.
When can you use the Rent-a-Room Scheme?
You can use the scheme if:
you let a furnished room to a lodger.
your letting activity amounts to a trade, for example, if you run a guest house or bed and breakfast business, or provide services, such as meals and cleaning.
Do I qualify for Rent-a-Room Scheme?
To qualify, the accommodation accepting a lodger must be let as furnished accommodation in the landlord's name. It doesn't matter if the accommodation is owned or rented, but if you rent your property, you must seek the landlord's permission to rent a room.
Do you need permission to rent out a room?
If you own the property but still have a mortgage contract on the property, then it's best to check out with your mortgage lender to ensure you don't breach any conditions of that contract.
If you rent your property from a landlord, then it's best to check with the landlord if you are allowed to sublet rooms under your tenancy agreement.
Whether you own or rent your property, it doesn't affect the ability to use the Rent-a-Room scheme to qualify for the tax exemption.
It's also worth checking with your home insurance company that your contents insurance policy allows you to rent a room or if it affects the cost of your home insurance premium.
Do you need to pay tax if you have a lodger?
There is an annual tax exemption for the Rent-a-Room scheme. For the tax year, the annual Rent-a-Room limit is £7,500. This reduces to £3,750 if someone else receives income from letting accommodation in the same property, such as a joint owner.
If your gross receipts* from letting are not more than the Rent-a-Room limit of £7,500 (or £3,750 if split jointly), you do not pay tax on your profit. If they're more than the limit, you may still be able to benefit under the Rent-a-Room Scheme.
*Gross receipts include rental income and any additional amount of money received for meals, goods or services such as cleaning or laundry etc. You must calculate gross receipts within a tax year from 6 April one year to 5 April the next.
Any income received that is up to the scheme's limit is tax-free and doesn't need to be reported to HMRC.
Do I need to complete a tax return if I rent out a room?
If you're earning more than £7,500 per year from renting a room, you need to complete a tax return (even if you don't usually) and you have to choose how to calculate and pay any tax due, using the following methods:
METHOD A: To pay tax only on the 'actual profit' you earn (which is your total income/receipts less any expenses and capital allowances.
METHOD B: Or to deduct the rent-a-room limit from the rental income and pay tax on the difference. (If you choose to do this then you cannot deduct any expenses or capital allowances).
You can change between each method from year to year. You need to decide which method is best for you and tell HMRC within the time limit each time you want to make a change.
If you don't normally need to complete a Self-Assessment tax return, then using the Rent-a-Room scheme won't involve any paperwork or notification to HMRC as long as your income from the scheme stays beneath the £7,500 threshold. However, it's always best to keep records of any rental income you receive.
Can I claim the Rent-a-Room allowance on short-term, holiday or Airbnb rentals?
The Rent a Room scheme covers short-term rentals, so if you run a bed and breakfast, or you're using a service like Airbnb, you can claim the tax-free exemption.
You also have the option if you are letting rooms in your home out on short-term basis via Airbnb or similar sites, to use the £1,000 property allowance. However, you can't the property allowance and the Rent-a-Room allowance at the same time.
Benefits of taking in a lodger
Whilst taking in a lodger may be a little scary at first, if you take in a lodger, there can be many benefits, these include:
Extra Income: renting out spare rooms in your home can provide a great source of additional income.
Comfort and Company: Having a lodger may also give you some comfort and company if you live alone.
Shared household chores: It may also provide someone to share some of the household chores with such as cooking and cleaning!
Security: It may help with personal safety if you live alone, but also provide additional home security when you are away on holiday.
Easy to evict – unlike landlords that have tenants, lodgers are relatively easy to evict, so the whole process of evicting isn't long or expensive.
Flexible: There is no minimum length of time for a lodger or that you must allow to pass before being able to evict them if there is an issue.
Disadvantages of if you take in a lodger
Unknown stranger: Often lodgers are complete strangers, and this can be worrying for many people.
Safety: You won't know who they are, their background or their living habits.
Lack of privacy: A lodger will be using the communal parts of your home such as bathrooms and kitchen etc. This means you will need to be more careful as there will be a lack of privacy.
Potential for conflict: If you don't get along with your lodger, you have disagreements or you don't like their habits, then this can lead to a lodger/landlord relationship breakdown which can be unbearable. It's good to set clear house rules up front.
Additional considerations: If you want to take in a lodger, you must take steps to make sure your home is safe, and that your lodger won't be injured because of the condition of your home, this will include things like fire safety of furniture and safety of gas appliances and electrical appliances. You should also check your lodger's immigration status before you rent a room to them. Find out more about immigration checks by landlords here.
Do I need a contract with my lodger?
It's good practice if you and your lodger sign an agreement, so that the rights and responsibilities for each of you are clearly set out. Lodger agreements are available online. It's also advisable to write an inventory of furniture and fittings you are providing to the lodger in their room. This will protect you from disputes later when your lodger moves out. Keep photographs as well of the condition of everything in the lodger's room.
Does renting a room affect my benefits?
If you get Housing Benefit, the first £20 of weekly income from a lodger is ignored and won't affect your benefit. If meals are included, 50% of anything over the £20 is also ignored. If you take in a lodger, you'll be treated as needing a bedroom for the lodger for Housing Benefit purposes. This means that your Housing Benefit won't be reduced because the bedroom is no longer 'spare', although the rent you get from the lodger counts as income, as explained above.
For people on Universal Credit, the rent from a lodger is not treated as income. This means that whatever amount you charge a lodger, it will not affect how much Universal Credit you get. Working-age social housing tenants are subject to the size criteria reduction for the spare bedroom that the lodger rents.
Any income from a lodger might affect your entitlement to other benefits and tax credits.
Conclusion
Taking in a lodger and renting out your spare room can certainly help provide additional income if you need to find a way to earn more money. The tax exemption offered by the Rent-a-Room Scheme make it a tax efficient and attractive option. However, there are disadvantages and things you need to be aware of before you take this step.
If you need more help and advice about taking in a lodger and the tax consequences of renting out your spare room, then contact dns on 03300 886 686, or email on enquiry@dnsaccountants.co.uk.
Speak with an expert
Any questions? Schedule a call with one of our experts.