What Is Private Residence Relief?
As the name suggests, the private residence relief is nothing but a relief provided to the taxpayers by the government of United Kingdom that enable them to sell their residence without attracting any Capital Gains on the same; however in order to avail the mentioned relief, the property is picture has to be the primary residence of the seller and the secondary or an investment property. As per the taxation policy of the United Kingdom, the mortgage you pay on a particular property is directly related to the type of property and in order to simplify the process, the HMRC has classified the property under three main categories i.e. a primary residence, a secondary residence and an investment residence.
A primary residence, also called and known as private residence is the main home of the seller i.e. he or she stays there. In order to define the private residence, it could be anything from being a single building i.e. a detached house or it could be more than one building i.e. a house with a garage attached to it and in case your dwelling house has more than one buildings, then the private residence relief may or may not be extended to all the buildings so you need to decide on which building has to be declared as a dwelling house. Also if you have let out a part of your building or all of your home during the duration of your ownership, then you are no longer eligible to claim the private residence relief. However, the silver lining here is that you can still claim "Letting Relief".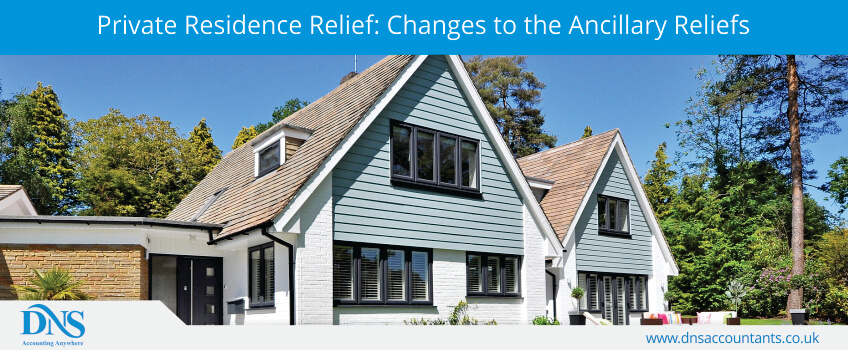 Private Residence "Letting Relief": Amount to Claim
At present, the Letting Relief provides up to £40,000 of relief for an individual and £80,000 of relief if you are a married couple, i.e. as an individual or as a married couple, you can claim the letting relief on the property even if you have not stayed there for a fairly long time; however UK government is all set to make certain changes to the relief and will make it available only to those who are in a shared occupancy with a tenant. However, it will not affect owner-occupiers or landlords who have never lived in the property that is being rented out.
For a residence to be classified as a private residence, it has to meet following requirements:
You must be living there for most of the year.
It has to be not very far from your place of work.
You have the same registered on your official documents such as tax returns, voter registration etc;
For the entire duration of your ownership, the private residence has to be the only or main residence;
You have not stayed in the mentioned house only for the allowed period of absence i.e. when you were travelling and staying in job-related accommodations; HMRC has listed the qualifying periods of absence as under:

If you are absent from your primary residence during your employment and all your duties are carried out outside the UK;
You have been absent from your primary place of residence for a period of not more than 4 years if:

i. If the distance between primary place of residence and your work place was the reason behind your absence;

ii. If it was your work requirement to stay away from your workplace for you to work in an efficient manner.

If you have gardens or grounds as a part of the mentioned residence, then the gardens or the grounds should be within the permitted area. If that is not the case, then you cannot claim the relief on the extra area.
You have used any part of your private primary residence exclusively for your business purposes for the entire period of your ownership.
When it comes to rules and regulations, it cannot be possible that there are no "ifs" and "buts" attached with them, and private residence relief is not an exception. So, like mentioned above, you need to meet the mentioned requirements in order to qualify for the relief, however, even if you have met all the conditions mentioned above, you may not be entitled for the relief if:
You have disposed of your home first and disposed either a part of or all garden later; and
You have purchased a dwelling house or spent money on the same in order to realize a gain on its disposal.
The primary residence or the private residence can be an apartment, a houseboat or any other form of the property that you live in most of the year. As mentioned above, the private residence relief saves from attracting any Capital Gains Tax on selling of the same, however you need to be clear about what can be a part of a primary residence and what cannot be a part of the same, such as:
A house, which is your home, where you stay for most of the year and can be a house, a houseboat or fixed caravan or a flat;
A part of the house, which is your primary residence
A part of the garden that is attached to your house and you would normally be paying Capital Gains Tax on any gain you make on it.
If at any point of time during your ownership, you have more than one house, then you can only have one main residence in order to claim the private residence relief. The good part here is that you have an option to choose and nominate which residence is to be treated as your primary residence for a particular period, however the catch here is that you have to make the nomination within 2 years of buying the second property and if you miss to make the nomination, then HMRC will rely on the facts to determine your
Any individual is entitled to claim the relief, if he or she owns the freehold of the mentioned property or if you are a tenant living in the property on a lease. You are also entitled to claim the relief in case if you own the property jointly with someone else. As mentioned above, you have to meet certain requirements in order to claim the private residence relief. However, even if you are not entitled to complete private residence relief, you can still see if you can claim partial private residence relief.
Primary Aim Behind the Private Residence Relief
The main aim behind the introduction of primary residence relief was to keep the taxpayers out of the Capital Gains Tax on selling of their primary residence as per the guidelines mentioned by the HMRC. However, apart from rolling the primary residence relief for those who own a primary residence, the HMRC has also rolled out ancillary reliefs for those that extends to those who are not occupying their main residence and in order to have a better focus on the private residence relief, government of the United Kingdom is all set to make certain changes to the same, with effect April 2020 and in order to do so, it has made certain changes to two ancillary reliefs, that would aim to provide relief on the rented property and on the gains made during the final duration of the ownership.
Here, the aspect that UK government is willing to overlook is "occupancy":
In order to ensure that the private residence relief is better focused on its owner-occupiers, the UK government has decided to give an annual exempt amount (AEA), below which Capital Gains Tax is not applicable or due on any gains made on the primary residence.
If you have been absent from your primary residence for whatever reasons, the gains that you made out of it for up to three years will be protected, which is not the case at present. This ancillary relief has been rolled out to protect gains made by an individual under certain circumstances and to extend the benefits of private primary relief beyond those who are occupying their main residence.
As a part of ancillary reliefs, the period for which the primary residence could be someone's main residence will still be protected and thus it aims to give sufficient time to the individuals to take care of their matters and sell of their property.
At present, you as an individual do not have to pay any CGT on the gains that you have made in the last 18 months of your ownership, even if you were not occupying the property for the mentioned period. However, from April 2020, the period of exemption will be reduced to 9 months, which is still a considerable amount of time as compared to an average property transaction. However, the present rule and exemption time of 36 months for those who are moving into care homes or those with a disability does not change and remains the same post April 2020.
Speak with an expert
Any questions? Schedule a call with one of our experts.