How to apply for a VAT refund on conversions and new-builds
If you buy a new home from a builder or developer no VAT is payable on top of the purchase price, because new-builds are exempt from VAT. So if you build your own home you don't have to pay VAT either.
Not everyone can apply
The scheme only applies to individuals who build or convert a property for their own occupation. It is not available to developers or businesses, where separate arrangements apply.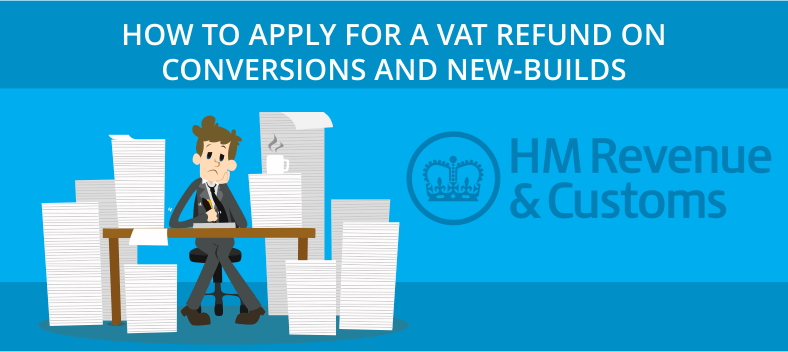 Where to find the rules
The arrangements for reclaiming VAT are set out in VAT Notice 431: VAT refunds for 'do-it-yourself' builders and converters. You can download the document from hmrc.gov.uk. Different rules and arrangements apply for new-builds, conversions, renovations and extensions.
Conversions
Conversions are zero-rated for VAT, but the rules on payment and recovery of VAT differ slightly to new-builds. With conversions, labour-only or supply-and-fix contracts attract a reduced VAT rate of 5%.
What if you buy the materials for the conversion?
For conversions, as with new-builds, if the owner of the property purchases the materials him or herself they will pay VAT at the full rate. But the owner of the property can recover the VAT plus the 5% paid out to builders or subcontractors, at the end of the project.
Renovations and Extensions
Anyone renovating, refurbishing or extending an existing dwelling is not eligible for a VAT refund. VAT at full rate applies on any contracts, supply and fix, labour only or materials only.
Two-year and Ten-year rules
If the dwelling that needs renovating, refurbishing or extending has been left unoccupied for more than ten years, it is treated as a conversion and VAT is recoverable.
If a dwelling has been empty for more than two years, although it's still not eligible under the scheme, rules are in place to ease the VAT burden. A VAT-registered builder or subcontractor can obtain permission from HMRC to charge a reduced rate of 5% VAT for their work.
What if you buy the materials?
Even if you purchase your own materials under the two-year rule, you cannot recover any of the VAT. In this case, therefore, it would be better to let the registered contractor purchase the materials and include the expense in their final invoice; at least you'd get the 5% reduction in the overall bill.
Listed buildings
Listed buildings do not fall within VAT Notice 431 and so there is no recovery of VAT.
What can you claim the VAT back on?
This is not the exhaustive list, but it shows that largely speaking everything that is eligible is a permanent fixture of the building:
All building materials
Permanent fixtures and fittings: wiring, light fittings, curtain poles, fires and fire surrounds, bathroom fittings, toilet-roll holders etc.
Floors, but only permanent floors such as tiles, hard-wood flooring, and other materials that are fixed and integral to the building
Kitchen units, but only if built-in as part of the fabric of the building
Wardrobes or cupboards, but only if built-in as part of the fabric of the building
Any other applicable invoices dated before completion of the building
What can you NOT claim the VAT back on?
The opposite applies; services that are not part of building, items not integral to the building, or structures that are not part of the residence:
Professional services such as architects, surveyors, engineers etc.
Scaffolding or plant hire, skip hire
Invoices dated after the date of completion (expenditure should be incurred before completion)
Furniture, rugs, carpets, anything that is not integral to the building
Fuel or transport costs
Carpets or curtains
Fitted wardrobes that are not built in as part of the fabric of the building
White goods such as cookers, dishwashers, refrigerators, freezers and washing machines
Doorbells, electrically operated door or gate equipment, aerials and satellite dishes
Outbuildings, other than garages
Workshop or store at the rear of a garage
Swimming pools unless they are part of the structure of the house
What should you do?
If you're thinking of building your own home or converting an existing non-residential building into your home, contact us and our team will be able to assist. Check that the rules apply and then get DNS to prepare your VAT return so that you get a refund of any VAT amounts you can claim back.
Speak with an expert
Any questions? Schedule a call with one of our experts.