As a small business owner with limited capital, it is of paramount importance that you pay very-very close attention to where your money is coming from and where it is going. It is critical that you have a reliable business accounting software to keep a close tab on your cash flow. You need a simple to use but powerful software that can help you accomplish your daily accounting tasks like recording payment, generating invoices, following expenses and reconciling transactions among other things. This all allows you to properly assess your financial health by analyzing your business performance from multiple angels. However, all said and done it is not easy to pick up the best accounting software for your business.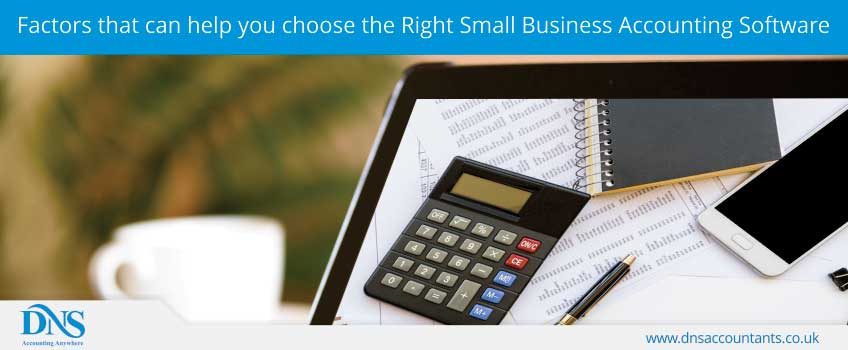 All the business accounting software come equipped with their own unique set of features and are available at different price ranges depending upon the features. Three important things you need to pay close attention to when purchasing an accounting software for your business are listed as following:
Cost
You need to assess your specific requirements and budget. Do you think that an inexpensive business accounting software with less features is capable of doing the job, or you want an expensive one with additional features?
Usability
Usability refers to the number of users who will be accessing the software. Also, you need to decide whether you want a cloud based system where any user with the right credentials can access it anywhere and anytime, or a desktop version will be more apt. Additionally, given the popularity of smartphones and internet capable on the go devices, do you wish to have a mobile version of it as well?
Features
What exactly are you looking in your business accounting software? In other words, to what end you will be using it and what important features do you require here. Do you need both accounts receivable and accounts payable tools? What types of report you believe the software should be capable of generating. Do you wish it to come equipped with features that will facilitate accurate inventory tracking? Some business accounting software come with additional features like time tracking, project management, payroll management, etc. You will, however, have to shell out extra bucks if you want a business accounting software with these additional features.
What's the price of a business accounting software?
Business accounting software are available at different price ranges depending upon the features they contain and the number of users they support among other things. An important thing to take note of is that top of the line accounting software firms offer business accounting software as a cloud-based software rather than software licenses. This is highly advantageous as you can access these software anytime from anywhere. Companies generally charge a monthly subscription fee for these software, meaning you can choose a plan that most closely aligns with your specific requirements. Paid packages typically range from £10 to £ 60 per month, though high-end programs can compel you to shell out more money. Companies generally offer some discount on long term subscriptions.
The software that cost you more are equipped with extra features like advanced reporting capabilities, inventory tracking, recurring invoices, team functions, expense and sales tracking, purchase ordering, etc. There are also software companies that provide the facility of connecting your business accounting software to other business program at an additional cost.
It is always a good option to try before you buy and business software development companies are aware of it. It is the reason some of them offer a free trial version of their software for a limited number of days though it may come with limited capabilities in terms of number of users, transactions or clients. Some offer free software for indefinite period making money from the paid add-on services they offer. Free version software can serve your purpose only if your business is very small or you want to get acclimatized with the software properly before making the final purchase decision.
Usability factors you should look for in Accounting Software?
To find the best business accounting software, you need to properly assess your specific requirements so that you can derive the maximum benefit from it. You need to be very clear about how you will be using it and what for what specific purpose. Also, be sure of the number of users accessing the program. Some of the important factors that will ease your decision making process are enumerated as following:
How many people have the right to access it?
Majority of business accounting software allow you to invite other users to the program, and provide the level of control they can exercise in accessing and modifying data. For example, you may like to offer full access to your accountant and your business partner while limiting the access to your employees. Some software allow you to provide access to additional users at no extra cost while others charge extra for this feature.
Support for multiple businesses
If you have more than one business, you would like to have a software that supports multiple businesses without charging you anything extra.
Cloud-based software and mobile app
Majority of the top business accounting software are cloud-based thus giving you the facility to access it anytime from anywhere with an internet connection. This allows you to smoothly run your business from anywhere, whether you are at home or on a vacation. Many also offer mobile apps to help you keep a track of your business while on the go. Mobile apps significantly vary in the features they contain, which means that you have to be doubly sure of what you need before making a final purchasing decision. Another very important thing to note here is that you need to be aware of the platform they are capable of running. Some are iOS compatible, others are Android compatible while hybrid apps are capable of running on both the platforms. Some mobile apps can be used with tablets and smart watches as well.
Speak with an expert
Any questions? Schedule a call with one of our experts.