Diversifying your business into new products, services or markets can be an effective way to minimise risk in your business or rapidly grow your business. But diversification will offer you opportunities and risks and can have both a negative impact on your financials in the short term but could prove highly profitable in the longer term.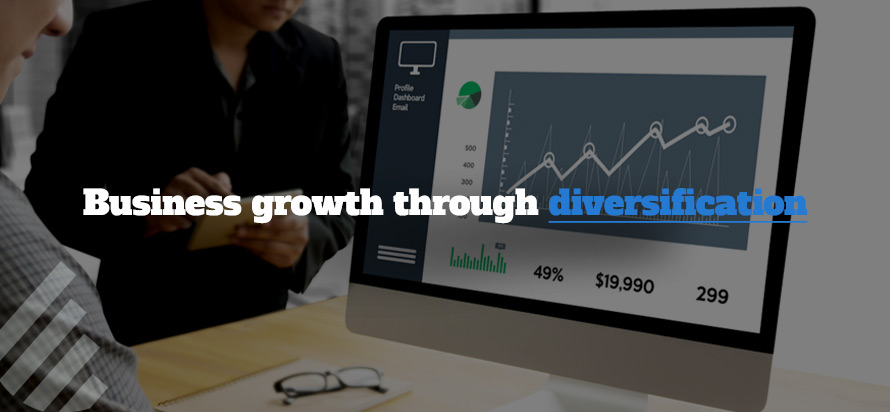 What is business diversification?
Diversification is both a growth and risk strategy for a business. Diversifying business activities allows companies to thrive by managing risk and expanding into new markets or new products and services. Diversifying can involve radical steps such as acquiring a new business or moving into something completely different.
What are the examples of diversification?
Diversification can involve any of the following:
Acquiring or developing new products or services that appeal to your current customer base.
Adding new products that have sales and marketing or technology synergies.
Adding new products or services unrelated to your core business or current customers.
Exploring new markets (either in your current countries of operation or abroad).
Acquiring or expanding in the production or supply chain of your product.
What are the advantages of diversification?
There can be many advantages of diversification. Below are just some benefits you may achieve through diversification in your business.
New revenue streams.
Growth in market share.
Increased sales and revenue.
Higher profits.
Minimise financial risk.
Increase your business value.
Limit the impact of changes in the market or economy.
Maximise the use of potentially underutilised resources.
What are the disadvantages of diversification?
You should be aware of potential disadvantages of business diversification before you decide to take this route to grow your business.
Diverting money and resources into diversification could limit potential growth in core areas of your business.
If your business or team lack the skills and expertise for the diversification, it could hinder your progress, lead to mistakes or costly delays.
Diversification may cause you to stretch resources too widely leading to lack of cashflow, affect levels of service or losing staff.
You could find that by diversifying your lose track of or limit control of the rest of your business.
Diversification could dilute your core brand and messaging and can confuse your customers or make them believe that you are no longer a leader in your area because you don't specialise.
You'll require additional funds to diversify - there may be acquisition costs orstartup costs and the added overhead needed to achieve increased sales goals.Short-term capital needs and debt expense to fund the diversification might be too high.
Reduce productivity may be a result if employees now have to multi-task or learn new skills.
Financial aspects to consider when diversifying
When looking to diversify you need to consider the financial impact that diversification may have which include:
Funding needed for acquisitions.
Financing for new equipment, premises etc.
Increased operational costs to fund diversification including people, technology, marketing.
Increase in revenue.
Increase or decrease in business value.
Doing what you've always done may not be the best strategy to grow your business longer term. Diversification can offer businesses alternatives routes to growth, increased revenue& profits, less risk, and increased business value. However, diversification needs careful planning and considerations on both the positive and negative impact on your current business.
Maybe you're considering diversification to grow and prosper or merely to survive in the future, but whatever the reason it's wise to not rush in. It may take you out of your comfort zone and may divert your attention away from your core business, but it also may well bring you big advantages and rewards.
Speak with an expert
Any questions? Schedule a call with one of our experts.