Today's Budget didn't throw up any major surprises for businesses and individuals. This was partly because many things had already been announced prior to the Budget. We've looked at the details from today's announcements and we summarise these below along with the previous announced changes for individuals and businesses.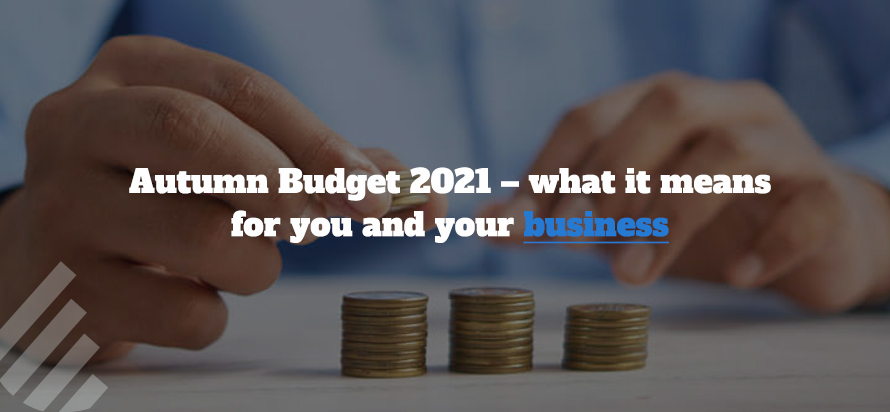 R & D tax relief
The Chancellor announced that R&D tax relief would be expanded to cover cloud computing and data costs. But there were no other announcements around R&D tax relief today. This will mainly help software development and IT consultancy businesses claiming R&D tax relief and ease the current apportioning requirements. Talk to our R&D team to check if this change will affect you.
Business rates
There were several announcements in today's Budget about business rates. These are as follows:
A change in the business rates revaluation cycle from 5 years to 3 years from 2023.
A new Business Rates Improvement Relief, for companies that improve or extend their properties, meaning they won't pay additional business rates in the 12 months after the improvements were made.
50% business rates discount from April 2022 up to a maximum of £110,000 for one year for retail, hospitality, and leisure businesses.
This should be good news for many businesses, but the revaluation cycle changes could mean that some businesses rates may go up as part of the revaluation.
Annual investment allowance (AIA)
The £1m Annual Investment Allowance (AIA) is being extend from the end of this year to March 2023. Businesses that are planning large investment projects in the longer term could benefit from this by bringing investment forward.
Capital gains tax (CGT)
The deadline for taxpayers to report and pay CGT after selling UK residential property has increased from 30 days to 60 days after completion date. This change takes effect immediately. This gives individuals more time to report and pay their CGT liabilities, which in the past has been a challenge within the 30 day period.
Universal credit
There were changes announced today to universal credit that will benefit lower earners and struggling families. The Chancellor has adjusted the amount of benefit a worker will lose for every pound they earn above their worker allowance to 55p in the pound from 63p currently. This change will come into effect no later than 1 December,
Previous announcements
The Chancellor had already announced several tax and other rises prior to the Budget and many of these will affect business owners and individuals, so we summarise these below.
Corporation tax
Corporation tax will rise from 19 per cent to 25 per cent from April 2023. For businesses with profits of less than £50,000 profit, there is a small profit rate, which will continue to be 19 per cent. For profits above £50,000 there is a tapered rate.
National insurance
An increase of 1.25% national insurance contribution for employees and employers and the self-employed from April 2022.
National living wage
The National Living Wage is to increase from £8.91 an hour to £9.50. Whilst this is great news for some employees, it will put added cost pressure on small businesses.
Fuel costs
The Chancellor announced that he would cancel the planned 2.8p rise to fuel duty.
There were many predictions prior to today's Budget that didn't materialise, which was a welcome relief for many individuals and businesses. There were no announcements around pension tax reliefs or allowances, changes in Capital Gains Tax rates or exemptions or changes to IHT.
However, as businesses are hit with rising energy costs, NIC bills and wage bills, as well as skills shortages and supply chain issues, there is no doubt that the trading environment for some businesses will continue to be challenging.
Speak with an expert
Any questions? Schedule a call with one of our experts.