Free Invoice Template UK
All the sales and purchases of a business are recorded. An invoice makes available the details about a sale, including the business name, address, quantity, costs, and applicable tax rate. Efficient invoicing measures are critical for the financial health of a company. It is imperative to capture all the details correctly and reflect the terms of the contract such as payment terms including the credit period. The contract terms give information regarding the amount which is due and payment date. At DNS Accountant in London, Download Free Invoice Templates for self employed, freelancers and limited company. Our simple and latest free invoice template is for both VAT & Non-VAT registered in Word, Excel & PDF formats.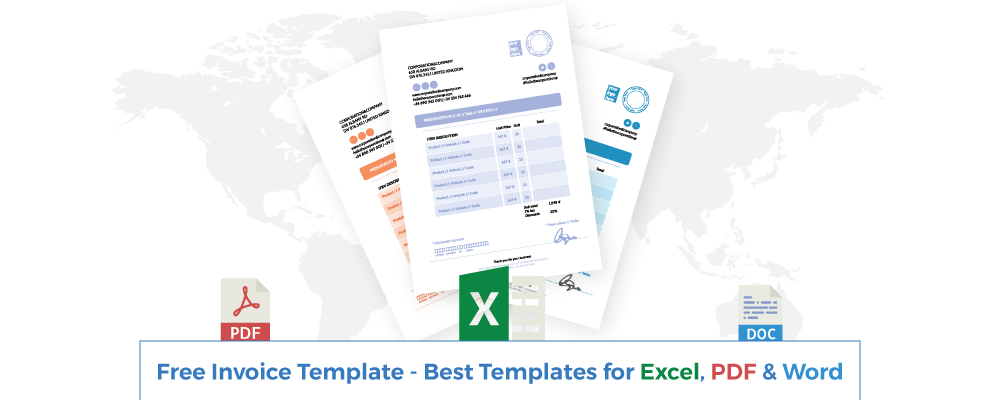 At the top of an invoice, the following details are entered:
Seller's company name
Seller's address
Seller's contact details
Invoice number
Invoice date
Customer name
Customer address
A simple layout with the word "Invoice" on the top followed by business details and customer name form the basic invoice details. In the middle, the description of the services / products along with the price per products, form the computing section of an invoice. Each invoice should be referenced with a unique invoice id or number which will create a unique entry in the books of account. The middle part of an invoice describes the services / products due for payment:
The service / product sold
Net amount excluding the Value added tax (VAT) (if applicable – as certain services may be exempt)
Gross amount inclusive of VAT
Details of expenses
At the bottom of the invoice:
A seller should clearly define the terms of payment to avoid any confusing with the valuable customer. The terms of payment can be:
Mode of payment (by cash, by draft, by cheque along with account details, or by bank transfer along with bank account and sort code)
Credit period e.g. payment to be made within 15 or 30 days from the date of invoice
The company registration number should also be mentioned along with the VAT registration number of the business.
Electronic software or accounting system such as Nomisma Solution can take care of the administrative work. Invoice number and invoice generation will be done automatically and will reduce the number of heads deployed to a manual process. Some contractors and freelancers might have a preference to submit their invoices in .pdf format to keep the details protected, while others may add addition payment terms such as they reserve the right to charge penalties or interest on late payment in accordance with the late payment legislation
Free Invoice Template UK for Sole Traders & Limited Companies
INVOICE GUIDANCE:
Invoice Numbering :Mode of payment (by cash, by draft, by cheque along with account details, or by bank transfer along with bank account and sort code)
Name :Credit period e.g. payment to be made within 15 or 30 days from the date of invoice
VAT :The accurate value added tax (VAT) should be charged. Some services might fall under the exemption category
Copies :Copies of all the invoices must be kept, even if it is a cancelled invoice. Electronic copies are all valid but the business must ensure that there is a robust backup system in place
Payment Terms :Businesses should carefully draft their payment terms. Payment terms should include exact dates and clearly define the credit period
Order Number / Reference :If a customer generates an electronic purchase order, the seller must ask for the order number and mention it on the invoice. This is updated in the customer's system with the invoice details automatically when the order is delivered. This is very common with big clients
Bank Details :Bank details along with the relevant codes should be mentioned on the invoice to make the processing of bank transfers is easy
Record Keeping :Business can use online bookkeeping or accounting software like Nomisma Solution. Doing so will reduce the manual work and along with invoice generation all other accounts will be automatically updated. In case businesses don't want to opt for an online accounting system they will have to keep a record of all the invoices. Key items to be noted are:

Date of Invoice
Date of Payment
Invoice total including VAT
Invoice number
Name of the customer
Product description or service details
Free Invoice Template Doc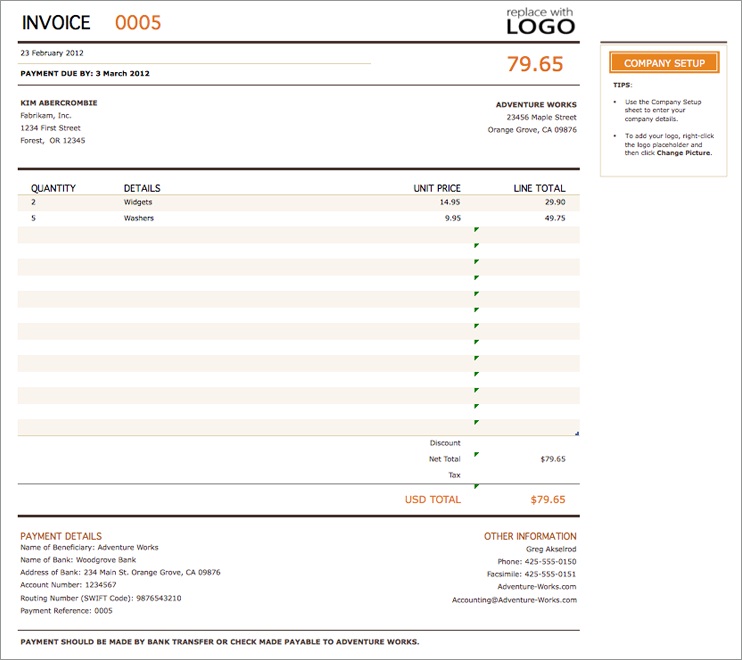 Free UK Invoice Template
One of the most imperative things individuals need to do when they are working as a freelancer / contractor is to send an invoice to their clients in a timely manner and also take care of the fact that the invoice covers all the necessary details and is consistent. To help owner managed businesses and freelancers, DNS Accountants help our clients with giving them free invoice templates and access to our online accounting system at a nominal fee to make sure our clients don't have any incorrect information and they don't need to worry about their invoice number tracking and VAT registration.
Types of Invoice Template
Sole Trader Invoice Template
Limited Company Invoice Template
Freelancer and Contractor Invoice Template
Self Employed Invoice Template
Freelance Invoice Template
Simple Invoice Template
Blank Invoice Template
About DNS ACCOUNTANTS
DNS Accountants in Haslemere offers a low cost, fixed accounting fee package to all the clients with excellent customer support. All our accountants specialize in providing accounting and bookkeeping services to owner managed business, sole traders, freelancers, private individuals and contractors. All our accountancy services include:
Unlimited access to all accounts
Ongoing advice on business and cash flow management
Tax planning advice
Updates and reminders on tax deadline
Access to our online accounting software at a nominal fee
Tags
UK Invoice Template for Sole Traders
Free Self Employed Invoice Template
Limited Companies Invoice Template UK with VAT Number
UK Invoice Template Download Word
UK Invoice Template Download Excel
Sole Trader UK Invoice Template Download PDF