With technology and access to information about your business 24/7, it's important as a business owner to know what sort of information you should be focusing on. - otherwise you may well get swamped with reports and data and never truly focus on the things that really matter in your business.
Being clear on the management information you need and ensuring you review it regularly could be the difference between success and failure in your business, it could also give you competitive advantage.
As your business grows, spinning so many plates and still keeping control can be difficult. So being clear on the information you need to track in your business early on, ensures you remain focused on the data and management information that truly matter.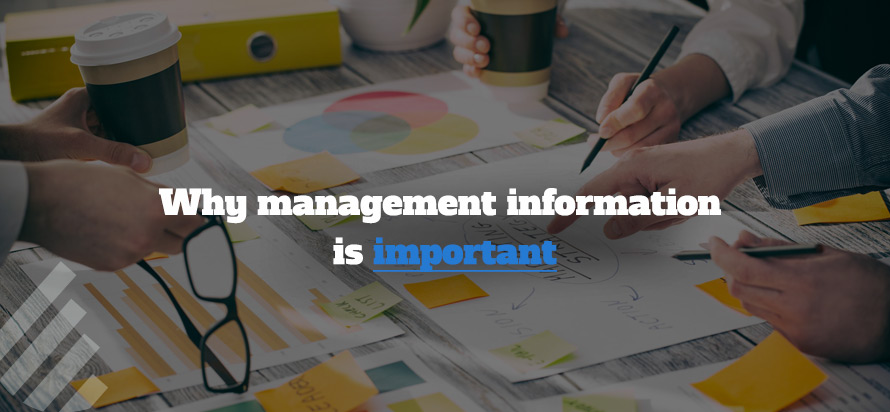 What is management information?
Management information is a collection of data that provides critical business information to help with business decision making. Often this information can come from a variety of systems and in a variety of formats.
It can be financial data like budgets, profit and loss statements or cash flow forecasts. However, it can stretch much wider than that to include things like stock levels, sales figures, customer satisfaction scores, return on investment data etc.
What is a Management Information System (MIS)?
A management information system brings together data from different areas and sources in your business. It will provide up to date information from a wide variety of areas. Management Information Systems, bring this data together often in an easy to view dashboard or reports.
It allows you to pick the crucial metrics for your business and presents them in a way that is easy to read, easy to compare and easy to assess your business performance in one place.
The purpose of the MIS system is to set performance standards and targets and alert you to deviations from those objectives quickly in order to take corrective action.
Why is management information important?
Management information can be important to make future decisions, implement new processes, improve efficiency, gain competitive advantage and increase profits.
What management information should I use?
What information you need to make decisions in your business will vary dependent on your sector and how your business operates. However, there are some things below to help you to think about the type of information you may need.
Current financial information
Looking at current financial information should be part of good financial management.
Profit and loss – showing how much your business has earned and spent in a specific period.
Balance sheet – shows you how much your business owns, how much it owes and how these assets and liabilities are distributed.
Cashflow statement – This shows your current cash position, whether you have enough money to meet you operating costs and obligations. It looks at cash in and cash out of the business.
Productivity information
Productivity information, can be really important dependent on what business you're in. It should show you the time it takes to get something done or the time it takes to produce a batch of products.
Thinking your team are doing well because a job gets done, isn't enough. If you track hours relative to output then you will be far more informed about your production process and costs.
Inventory management
Managing inventory can be vital to many businesses. Whether it's raw materials or finished products, tracking inventory costs, knowing each items profitability, or having data to track shipments, your business may well need accurate inventory management to thrive and survive.
Sales data
Understanding what sells well in your business, who is buying it and where your strongest sales come from is really important. Tracking sales by product will help you to make decisions about future products, dropping products from the range and seasonal fluctuations.
Future planning
Having things like forecasts and projections can help you make better decisions. Cash flow forecasting can be critical in order to highlight any potential cash flow crisis's in the future. Cash flow forecasting is also necessary in order to get future funding from lenders.
How important is information management?
With technology dominating the business environment, and huge amounts of data available. Business owners need to find better and efficient means of using the data for business planning and day to day management. Keeping track of key metrics in your business processes can be the difference between a successful business or a failing business.
What is good management information?
Not all information is good or of the right quality for you to be able to base your business decisions.
Good management information should be:
Prompt – if it takes 3 months to pull the data together it'll be out of date and of no use to you.
Relevant – if the information isn't relevant to your business or your sector then don't try and collate it and use it.
Accurate – you need to trust and rely on this information to run your business and make sound decisions, so it has to be accurate.
Followed up – there is no point analysing a load of data and then not using the results to make effective change or future decisions. If it's not acted on then you've wasted your time collating it.
Summary
Accurate and up to date management information that is analysed and acted upon should be an integral part of effective management of your business. It can help you to highlight business problems and help your business achieve competitive advantage. It will help you as an owner understand what is working and what isn't in your business.
Management information should give you the information you need to make decisions, improve performance, and keep control of all areas of your business.
Speak with an expert
Any questions? Schedule a call with one of our experts.