Whether you are starting out or need to borrow money for the next level of growth and you don't have the funds, as a business owner you should understand whether a small business loan is right for you and your business.
Before you consider a small business loan, you need to understand what business loans and other funding sources are available, the business loan application process and what lenders are looking for. You will need a strong business plan and a clear idea of what you need the loan for.
This blog post will explore the steps you need to take to get a loan for your business. We will also provide tips on what lenders are looking for and how to increase your chances of securing a business loan.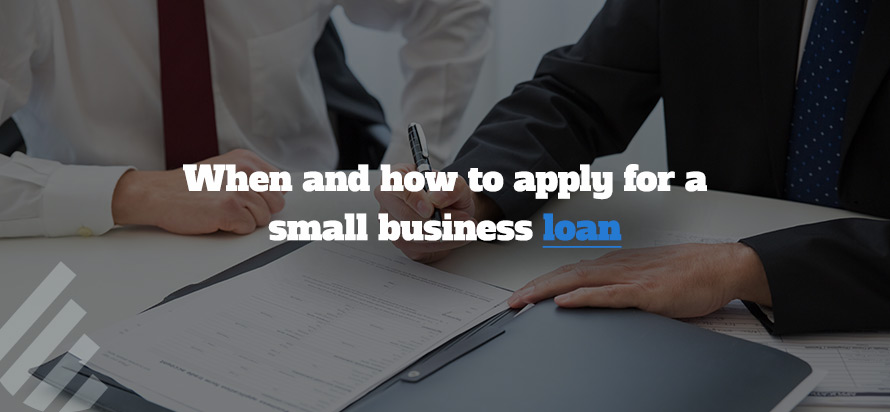 Types of business loan
There are two main types of business loans, they are:
Unsecured business loans
An unsecured business loan is when your business borrows money without having to use its business assets as security.
Secured business loans
A secured business loan is when your business borrows money and uses a business asset as security. If the repayments aren't met and you default on payment, the lender can sell the asset to get their money back.
You need to find the right business loan for you and your business. Small business owners do have a wide choice of lenders, but this will depend on if you meet their criteria, your business credit score and you have a strong business case for the loan.
How do small business loans work?
When you're ready to apply for a loan, you should know the small business loan application process and what you will need to better your chances to secure the loan.
Lenders will need to know how much you're applying for and what you want the money for (i.e. business expansion, capital expenditure, to purchase additional stock etc.). Many lenders will ask to see your business plan, financial forecasts and the current financial health of your business. They'll use this information to determine whether or not you're a good candidate for a loan.
Finally, be prepared to answer questions about your business. The bank will want to know things like how long you've been in business, what your products or services are, and your future plans for the business. This should all be contained in your business plan.
The business loan application process
Many lenders allow you to apply online and you can secure a loan in minutes. In simple terms, there are usually four steps to a loan application:
Complete an application form.
The lender runs a credit check.
The lender decides whether or not to offer you the loan.
If your application is successful, you can decide whether or not to accept the loan.
Top tips for applying for applying for a small business loan
1. Gather your documentation
Once you've decided which type of loan is right for you, it's time to gather the necessary documentation. This will vary depending on the lender but typically includes the information below:
Your business plan
Business bank statements
Company accounts
Financial statements
Business tax returns
Any other legal documents
Company director proof of address and IDs
Having all this information ready before you start the application process will make things much smoother.
2. Check your credit score and build a good credit history
Building a good credit score for your business can be essential. Without a good credit rating, it could affect your ability to obtain a business loan. It's important to know your credit score and build a good credit history (pay invoices on time, use a business credit card or borrow small amounts of money and pay it back on time to build up a credit history). You can get your free credit score from a variety of sources.
3. Research your business loan options
Start researching your options by looking at different business lenders, their terms and the different types of loans. Some things to consider include the loan amount, monthly payments, set up fees, interest rate, repayment terms and early repayment fees if you want to repay the loan early.
4. Be careful on the application process
Now that you've done your research and gathered all the necessary documentation, it's time to actually begin applying for a business loan. Ensure you take time to complete all the details the loan provider requires. Small mistakes or missing details on your application form could be the difference between getting your loan application approved or declined. So make sure you read everything again to double check the details before you apply.
5. Don't make multiple applications
Use business loan calculators before applying to check repayments etc. If you begin applying to multiple lenders it may look like you are shopping around and struggling to get approved by lenders and it may affect your chance to get a loan.
6. Apply in advance
It's better to identify the need for finance in advance of any financial issues in your business. If your business is already struggling you will find it harder to raise money or secure a loan.
7. Be specific
Be specific about what you want the loan for and don't ask for more than you really need. Show the lender the impact the loan will have on your business through financial forecasts and your business plan.
Responsible business borrowing
Always make sure when considering business funding to borrow responsibly. If you fail to make repayments on business borrowing, it could put the future of your business at risk.
Protect against risk by:
Only borrowing money that you're confident you can repay (including interest).
Only borrow what you need for a specific purpose - don't borrow more than you need.
Make sure repayments are affordable for your business, even though lean business times.
Never borrow based on rough guesses - work through your numbers and speak to your accountant.
How to get the best loan terms
If you're looking to get a bank loan for your business, there are a few things you can do to ensure you get the best loan terms possible.
First, shop around. Don't just go to your own bank - shop around and compare rates and terms from various lenders.
Second, don't be afraid to negotiate. You may be able to negotiate better loan terms if you have good credit and a strong business plan.
Third, consider using collateral. If you have assets that can be used as collateral, such as property or capital equipment, you may get a lower interest rate or longer repayment period.
Fourth, try alternative lenders and sources of funding such as peer to peer lending, grants etc. Many alternative lenders may be willing to work with you if you have difficulty qualifying for a traditional business loan.
Other financing options
There are many other financing options available for businesses. These options include:
Friends & family
Business credit cards
Business overdrafts
Government grant & local authority grants
Start up and new business loans
Mortgages
Asset finance
Invoice finance, factoring and discounting
Trade, import & export finance
Peer to Peer finance/lending
Crowdfunding
Angel and equity investment
Benefits of bank loans for business
There are many benefits of bank loans for businesses. Bank loans can provide capital to start or expand a business. They can finance the purchase of equipment, inventory, or property. They can take your business to the next level of growth. Bank loans can also help businesses manage times of difficult cash flow.
Can you use a personal loan to start a business?
Business loans are secured loans specifically designed for businesses, however, it can be difficult to obtain a business loan to start a company or small business. Most lenders want you to have at least two years of accounts when you apply.
You may be able to take out a personal loan when you start a business, but you should check with the lender first if you can use a personal loan for starting a business. You may be required to provide a personal guarantee for a personal loan and this risks your personal assets if your business fails and you can't pay the loan repayments. If you can't cover them, you could damage your personal credit rating. This could affect your ability to get credit in the future.
Some lenders offer start up business loans for new start up businesses, so it's worth shopping around.
The UK Government offer start up loans of between £500 and £25,000. However, unlike a business loan, this is an unsecured personal loan. You'll need to pass a credit check.
Conclusion
Whatever the loan amount you are looking for or the reasons for applying, to get a business loan requires careful consideration. You'll need to have the right documentation, prove the impact it will have on your business and its finances, prove you can repay it, carefully fill out the business loan application and potentially look at other alternatives.
Remember to do your research, have a solid business plan, and be prepared to answer any questions the lender may have. With careful planning and preparation, getting a business loan for can be an easy to take your business to the next level.
For help and advice on all your business financing needs, contact our team on 03300 886 686, or email on enquiry@dnsaccountants.co.uk.
Speak with an expert
Any questions? Schedule a call with one of our experts.