What is BACS Payment?
BACS (managed by BACS Payment Schemes Limited) is an electronic arrangement used to perform direct payments or transactions from one bank account to another bank account. The two chief modes of payment are BACS Direct Credit and Direct Debit, and the transaction can be completed in 3 working days (i.e. for the payment to clear). The provision is managed fully by BACS Payment Schemes Limited. Automated payments are the backbone of the United Kingdom's financial system as they provide essential service for both organisations and consumers. BACS Payment Schemes Limited is the corporation which operates Direct Debit in the United Kingdom. It also operates the BACS Direct Credit Scheme, which helps to settle invoices received from suppliers and pay salaries. The company, on 1-May-18, became a wholly owned subsidiary of the NPSO – New Payment System Operator. As part of the restructuring, the accountability of operations for BACS Direct Credit, Cash ISA Transfer Service, Direct Debit, the Current Account Switch Service, and the Industry Sort Code Directory were moved to the NPSO.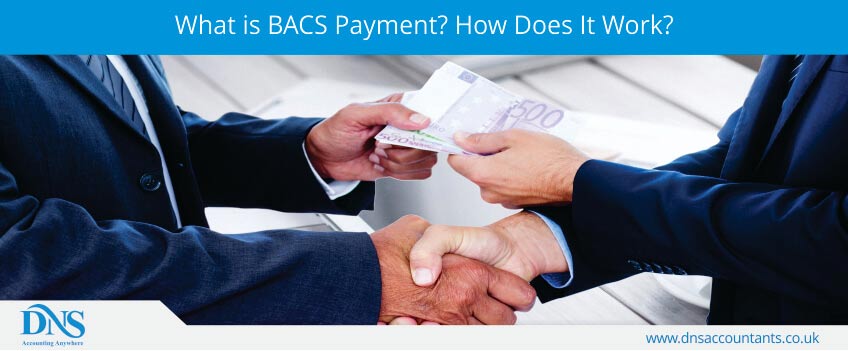 Types of bank-to-bank payment
Direct Debit
An instruction given to the bank by a customer, thereby, authorising a business or an organisation to collect the payable amount from their bank account as long as the bank receives an advance notice from the customer about the payment date and amount is referred to as Direct Debit. This method is the safest means of making payments in the United Kingdom as the customer is secure from falsified payments through the Direct Debit Guarantee. Direct Debit has conventionally been treated as a payment mechanism only accessible to large companies, however, it can be used be used by businesses of any sizes and can take advantage of the Direct Debit payments. It's characteristically used for taking systematic or repetitive payments such as charitable donations, household bills, memberships or subscriptions. It is the most popular option of payment in the United Kingdom and has benefits such as recurring payments can be set and forgotten, cheap mode of payment etc. The below mentioned table demonstrates Direct Debit's adaptability across a range of sectors:
INDUSTRY
TYPE OF PAYMENT
BENEFITS
Accountants, payroll, and bookkeepers services

Annual/quarterly fees
Service charges

Spread the cost for clients
Ease cash flow

Web design, communications, and Information Technology

Quick, consistent payment, and can adjust amounts monthly

Crèches, independent schools, and nurseries

Hourly fees
Tuition and boarding fees
Subscriptions

Eliminate late fees
Easier payment for busy parents

Golf clubs, gymnasiums and member organisations

Annual/monthly
Subscription fees
Services charges
Site fees

Automatic renewal reduces lapse rates and costs
When fees increases, payments can be accustomed

Newsagents, window cleaners and milkmen

Avoid timewasting collecting door-to-door and get paid easily

Charities, nursing homes, and hospices

Chargeable fees
Donations

Uninterrupted and anticipated revenue stream

Storage companies, property management, and estate agents

Commercial and residential rents
Ground rents
Insurance
Service charges

Adjust payments when necessary
Collect on specific dates
Reduce admin time and costs

Utilities and services

Monthly and regular collections

Adjust payments when necessary
Reduce admin costs
BACS Direct Credit
Bank Transfer or BACS Direct Credit is a safe provision facilitating businesses to make disbursements straight into a building society account or a different bank account. It's usually used to make regular transactions such as pensions, salary payments, and benefits from state and tax credits – nearly 90% of the United Kingdom employees are remunerated through BACS Direct Credit. Advantages of BACS Direct Credit encompass ease of making regular and fixed payments, and convenient method of making regular payment. However, this method is not best suited suitable for similar-day payments (the complete processing cycle can take up-to 3 working days).
Faster Payments & How Long does A BACS Payment Take to Complete?
Transaction made using BACS Payment system can be completed in 3 working days (i.e. for the payment to clear).
Introduced in the United Kingdom in 2008, Faster Payments provide almost real-time payments amongst bank accounts in the United Kingdom. This enables electronic payments to be made over the phone, at a branch, online, or via self-service kiosks. Unlike BACS Direct Credit, payments made through Faster Payments is usually cleared in less than 2 hours as long as both, the receiving bank account and the sending bank account, are part of the Faster Payments Service. In case either of the bank account aren't part of the Faster Payments Service, then in such a scenario the payment will by default be administered through BACS Direct Credit and will consequently take a longer processing timeline as it would be processed under Faster Payments service. This system is managed by Faster Payments Scheme Ltd (FPSL), an establishment comprising of 10 United Kingdom building societies and banks.
Faster Payments are principally used to make numerous transactions of small value. Payments made under Faster Payments services are limited to a maximum size of £250,000, however, different banks will usually levy a decreased transaction limit. Since its launch in 2008, in excess of 5 billion payments have been made via this scheme.