What is a Dispensation Application?
A dispensation certificate is a notice from HMRC that means you no longer need to report reimbursement of expenses to your employees and directors on form P11D. With Dispensation there is no need to pay either tax or NI on the items covered.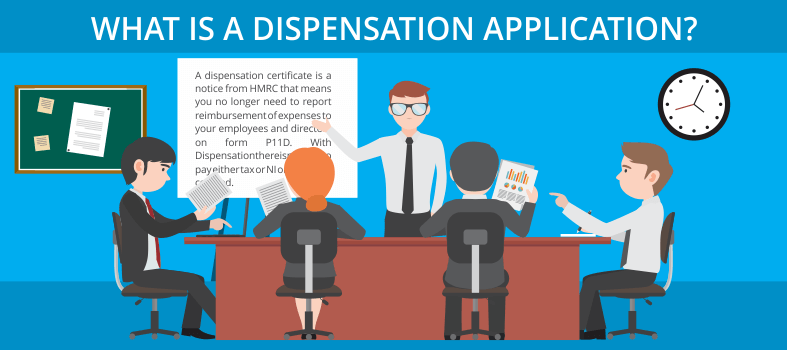 Who benefits from dispensation?
Employers whose workforce earns £8,500 a year or more
Each director earning at a rate of less than £8,500 a year
Those that would appreciate less hassle form HMRC
What can I claim?
Travel (but not to and from work)
Accommodation when away from the workplace
Subsistence/meal allowances when your are away from the workplace (see Expenses and receipts)
Reasonable entertainment expenses
Business-related books, magazines and subscriptions
Business broadband and telephone (if possible have a separate account for business and private use if you work from a home-office)
Mobile telephone (it must be registered to the business)
Courses, training and seminars that are business related
How does it work?
DNS collect information on relevant business expenses;
DNS apply to HMRC on your behalf;
HMRC respond with the dispensation notice;
Your expenses are covered indefinitely;
It is that easy, so, Why not allow DNS to apply for dispensation on your behalf? In this way you will cover the majority of expenses, avoiding the hassle of reporting, and at the same time save yourself the trouble of collecting all your receipts to record expenses.
Dispensation will allow you to claim additional expenses and reduce your tax bill.
Please take a look at our blog on Tax Allowable Expenses.
Speak with an expert
Any questions? Schedule a call with one of our experts.