As per the new policy of HMRC, VAT is to be chargeable on all non-refundable deposits in case the customer does not use the goods or services for which the payment is done by the customer. This policy comes into force with effect from 1st March 2019. This new policy cancels the previous HMRC's interpretation that in case the customer pays the non-refundable amount but later does not use the service or collect the goods, it will be considered as compensation for the loss suffered by the supplier and will fall outside the scope of VAT and treated as a VAT-free compensation.
As per the new policy, this change is very big for the hotel industry and others accepting non-refundable deposits as they will not be able to recover the VAT charged on VAT cancellation or not show charges. It is applicable on all businesses that retain forfeited deposits or unfulfilled supplies as per the new policy.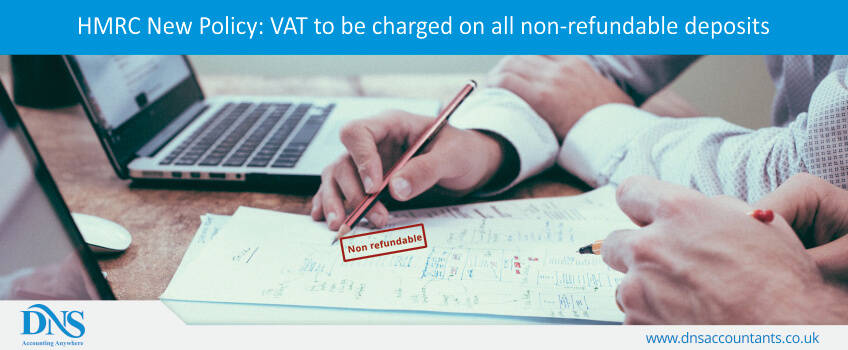 HMRC's Old Policy
HMRC old policy before 1st March 2019 states that if a customer pays in advance a non-refundable amount for hotel booking or for any service or goods purchased and the same is not been used by the customer, it will be considered as a VAT free transaction as no taxable supply takes place. It will be treated as a compensation for the loss suffered as a result of the cancellation of hotel booking and will fall outside the scope of VAT unless it is for a guaranteed reservation.
In case the customer qualified for a refund, he or she will get back the full amount including the VAT charges (VAT will not be charged in this case).
This previous policy was largely based on 2007 judgement of the court of justice of the European Union (CJEU).
Who Will Be Affected?
This policy will hit all the businesses that take non-refundable deposits which includes hotel & accommodation providers, transport suppliers, hirers of goods, entertainment sector & bespoke goods.
HMRC's New Policy
From 1st March 2019, VAT will be due on all retained payments for unused & uncollected goods or services. In case, a business become aware that the customer will not use the goods or services after paying for the same, the transaction will be subjected to VAT. No VAT adjustments or refunds are allowed in case of retained payments. In case the deposit is refunded to the customer, there will be no VAT due on it.
This change is taken by HMRC by giving reason that if a customer commits to do the payment by showing his or her intention to buy product or service, it will be considered that customer is intended to pay for a taxable product or service and hence VAT becomes due on product or service at the same time when we accept non-refundable deposit or advance payment from the customer. It will not be considered as compensation to the supplier for the loss suffered by him because of cancellation. Only fully refundable deposits paid as security are considered as VAT free. HMRC also states that they will not accept the repayment claims for past VAT periods from those who have not recovered VAT paid on these deposits as per old rules.
This change will surely raise the VAT charges of the hotel owners and they need to pay higher charges to HMRC now.
How Will You Prepare For This Change?
Hotel operators, restaurants, transport suppliers, hirers of goods, entertainment sector or any other business that charges non-refundable deposits can prepare & protect themselves by following these below mentioned points –
Analyse your current VAT treatment of deposits
Check your cancellation or no shows terms & conditions to know whether you are affected by this recent policy change of HMRC which comes into effect from 1st March 2019.
Prepare yourself and change your VAT accounting procedures.
In case you are having any query in your mind regarding any situation for which payment is being retained or non-refundable deposit is made, you can ask HMRC and take their feedback.
For more information on this subject, please contact your account manager or give us a call today on 03300 88 6686.
Speak with an expert
Any questions? Schedule a call with one of our experts.