USA Bank Account for Entrepreneurs or Non-Residents
Not so long back, maybe just a decade back it was very easy for foreign entrepreneurs with no ties in the US to open up a bank account for themselves or their company with just an e-mail. This was a required step as opening an account in an American bank not only made doing business in the US very convenient. Yet, at the same time one could also avoid the hassle of requiring any foreign currency exchange. Quite simply it was just a simple process that didn't require any extensive background check or a reference letter or any of the documentation required in the current scenario. But then ever since 9/11 took place things changed big time and it has nearly become nearly impossible to open a bank account in the US for any foreign business because of new regulations in place.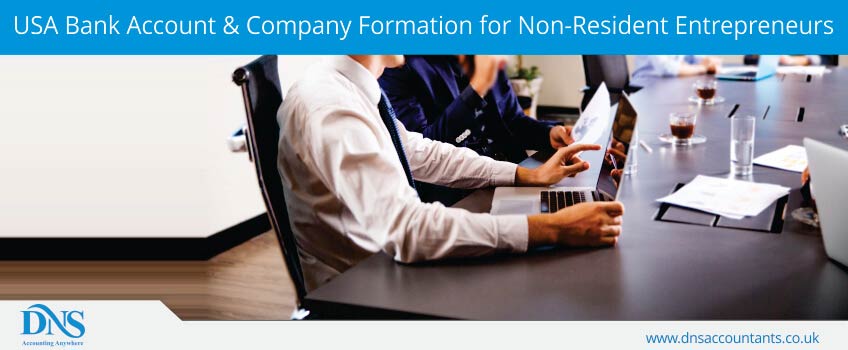 So unless a foreign company is a public company, opening a bank account in a US bank can only be done by a corporate entity that has been incorporated in the US. But then what about those non-residents who have accounts in the US under an offshore company, well thousands of companies are already structured this way and now they are being told to switch to a US entity or close accounts. Well, here are the possible ways for UK residents to open a USA bank account for entrepreneurs or non-residents.
Go to USA
If possible go to US. It can be the best way to open a bank account in the US. Itmay require a long list of documents both individual and corporate therefore it would be best to contact an attorney who can beof some assistance in preparation of the documents. At timesappearing in person could be the way to oversee the process, ensuring things are done in aright and a timely way.
Collaborate with Someone
Ask either friends or relatives in the US willing to assist you in opening a bank account. It might be an easier way out. The solution however comes with its own drawbacks. The biggest being the person entrusted with the responsibility will have access to all funds of the company. In case of not being listed as a co-signer on the account this person would have all the authority to take any action on the account. So be wise when going for something like this.
Hire a Manager in US
For someonewho does not want a partner and intends to keep the ownership, the best alternative is to either hire a manager or a company executive officer. The person will end up being representative of the company at the bank. Say for instance, LLCs require to list a manager on company's Articles of Organization. But then again this alternative would be very similar to the previous solution that this person would again have exclusive authority to manage the bank account. The only difference here being the manager would need to be compensated with a salary while in a previous case compensation with shares might work. For granting this person an authority to represent the company a Certificate of Incumbency would need to be issued. The document enlists identities of directors, members and managers. But then along with everything you will also need a passport image, or government issued ID for natural persons & evidence of good standing for your entity.
Requirements for Incorporation
To open a business account in the US, the company needs to be registered in any one of the 50 states across the US, and a representative would be required to submit proof of an entity being formed to the bank chosen. Documentation required depends on type of entity formed and the bank chosen. Overall, the corporation must submit Articles of Incorporation and an LLC must submit Articles of incorporation. As a majority of banks require a copy of the Articles and only a few seem to be working contrary to this aspect.
Submission of EIN

EIN or federal employer identification number confirmation Letter (form SS4) is required by banks to open business account. The basic reason being the banks have to adhere to tax reporting protocols of the Internal Revenue Service (IRS) pertaining to account information & EIN is required as a reporting identification number.

Identification Photographs

Any bank would require up toat least 2 pieces of identification for a representative opening the account. To begin with one of these must have a picture. Passport would be the best document possible but it should not have expired.

Applicant's Address Proof

The company representative opening an account needs to submit a personal proof of address to the bank. Eligible documents for the purpose can be either utility bills or preferably foreign bank account statements. For all purposes the document needs to be in the English language. Any other language other than English must be officially notarized and translated. In spite of multilingual bankers being allowed to accept documents in the language they are certified for one should avoid if it can be done.

Furnishing US Business Address

Majority of the US banks won't open an account without a physical address in US. The banks would accept street address of a Registered Agent or in other terms called as a Registered Office. Most banks are usually accommodating here especially if the type of business in question does not have a physical branch or can't maintain it.Say for instance a company doing business over the Web. Whereas, there are also bank that require that a physical location in the US should be within a certain distance (e.g. 10 miles) of a bank branch where one is opening a business account. Like inthe case a business account cannot be opened in New York if California is marked as the US physical address.

Certificate of Goodwill

A Good Standing certificate or "Certificate of Authorization" or "Certificate of Existence" is needed by banks to prove a company is incorporated and is fit to transact business in a certain state (or "jurisdiction"). 'Good Standing' status means the entity is in tandem with the filing requirements of a jurisdiction's secretary's state office and yet at same time is current with any corporate franchise taxes. Banks would require a Certificate of Good Standing from the business while opening bank accounts and financing.

Incumbency Status

Certificate of Incumbency referred to as "Incumbency Certificate" or "Register of Directors" is an official document listing names of directors & officers who are incumbent. It also lists their corporate position. Certificate of Incumbency confirms the identity of signing authorities of a company and is also used toprove they are authorized for entering into legally-binding transactions on behalf of a company. On demand this certificate can be drafted and must be sealed with a company seal and signed by a company secretary.

Resolution

Board of Directors can issue a company document known as a Banking Resolution. Issued by (for corporations) or by members (for LLCs), giving individuals an authority to open a bank account on company's behalf. Some banks require specific language on resolution and supply customers with a sample. While some may accept resolutions issued by a company the clearly present the identity of the individual(s) and extent of authorization. Customers should contact the bank to see whether this is indeed a requirement.

How DNS Accountants can Help?

Looking forward to form a company & open a business bank account in USA as non-resident? Get in touch with experts at DNS Accountants.

Speak with an expert

Any questions? Schedule a call with one of our experts.