Taxes on Knowledge
We live in a time where access to information is easy, cheap and quick. Internet, TV, radio, etc has made it possible to access any news and information in super quick time from all parts of the world. But you would be surprised to know that there was a time in Britain when heavy taxes imposed on newspapers made them beyond the reach of common folks. It seemed the British government really liked imposing taxes in the early 19th century as there was an advertisement tax, an excise duty on paper, a pamphlet duty, and the worst of all a tax on newspaper. It was argued (and rightly so) by social reformers and radicals that the high tax imposed by the government on newspapers restricted access to knowledge and information by working class. They called it' Tax on Knowledge'.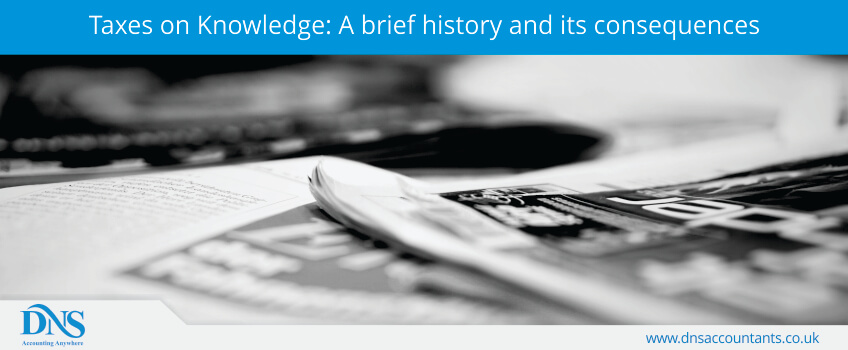 It was in the year 1712 that a highly contentious and controversial tax was imposed on the British Newspapers for the first time. A government concerned about the supposed freedom of press went on steadily increasing the taxes on newspapers till it reached 4d. a copy by 1815. Paying 6d. or 7d. for a newspaper was well above the means of common folks, and thus the tax confined the newspapers to people with fairly high level of income. In the Stamp Act of 1814 the tax was set at 4 pence a copy. This meant a newspaper could cost 7 or 8 pence a day, making it nearly impossible for a working class household purchase and read a newspaper.
Lord Castlereagh, the leader of the House of Commons, and Lord Sidmouth, the Home Secretary aftermath of the Peterloo Massacre coaxed the parliament to pass more stringent laws to check the activities of radical journals and papers. They convinced the Parliament to pass the Six Acts which was primarily aimed to check activities of the radical press. It began to suppress these papers as under the provision of one of these new laws, each publisher was compelled to deposit a bond as a guarantee against publishing anything deemed seditious or blasphemous libel by the government. The bond was £300 for London based publishers and £200 for publishers outside London.
Another important measure imposed by Six Acts was that it applied 4d. Stamp duty to all journals that appeared more frequently than every 26 days, and whose price was less than 6d, and that contained "any Public News, Intelligence of Occurrences, or any Remarks or Observations thereon, or upon any Matter in Church or State". Some radicals tried to overcome this tax by converting their weekly newspapers into monthly journals. It is noteworthy that most working peoples' salary at that time hovered around 10 shillings a week making it next to impossible for these common folks to buy and read newspaper and satiate their hunger for news that touched their daily lives. So long as the 4d duty remained in existence, only a publisher of immense wealth could even think of publishing a legal newspaper.
The government explained the motive behind these high taxes explaining that the high stamp duty would act as deterrence for pamphlets and newspapers that with their radical news tried to "excite hatred and contempt of the Government and holy religion."
There was a steep penalty for newspapers that refused to toe the government line as they were slapped with a fine of £20 per violation. Only the Attorney-General or a Stamp Office official could initiate a prosecution under the provisions of the law. What this invariably meant was that publishers or publications faced legal punishment that had more to do with political reasons than anything else. Pro-Government weeklies were often encouraged, irrespective of the amount of 'news' that they printed, whereas government came down hard on critical journals.
There were, however, radicals such as Richard Carlile, the publisher of Republican, who paid no heed to the law and went with his publication without caring to pay for the Stamp duty. Carlile was prosecuted and sentenced to three years in jail and a fine of £1,500 was imposed on him as well. Undeterred by this harsh penalty and three year jail term, Carlile continued to write extensively for the paper which was now being run by his wife. The huge publicity generated by Carlile's trial led to a dramatic surge in the Republican's popularity and its circulation outstripped that of pro government newspaper like The Times.
In 1821, Richard Carlile's wife Jane Carlile was served a two year jail term for seditious libel. Her place was now taken over by Richard's sister Mary, who too was sentenced for six months for seditious libel. Richard Carlile sought financial donation from the prison in order to continue publishing the Republican. People responded generously to his call and his shop in Fleet Street received as much as £500 a week over several months. In 1835 the two leading unstamped radical newspapers, the Poor Man's Guardian, and The Cleave's Police Gazette, circulation per day exceeded that of what The Times sold all week. The more the Government tried to clamp down on the so called radical newspapers, the higher their circulation went and it was estimated that by 1835 the combined circulation six unstamped newspapers exceeded 200,000.
Working class and their middle class supporters vigorously campaigned for the abolishment of this draconian law. Quite a few popular illegal unstamped newspapers came into existence to carter to the working class. Also, as the battle for freedom of press raged, some publishers within the right side of the law also wanted the tax removed in order to profit from heightened circulation.
The duty was cut to 1 penny in 1836 and the advertising duty was halved. In the House of Commons, John Roebuck was at the forefront to abolish the taxes in the House of Commons. Pamphlet duty was abolished in 1833, but it would be another twenty years for the advertisement duty to be repealed. Newspaper tax was abolished a couple of years later in 1855 along with the stamp duty and paper duty followed suit in 1861. First reduction and then complete abolition of newspaper tax brought newspaper within the ambit of working class who could now afford it. This led to a massive increase in the number of newspapers published in Britain and their daily sales skyrocketed.
Speak with an expert
Any questions? Schedule a call with one of our experts.