What is Targeted Anti-Avoidance Rule (TAAR)?
TAAR stands for targeted anti-avoidance rule (TAAR). As per the finance act 2016, targeted anti-avoidance rule is a rule introduced to tackle those individuals who falsely reduce their tax liabilities by converting dividends into capital payments by winding up their company. The rules mainly apply to distributions made to an individual on winding up of company on or after 6th April 2016. Under this rule, individuals are judged on the basis of certain conditions, if met, the distributions will be liable to dividends tax as opposed to capital gains tax (CGT). This rule prevent individuals from Phoenixing their companies by winding up their businesses. The main purpose of this rule is to identify the individuals following the wrong procedure to avoid or minimise taxes by winding up their companies.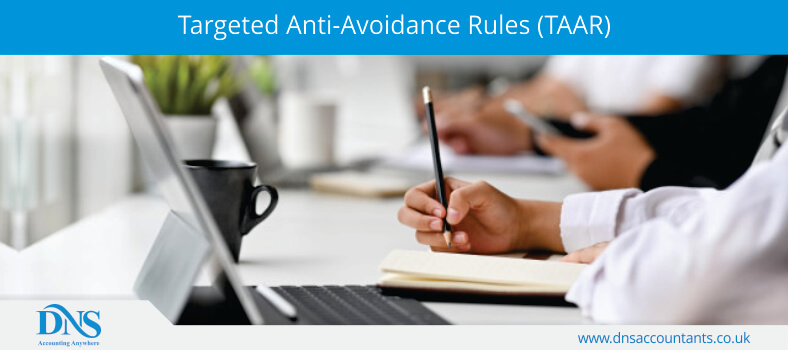 When does it apply – conditions?
There are certain conditions specified for distribution from winding up to an individual on or after 6th April 2016 and subject to income tax, if all the below conditions are met –
Condition A

– An individual receiving the distribution hold at least 5 % interest in a company immediately before winding up its business includes –

Holding at least 5% of ordinary share capital of the company
Holding at least 5% of the voting rights in the company

Condition B

– If a company was a close company at any point in the last 2 years immediately before the start of winding up procedure, condition B is met.

Example - Suppose a company wind up its business on 1st July 2017, if it was a close company at any point between the time period of 2nd July 2015 and 1st July 2017, section 396 B/404 A applies, if other conditions are also met.

Condition C

– At any point of time, within the period of 2 years starting from the date on which the distribution was made to the individual, condition C is met, if –

Any individual involved in a similar trade or activity.
Any individual who is a partner in a partnership firm carrying the original company's trade or activity.
Any individual involved with other person in continuation of such trade or an activity.

Example - Suppose Mr. Arun is the owner of the company who makes and sell bakery items. Mr. Arun winds up his business and joins his wife in partnership in the business of selling cakes.

Therefore, from the above example, it is clearly stated that Mr. Arun carrying the same business and involved in a similar activity with his wife. Hence, Condition C is met. This condition applies when all other conditions are also met.

Condition D

– Condition D includes the main purpose of winding up a company – Avoidance or reduction in the amount of income tax. Conditions A, B & C still not applicable unless condition D is met.

Note – When all conditions A,B,C & D are met, you are liable to pay income tax.
Contact DNS
For any queries related to Targeted anti-avoidance rule (TAAR) and its conditions, Contact DNS at 03300886686 or you can also e-mail us at info@dnsassociates.co.uk
Read More: IR35 Tax Efficient Termination
Speak with an expert
Any questions? Schedule a call with one of our experts.