Statutory Sick Pay Form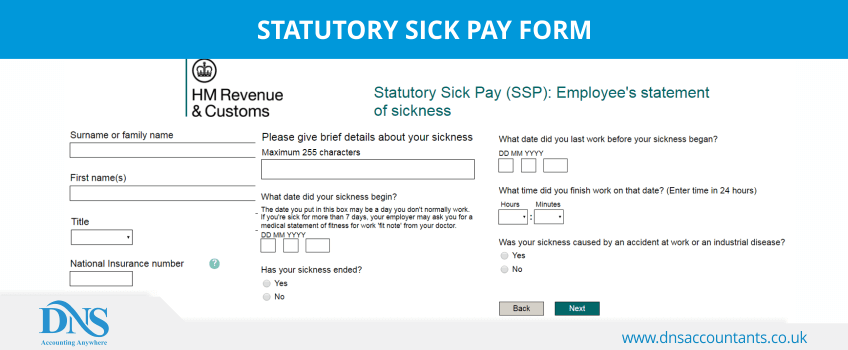 Download Statutory Sick Pay form SSP1 for employers and Employee Statement of Sickness Form (SC2) for employees. Statutory Sick Pay form are supposed to be filled by Employer and Employee (separately) when they have to pay or claim amount respectively in case the employee was absent from work for more than 4 working days.
Statutory Sick Pay Form for Employee
An employee has to fill Employees Statement of Sickness form (SC2) if been not able to attend office for four or more working days. Once filled online, employees need to take the print out of this form and submit it to the employer who will review it. The employee also needs to keep a print of this form for future references.
Fill SC2 Form
Statutory Sick Pay Form for Employers
An employer has to fill SSP1 and share the details with Jobcenter Plus which will help them to decide whether the employee is eligible for claiming benefits..
Download SSP Form
Part A of this form is to be filled by the employer which gives the details about. The details that needs to be filled in are-
PART B of this form specifies the reason as to why SSP cannot be paid to the employee.
PART C dictates the medical statement and PART D is the Employer's declaration form. The details that needs to be filled in by the employer are-
Employers name & signature
Position in Firm
Contact Details
Employers Stamp
Determining Qualifying Days
Example 1
Mary works from Monday to Friday every week is off sick from Saturday to Sunday one week. Mary's PIW therefore runs from Sunday to Saturday. The qualifying days are Monday to Friday but no SSP is paid for the first three days – Monday to Wednesday. SSP is paid for Thursday and Friday.
Example 2
Peter works Mondays, Tuesdays, Thursdays and Fridays and is off sick from Sunday to Friday one week. His PIW therefore runs from Sunday to Friday but no SSP is payable for the first three qualifying days – Monday, Tuesday and Thursday. SSP is paid for Friday only.
Speak with an expert
Any questions? Schedule a call with one of our experts.