If you're thinking about buying a second property, there are many things to think about before you buy as stamp duty land tax (SDLT) will be applied on purchase price and you'll need to consider additional buy to let stamp duty land transaction tax rates.
You can find out more about buy-to-let stamp duty in this blog. Here's everything you need to know about stamp duty on second home.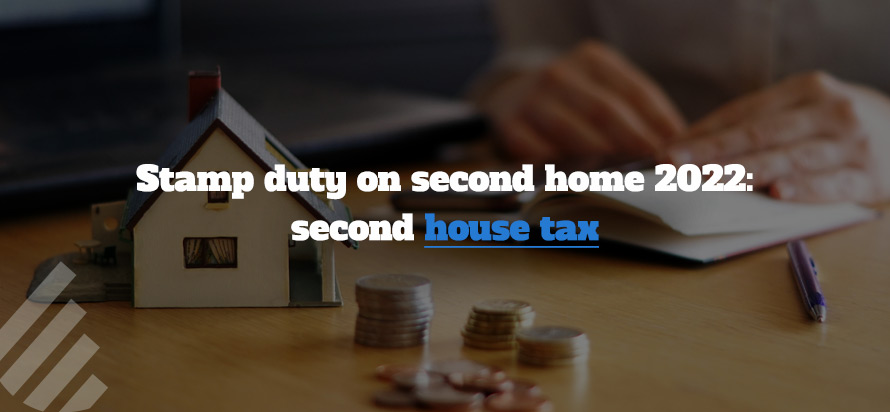 The best way to buy a second property
Mortgage lenders will have strict requirements for people buying a second home. Depending on your circumstances, mortgage lenders will take into account if you still have a mortgage on your main residence. Often, it's best if you have paid off the mortgage on your main home.
You'll need to have a sizeable deposit to buy a second property, so bear this in mind, but this will lower your mortgage repayments and potentially your interest rate.
What deposit do I need for a second home?
Buying a second home will be seen as an investment property and for investment properties you'll be required to have a larger deposit to buy a second home than for your main residence.
Generally the following applies with many lenders.
You will need a deposit of at least 15%.
Around 25% deposit if you want to rent the property out.
The deposit required could be nearer to 30% if you want to secure a holiday let mortgage.
Advantages and disadvantages of buying a second home
Advantages
With property prices rising, if you buy a long term investment property, then at some point it's likely that it's value with rise and it'll give you a return on your investment.
Rental income often covers mortgage payments and additional costs and in many cases will earn you a regular income.
You can take out insurance to cover against loss of rental income, damage and legal costs, giving you more peace of mind.
Many people buy a second home as a holiday home and let it out in between times they use it themselves. The benefit of a holiday home is you and your friends and family get to use it.
Disadvantages
Many lenders have made their lending criteria for second homes and buy to let more stricter in recent years.
Stamp Duty and additional buy-to-let stamp duty adds to the money required for buying a buy-to-let property.
If you're a taxpayer, then you'll pay additional tax on earnings from the property.
You might not generate an income if the property is unoccupied for periods of time, but you can take out insurance for this.
If property prices fall, you will see your capital reduce.
You'll need to factor in the costs for things like property management, insurance and wear & tear.
Being a landlord isn't for everyone, it can be a big responsibility with additional burden.
What is stamp duty land tax on second home?
Stamp duty is charged on all property purchases, except to first-time buyers buying homes priced under £300,000. For other purchases it is charged in bands.
If you're buying to let, in the vast majority of cases you'll be buying a 'second property'. A second property is any property you own in addition to your own home. Although it is technically possible to purchase a buy-to-let property without owning a home, in practice most lenders will be reluctant to offer a buy-to-let mortgage to a non-homeowner.
How much stamp duty land tax will I pay?
If you're buying a second home, how much stamp duty you pay will depend on many factors. If you buy a second home and intend to rent it out, then not only will you pay standard stamp duty, but you'll also pay an additional rate for stamp duty on buy-to-let. Stamp duty rates vary depending on the property purchase price and this should be factored into your figures as it could make your second home or next investment more expensive.
When you buy to let, you need to take into account the costs of the additional stamp duty and the varying stamp duty rates, which starts at 3% on top of the standard SDLT and then rises in tiers.
| Property price | Standard stamp duty rate | Additional buy-to-let rate |
| --- | --- | --- |
| £0 - £125,000 | 0% | 3% |
| £125,001 - £250,000 | 2% | 5% |
| £250,001 - £925,000 | 5% | 8% |
| £925,001 - £1.5m | 10% | 13% |
| £1.5m+ | 12% | 15% |
When you buy a second property, you will be charged an additional rate of stamp duty. This is required to be paid on top of usual stamp duty rates.
The rules and stamp duty tax rates are different in Scotland and Wales.
However, it's worth knowing that buy-to-let stamp duty can be deductible from capital gains, so you won't be taxed on this money twice.
When do I pay buy-to-let stamp duty?
You will be required to file your stamp duty return with HMRC, including stamp duty on buy-to-let, within 14 days from the house purchase transaction date (the date you complete the purchase). Solicitors usually organise and fulfil this requirement but check with your solicitor or your buy-to-let accountant.
Are there any exemptions from additional stamp duty?
Second properties that are under £40,000 are exampt, as are caravans, mobile homes and house boats.
If you buy a second property and then intent to sell your main homem you may get a refund. To get this refund, you'll need to sell your original property within 18 months.
How to avoid stamp duty on a second home
If you don't have your name on the title deeds of the second home, then you could avoid stamp duty or buy-to-let stamp duty. For example, you could put the property in the name of a child or children or other family member. But you need to consider the fact, you won't legally own the house and be in control.
First-time buyers don't pay stamp duty (as long as the property price is under £300,000). So, you could buy a buy-to-let as your first property. But securing a mortgage deal for this circumstance may be harder.
Stamp duty on second homes depends on your circumstances
I'm married and my spouse doesn't own a property
When calculating stamp duty, a married couple is treated as one person. Therefore, if one of you owns a property already, you will still have to pay additional stamp duty if you buy a second property. However, if you've been separated for some time, the rules are a little different.
We're not married but we're buying a property together
If you're part of an unmarried couple and one of you owns a property already, the only way to avoid paying the additional stampt duty rates is if only one of you (the one who doesn't yet own a home) is the person named on the mortgage and property deeds.
If you are both named on the mortgage and property deeds, you'll have to pay the stamp duty rates above.
My main residence is abroad
If you have a property in another country and want to buy a second home in the UK, even if you have no other properties here, you'll still have to pay the higher rates of stamp duty.
I'm buying a holiday home abroad
As long as you have one only property in the UK, you won't have to pay the surcharge in stamp duty when you buy another property overseas.
I've inherited another property (or a share in one) but I already own a home
If you inherit a share in another property that is 50% or less, it won't be classed a second home if you don't buy another home within three years (36 months). However, if you inherit more than a 50% share, or the entire property, then it will be seen as a second property if you buy another home before you sell it. Speak to a professional advisor.
I'm buying a property for my children
There are a few ways you can avoid stamp duty on second homes:
Gift a deposit
Act as a guarantor
Get a family offset mortgage
If your name is going to be on the deeds, and you own another property, then the 3% extra stamp duty will apply.
I'm buying a buy-to-let through a limited company
Companies also have to pay the higher rates of stamp duty on additional properties, but it's worth considering other advantages of buying property through a limited company.
Second home stamp duty refund
If you sell your main residence after you've purchased a buy to let and you end up with just one property, you may be able to get a stamp duty refund.
For this refund to apply, you'll need to sell your first property within three years.
Stamp duty on your second home can be reclaimed from HMRC.
Buying a second home needs careful consideration and you need to work out the figures and understand what stamp duty rate applies before you purchase a second property. Here at dns, we have a specialist landlord and property team that can give you all the advice you need on tax efficient property investing. If you want more help and advice on stamp duty on a second home please speak to one of our dns property experts right now on 03330 886 686, or you can also e-mail us at enquiry@dnsaccountants.co.uk.
Speak with an expert
Any questions? Schedule a call with one of our experts.