When you are starting a new business, there is a lot to consider and set up. If you are forming a limited company, then you will need to register the company at Companies House.
Whilst you can set up a new company at Companies House yourself, there are several reasons why you should use a company formation agent to do this for you. Company formation agents can save you time and money, offer different packages for different companies and give you advice along the way.
In this blog we will cover the reasons why you should use company formation agents to help you set up your new company.
Here at dns accountants, we offer company formation services and accountancy packages.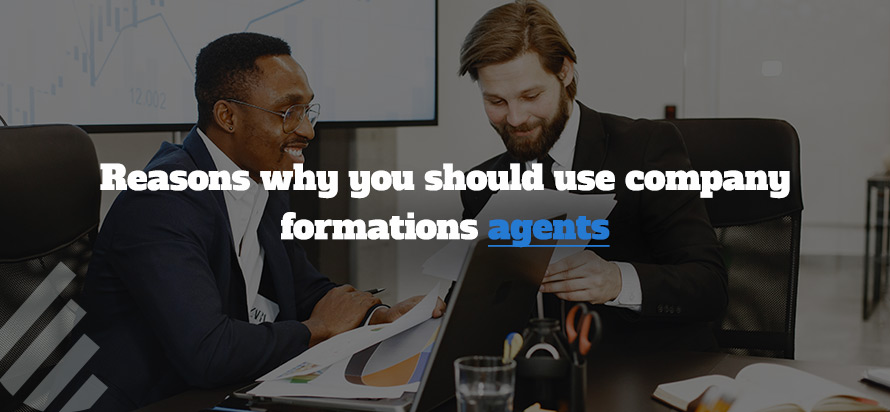 What is a company formation agent?
A company formation agent is an independent, professional firm that specialises in the registration and incorporation or formation of companies at Companies House.
Formation agents can provide specialist advice and support throughout the application process and beyond.
There are different types of companies, so as well as the incorporation of standard limited companies (i.e., those with shares), they will normally be able to also form companies limited by guarantee (e.g., non-profit organisations) and limited liability partnerships (LLPs).
A good company formation agent will offer additional help and advice on things like registered office address, company secretarial support, business bank account and guidance on choosing the right company structure.
If you do your company formation through an accountant, such as dns accountants, then they can also offer you help and advice with your accounts and tax as well as setting up your new company for you.
What are the advantages of using a company formation agent?
1) Makes setting up a company more straightforward
Company formation agents make setting up a new company more straightforward. They will take the hassle and thinking away from you and simplify the process through a set of user-friendly questions and a simple process.
The whole process can be handled online making it simple and efficient for you.
If you do have any questions with the online application or throughout the process, agents like dns accountants will provide you with help and advice.
This makes the overall process as streamlined as possible, and it reduces mistakes that can be made if you register a limited company yourself.
2) Incorporation of different types of companies
There are several options of the company structure of a new company that you need to consider. Here at dns accountants, we can advise you on the best structure for your business.
The options include:
Private companies limited by shares.
Private companies limited by guarantee.
Limited liability partnerships (LLP).
Private companies limited by shares can be set up directly with Companies House online. Other types of company structure may require the use of paper forms and post, or access to expensive third-party software. Applying by post for other company structures will take much longer and will be more expensive.
When companies are registered directly online, they need to adopt the standard model articles of association.
Here at dns accountants, we can incorporate and advise on a wide range of company structures and provide bespoke articles of association.
3) Low cost
Here at dns accountants, we include company formations free as part of our limited company accountancy packages, meaning the service is either free if you take out a package with us or low cost to you if you don't take a package.
4) Quick turnaround
A new company can often be incorporated the same working day. We have systems set up to make the process very fast and reduce any possible delays.
5) Avoiding mistakes in your company formation application
We can review your application before it's submitted. We will check all the information and let you know if there are any errors or queries before we submit the application on your behalf.
This review will ensure that your application is successful, it will reduce the possibility of rejection by Companies House and avoid mistakes and delays.
Once we are happy with the application we will submit it to Companies House electronically on your behalf, ensuring fast turnaround, accuracy and your data protection.
6) Additional professional services offered
Our additional team of experts will be available to offer you additional support and advice from the moment you decide to set up a company, right through your start-up phase and through to regular trading.
Before you make key decisions, we will advise on optimal company structure for your specific business and answer any formation or start up questions you have. Our advice will include things like appointing directors, issuing company shares, rules on company names and registered address etc.
Our services extend well beyond just getting your company registered and your company documents issued. We can then offer a wide range of additional services such as bookkeeping, accounts preparation, online accounting software, corporation tax returns, VAT registration and returns, company secretarial support, and assistance with all your filing and reporting obligations.
Registered address services – company directors and others will need to provide a registered and service address for any official correspondence. A registered office address is required for the companies register and although a home address can be used, many businesses without a physical office prefer to use an address service provided by an accountant as it protects their personal address information from appearing on public records.
Confirmation statement – all companies are legally required to submit a 'confirmation statement' to Companies House each year. This gives all the details of a company including most recent address, current directors, etc.
Company secretarial services – we offer full company secretarial support, which helps you to prepare and file an annual Confirmation Statement and make changes to your company, such as adding or deleting directors etc. This will avoid you paying a dedicated company secretary.
Issue of shares – If you want to create new shares or pass some onto new or existing shareholders, we can help with that too.
Getting help with your company formation ensures an efficient and straightforward process, reduces potential errors that may lead to rejection and gives you additional support and advice throughout the process.
Our accounts packages offer a wide range of options to suit all your needs through the registration process and beyond. Find out more about our packages here.
For more help and advice on formation packages, company structure and registering your company with Companies House, speak to one of our experts. Simply, call us today on 03300 886 686, or you can also e-mail us at enquiry@dnsaccountants.co.uk.
Speak with an expert
Any questions? Schedule a call with one of our experts.