Overview
The least pay, for every hour, most employees in the United Kingdom are eligible to get by law is referred to as National Minimum Wage (NMW). The rate of National Minimum Wage is dependent on an individual's age and whether he/she is a trainee or intern or an apprentice. Most employees who are 25 years or above must be given National Living Wage (NLW) as the bare minimum – NLW is the uppermost rate of the National Minimum Wage. To be eligible to receive the NMW an individual must be:
School leaving age (usually 16 years of age)
Equal to or greater than 25 years of age to be given the National Living Wage – the minimum wage is applicable for individuals aged 24 and below
Current rates of National Minimum Wage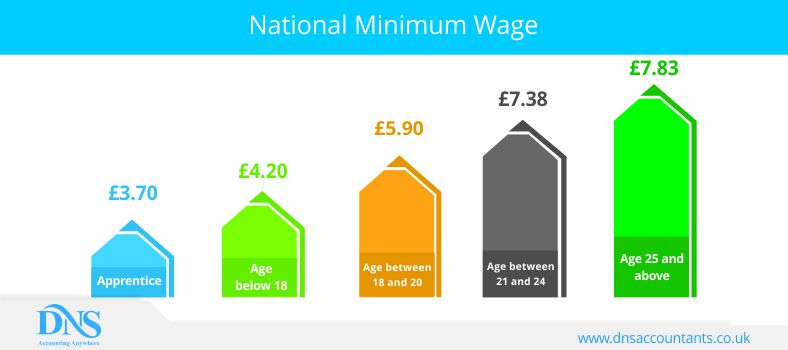 The below mentioned rates are effective from Apr-18 for both NLW and NMW. The rates vary starting every April
| Time period | Age 25 and above | Age between 21 and 24 | Age between 18 and 20 | Age below 18 | Apprentice |
| --- | --- | --- | --- | --- | --- |
| April 2018 | £7.83 | £7.38 | £5.90 | £4.20 | £3.70 |
Previous rates
Following are the NLW and NMW rates starting Apr-16
| Time period | Age 25 and above | Age between 21 and 24 | Age between 18 to 20 | Age below 18 | Apprentice |
| --- | --- | --- | --- | --- | --- |
| April 2016 to September 2016 | £7.20 | £6.70 | £5.30 | £3.87 | £3.30 |
| October 2016 to March 2017 | £7.20 | £6.95 | £5.55 | £4.00 | £3.40 |
| April 2017 to March 2018 | £7.50 | £7.05 | £5.60 | £4.05 | £3.50 |
Prior to Apr-16, the below mentioned rates were applicable for National Minimum Wage before the introduction of the National Living Wage. The rates were generally updated each October
| Year | Age 21 and above | Age between 18 to 20 | Age below 18 | Apprentice |
| --- | --- | --- | --- | --- |
| 2015 | £6.70 | £5.30 | £3.87 | £3.30 |
| 2014 | £6.50 | £5.13 | £3.79 | £2.73 |
| 2013 | £6.31 | £5.03 | £3.72 | £2.68 |
| 2012 | £6.19 | £4.98 | £3.68 | £2.65 |
The National Minimum Wage program and Apprentices
Apprentices are eligible for the apprentice rate of the NMW if they are either:
Below 19 years of age
Age 19 or above and in the initial year of their apprenticeship
Apprentices, who are above 19 years and have finished their initial year of apprenticeship are eligible for National Minimum Wage equivalent to their age bracket
Who is eligible to get the minimum wage?
Employees are also eligible to the accurate minimum wage if they're:
Agency workers
Agricultural workers
Apprentices
Casual labourers, for example someone hired for one day
Disabled workers
Foreign workers
Offshore workers
Part-time workers
Seafarers
Trainees, workers on probation
Homeworkers and workers paid by the number of items they produce or create
On the other hand, the below mentioned type of employees or workers are not eligible to the National Living Wage or National Minimum Wage:
Family members of an employer who are staying in the employer's house
Higher education students who are on a work assignment for up to 1 year
Members of the armed forces
Non-family members staying in the employer's house and sharing leisure and work activities, are considered to be a family and aren't charged for accommodation or meals
Individuals working and staying in a religious community
Individuals belonging to the following European Union (EU) programmes: Comenius, Erasmus, Leonardo da Vinci, and Youth in Action
Individuals employed on a Jobcentre Plus Work provision for 6 weeks
Prisoners
Self-employed individuals having their own business
Share fishermen
Voluntary workers or volunteers
Employees in a government employment programme, for example, the Work Programme
Employees on government pre-apprenticeships arrangements
Employees below the school leaving age (usually 16)
It is considered a criminal offence if an employer does not pay somebody the applicable National Living Wage or National Minimum Wage. If employers discover that employees have been paid less than the accurate minimum wage, they ought to pay any amount overdue instantaneously. NLW or NMW calculator can be used to compute the payable amount. Officers at HMRC have the authority to perform checks at any time and compare the payment records and they can examine companies if an employee files in a complaint. If HMRC discovers that a company or employer has not been paying the accurate rates, any amount outstanding has to be paid back straightaway. Additionally, the offenders will be fined and might be named by the government. It's the employer's accountability to retain records substantiating that they have paid the minimum wage – usually employers use their workforce records as proof and these records have to be maintained for 3 years.
What is encompassed in minimum wage calculations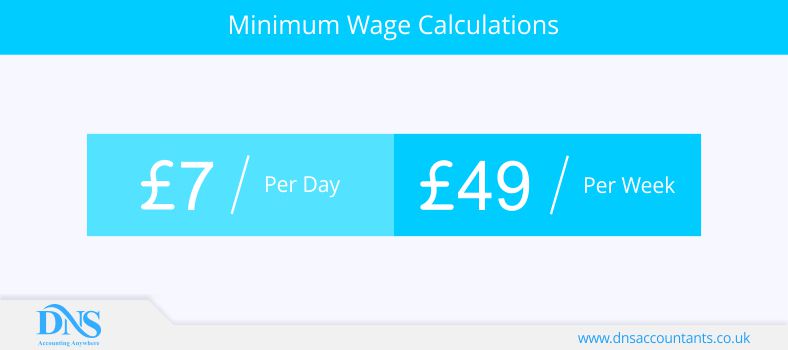 The below mentioned payments must be considered while computing the payable minimum wage:
Accommodation provided to an employee by an employer which is higher than the offset rate (£7 per day or £49 per week)
National Insurance contributions and Income Tax
Penalty charged in case of a worker's misconduct
Compensation for overpaid wages
Repayment of loans or wage advances
Loans or wage advances
Let's understand this with an example:
Suppose Graham is 27 years of age, works 40 hours per week, and earns £7.85 per hour or £314 per week. Additionally, he pays £15 per week towards uniform rent and this money is not refunded. Furthermore, he has opted to eat in the canteen, and has to pay £20 a week towards meal expenses
In such a scenario, Graham's employer must subtract the uniform rental from his pay, however, the amount corresponding towards meals should not be subtracted.This means Graham will earn £299 per week (£314 minus £15) which is £7.48 per hour – this is under the minimum wage rate of £7.83
Speak with an expert
Any questions? Schedule a call with one of our experts.